Wednesday, November 29, 2017
Notes: Constant in Net
Schierhorn – as usual – leads Minnesota into rivalry series.
---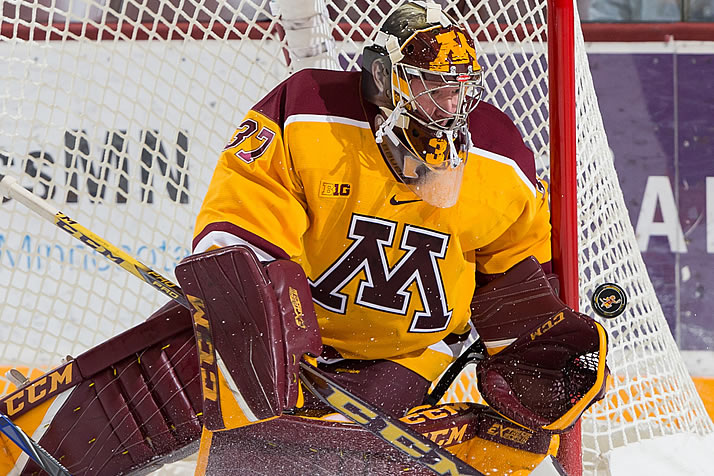 Eric Schierhorn is tied for third among active goaltenders with 10 career shutouts.
By Nate Ewell
It's a rivalry week of sorts in college hockey, with Boston College-Boston University and Minnesota-Wisconsin highlighting the slate. Gopher junior Eric Schierhorn (Anchorage, Alaska/Mukegon-USHL) hasn't been around for all 281 games in the border battle series, but he's become such a fixture in net for Minnesota that it can seem that way. The two-time Big Ten Goaltender of the Year has started 91 consecutive games, within sight of the NCAA record of 104 (Cornell alumnus Ben Scrivens).
Most Consecutive Starts, Active Goaltenders
91 – Eric Schierhorn, Minnesota
81 – Paul Berrafato, Holy Cross
55 – Merrick Madsen, Harvard
---
Must Read/See/Hear Material
Grand Forks Herald: Jost using lessons learned at UND to transition to NHL
Pittsburgh Post-Gazette: 'Gritty' style has helped RMU's Lynch
The Athletic: Young top line fueling Michigan State's big improvement
The Trentonian: Princeton's Veronneau attracting NHL scouts to Baker Rink
The Lantern: Romeo providing stability in net for Buckeyes
Duluth News Tribune: UMD's Perunovich off to flying start
Mankato Free Press: As usual, freshmen make impact for Minnesota State
Fighting Hawks Magazine: The Captain: Poganski's final ride
Hockey On Campus: College Hockey Inc.'s Mike Snee
---
Five More Storylines No One Should Be Without
Captain fuels Miami – Senior defenseman Louie Belpedio (Skokie, Ill./U.S. NTDP/MIN) has always been a catalyst for the RedHawks' success – last year they were 9-11-4 with him in the lineup and 0-9-3 when he was injured. The captain has been at his best of late, carrying a career-long five-game point streak into this weekend's showdown with No. 3 Cornell. Belpedio – who declined an NHL contract to return for his senior season – has played every game this year and the RedHawks are 5-2-2 when he registers a point.
UConn's Minnesota connection – UConn upset No. 12 Northeastern Tuesday night to win its third in a row heading into a Friday-Tuesday home-and-home with Massachusetts. Senior defenseman Johnny Austin (St. Louis Park, Minn./Benilde St. Margaret HS) posted his fifth multiple-point game of the season against Northeastern; he had three in his first three seasons combined. Austin and classmate Spencer Naas (Minnetonka, Minn./Benilde St. Margaret HS) were high school teammates in Minnesota who ventured East together – now both are among the top four scorers on the Huskies as seniors (and two of the four Minnesota natives on head coach Mike Cavanaugh's team).
UAA – Alaska Anchorage visits Ferris State having posted three straight ties and earning an extra WCHA standings point in each of those games. Goaltender Olivier Mantha (La Tuque, Quebec/Penticton-BCHL) leads a strong group of seniors that also features Austin Azurdia (Wenatchee, Wash./Langley-BCHL) and Tad Kozun (Nipawin, Sask./Nipawin-SJHL) atop the team's scoring list. One of five goaltenders nationwide with more than 100 games played (103), Mantha has been a workhorse, starting all 12 games this season and facing more than 36 shots per game.
Most Shots Faced per Game (min. 10 GP)
36.9 – Joey Daccord, Arizona State (OTT)
36.6 – Olivier Mantha, Alaska Anchorage
36.0 – Brandon Wildung, Mercyhurst
33.4 – Stefanos Lekkas, Vermont
Bentley soaring – Bentley posted its third straight win Tuesday thanks to an overtime goal from sophomore Ryner Gorowsky (Lino Lakes, Minn./Fairbanks-NAHL), his second point of the game. Gorowsky was an Atlantic Hockey All-Rookie Team selection after a freshman year that was highlighted by a double-overtime goal to win the Falcons' first-round playoff series against Sacred Heart. Gorowsky's brother, Hans (Lino Lakes, Minn./Fairbanks-NAHL) is a junior at Alabama Huntsville.
Brown's saving grace – Brown has won two in a row and three out of four and the Bears – who were picked 12th in ECAC Hockey – are 4-0-0 when holding opponents under three goals. Key to that effort is sophomore goaltender Gavin Nieto (Yorba Linda, Calif./Fairbanks-NAHL), whose .932 save percentage ranks sixth nationally. He has already matched his win total from his freshman year (3-20-1) and made a huge improvement in save percentage (.880). Nieto's brother, Garrett, is a goaltender with the NAHL's Janesville Jets – the same league where Gavin led the Fairbanks Ice Dogs to the 2016 Robertson Cup championship.
Biggest Save Pct. Improvement, 2016-17 to 2017-18
(minimum 33% of team minutes)
+.052 – Gavin Nieto, Brown
+.043 – John Lethlemon, Michigan State
+.036 – Jake Kielly, Clarkson
+.030 – Paul Berrafato, Holy Cross
---
NHL Note of the Week
Each of the last four defensemen selected to the NHL All-Rookie Team (and eight of the last 12) have been NCAA alumni.
---
Fries at the Bottom of the Bag
Four Michigan State alums are Division I head coaches, more than any other school. First-year Spartan head coach Danton Cole will have faced each of the other three after this weekend's series vs. Notre Dame and Jeff Jackson (Ferris State's Bob Daniels and Lake Superior State's Damon Whitten are the others) … Episode 4 of "College Hockey Nation" features the Anderson brothers at Minnesota Duluth and Poehling brothers at St. Cloud State; it debuts Friday on ESPN on Demand … Clarkson (8 game win streak) visits Canisius (5 game win streak) on Saturday, a matchup of two of the three longest winning streaks in the country.