Tuesday, November 7, 2017
Pursuing NCAA Hockey Starts with PRIDE
Five tips to follow as recruits chase the dream of playing NCAA hockey.
---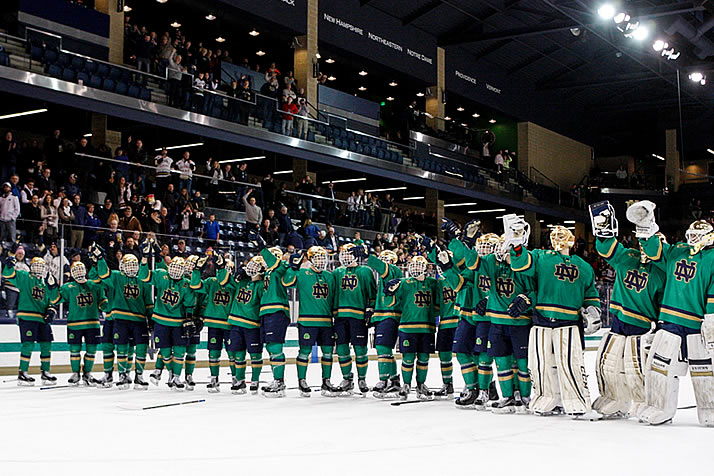 It takes more than talent to earn a spot with a group like this one (Photo by Fighting Irish Media).
The thousands of young hockey players pursuing positions on Division I rosters undoubtedly all take pride in their game.
What they might not know is that word – PRIDE – is an acronym for five characteristics than any player in pursuit of a college roster spot can use as they chase that dream.
Here's a look at each of those qualities:
---
PATIENCE
NCAA coaches are actively recruiting prospective student-athletes from age 14 through 20. Wherever you land in that wide age spectrum, seeing the recruiting process through to the conclusion will require patience.
For those 14-, 15- or 16-year olds who see friends (or foes) getting interest from NCAA coaches, remember how much time lies ahead of you. Even if you do generate some interest from a coach, it can take patience before you receive an offer – and once you do, you'll want to exercise patience while you consider it.
For 17- or 18-year olds who may be eager to enroll in college, remember that most NCAA hockey players need to spend time playing junior hockey after high school if they want to make an impact as freshmen.
Patience can pay off in many ways, from finding the right school for you to making an impact once you arrive.
---
RESILIENCY
It takes a special kind of player to excel when things aren't going well.
Because of that, those times are exactly when college coaches will be watching you most closely.
"What happens when they face adversity?" asks Notre Dame head coach Jeff Jackson. "That tells you a lot about their mental makeup and what makes them tick."
Playing a third game in as many days, or finding yourself on the wrong end of a lopsided score, can be challenging situations for players. That's precisely why NCAA coaches want to see you respond with resiliency.
---
INITIATIVE
While college coaches scour the junior and high school ranks for talent, some of their best "finds" may have initially found them.
If prospects are particularly interested in a specific school, it can help to let those assistant coaches know. Assistant coaches are the ones most likely to take a first look at a prospect and begin the recruiting process. Consider creating a hockey resume and contacting coaches through the info found on this site.
Coaches cannot contact players or parents (or even reply to emails) prior to Jan. 1 of a player's sophomore year (grade 10). Taking initiative can allow young players to start the recruiting process, or can put a player who is past that date on the radar of a team that might not otherwise know about him.
---
DEVELOPMENT
No matter where you are in the life cycle of a recruit, you likely will need to continue to improve in order to make an impact at the college level.
"Every guy who comes into our league it's a jump up," said Providence head coach Nate Leaman. "It doesn't matter what league they played in the year before. You're playing against NHL draft picks, you're playing against all the guys who were the best players on their team at the previous level."
Getting better – even if you are already a standout on your team – will catch the attention of college coaches. There is always something players can work on – and don't overlook the chance to keep working on your strengths, either.
College coaches love a player who can show growth in their game. That can often hint at the potential for further growth at the college level.
---
EDUCATION
The importance of good grades and standardized test scores cannot be overemphasized in the recruiting process.
There are minimum standards to be eligible for Division I play, which are outlined here. That's just the beginning, however. Student-athletes who simply meet those criteria cannot even be considered by many NCAA programs based on their school's admissions standards.
With only 60 rosters at the Division I men's level, you don't want to further limit your opportunities because your grades don't meet the requirements of certain schools.
What's more, coaches want to have confidence that their recruits can handle the academic demands they will face once they get to campus. Tutors and other resources will be available, but solid marks before you enroll will show you have what it takes – on and off the ice.