Thursday, December 7, 2017
Notes: Clarkson Ready for Rival
Two sets of former junior teammates have led the Golden Knights' offense.
---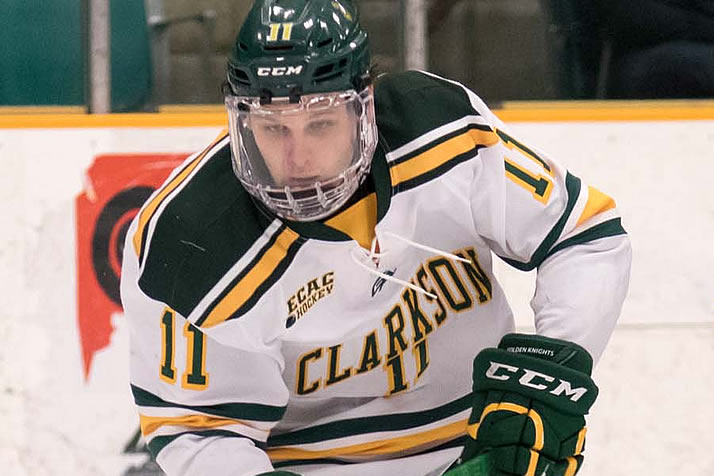 Sheldon Rempal has scored nine goals in Clarkson's current nine-game winning streak.
By Nate Ewell
Potsdam, N.Y., is home to top-three teams in both men's and women's hockey, and the No. 3 Clarkson men's team is gearing up for a home-and-home series with its biggest rival, St. Lawrence. The Golden Knights are fueled by two pairs of classmates and former junior teammates, players who arrived on campus with instant chemistry and comprise four of the team's top five scorers. Sophomores Sheldon Rempal (Calgary, Alta./Nanimo-BCHL) and Devin Brosseau (Saint-Lambert, Que./Nanaimo-BCHL) have combined for 17 goals and 40 points; freshmen Jack Jacome (Caledon, Ont./Georgetown-OJHL) and Josh Dickinson (Georgetown, Ont./Georgetown-OJHL) have 12 goals and 27 points, 25 of which have come during Clarkson's current nine-game winning streak. | Friday's game is on Eleven Sports
Most Combined Points, Two Classmates
Seniors: Notre Dame's Jake Evans and Jordan Gross (45)
Juniors: Denver's Troy Terry and Dylan Gambrell (41)
Sophomores: Clarkson's Sheldon Rempal and Devin Brosseau (40)
Freshmen: Clarkson's Jack Jacome and Josh Dickinson (27)
---
Must Read/See/Hear Material
Denver Post: Avalanche's all-rookie line is young and fast
Buffalo News: Back from serious injuries, Plouffe and Lomsnes lead Niagara's resurgence
South Bend Tribune: The puck stops here
Newburyport News: Mirageas' hockey journey takes him to Providence, beyond
Grand Forks Herald: An avid learner, Poolman playing big role for UND
Pittsburgh Hockey Digest: Desire to win engrained in RMU's Prkusic
The Athletic: Hults aiming to be first Penn Stater to play in WJC
Watertown Daily Times: Clarkson wins over new fans overseas with pep band
Michigan Daily: Norris doing the 'little things' while adjusting to college hockey
Hockey East All-Access: Merrimack's Larsson brothers
Podcast: College Hockey Today
---
Five More Storylines No One Should Be Without
Buckeye goalie steps up – Ohio State lost 100% of its goaltending minutes from 2016-17, but the Buckeyes had a capable replacement waiting for his chance. Junior Sean Romeo (Cary, N.C./Youngstown-USHL) was limited to practice last season as an NCAA transfer, but has stepped in and produced a .920 save percentage that ranks second among Big Ten goalies. He and the Buckeyes have posted an 8-4-4 start and a top-15 ranking entering this weekend's home series vs. Minnesota. | College Hockey News: Buckeye goaltender transition smooth so far | Both games are on BTN
Local leads RMU – Robert Morris and Penn State meet for an in-state rivalry series at PPG Paints Arena (Friday) and Pegula Ice Arena (Saturday). Local product sophomore Luke Lynch (Pittsburgh, Pa./Johnstown-NAHL) leads the Colonials with nine goals heading into the city's biggest stage. Lynch followed older brother Zac to RMU, where Zac posted 156 career points – but Luke is making a name for himself, even surpassing his brother's freshman year point total with 20 in 2016-17. | Pitt. Post-Gazette: 'Gritty' style has helped Lynch
Denver's unsung hero – Defending national champion Denver earned the preseason No. 1 ranking thanks largely to the return of its top forwards; lately the Pioneers have been bolstered by the return of a less heralded star in senior defenseman Tariq Hammond (Calgary, Alta./Okotoks-AJHL). The team captain, who suffered a frightening leg injury in the third period of the national championship game, returned to the ice four games ago. Not coincidentally, Denver allowed just one goal in a two-game championship rematch against Minnesota Duluth last weekend. Another rival awaits this weekend as Hammond – who turned 24 Tuesday and will be an NHL free agent target after the season – and the Pioneers face Colorado College this weekend. | Friday's game is on Altitude2
Alaska's Hope – Alaska heads to Alaska Anchorage for the second weekend of the Governor's Cup; the Nanooks won both ends of a home-and-home in October. They have benefitted from fast starts, with a +7 goal differential in the first period (compared to -17 in the rest of the game), and a balanced attack, led by sophomore Kylar Hope (Lashburn, Sask./W. Kelowna-BCHL). Hope has six goals and 14 points after posting just two assists in 30 games as a freshman. Hope has a history of offensive success – in 2015-16 he led the West Kelowna Warriors to the RBC Cup championship with 15 goals in 24 playoff games.
Swayman continues climb – Among the mild surprises named to the U.S. National Junior Team preliminary roster is Maine freshman Jeremy Swayman (Anchorage, Alaska/Sioux Falls-USHL/BOS), who played his way on to the team with a strong first two months of his college career. Swayman stands 11th nationally with a .925 save percentage and has the Black Bears on a three-game unbeaten streak entering a non-conference series at Quinnipiac. It's been a rapid ascent for Swayman, who is playing for his fifth team in five years and is just two years removed from midget hockey.
More on World Junior camps:
U.S.: 24 NCAA players named to preliminary roster
Canada: Fabbro, Ferraro, Makar and Point invited
Finland: Kotkansalo, Rasanen invited
---
Fries at the Bottom of the Bag
Notre Dame goaltender and Hockey Commissioners' Association National Player of the Month Cale Morris (Larkspur, Colo./Waterloo-USHL) will be a guest on NHL Network Radio's "Hockey on Campus" this weekend … There are seven games between top-15 teams this weekend, headlined by No. 5 North Dakota visiting No. 2 St. Cloud State for a series … Nine games this weekend are on national/regional TV … After Sunday, more than two-thirds of Division I teams will be on break for final exams and the holidays. Seventeen teams have games the weekend of Dec. 15-17 … ICYMI, the fourth episode of "College Hockey Nation" debuted Friday.