Wednesday, December 6, 2017
USHL Names Top Prospects
Rosters for 2018 USHL/NHL Top Prospects Game feature 38 commits.
---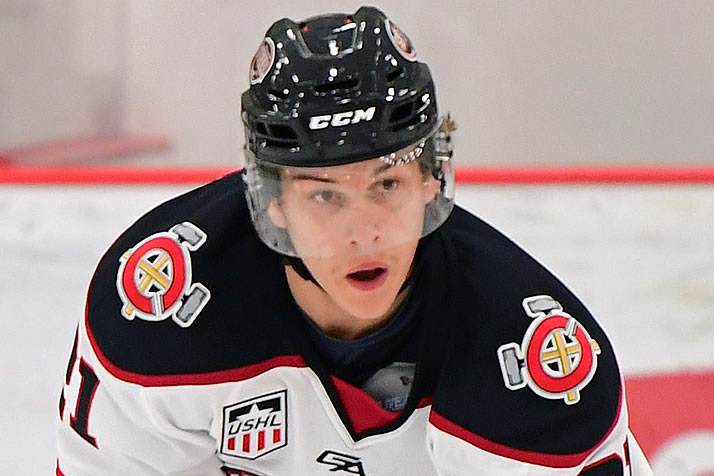 Minnesota commit Blake McLaughlin ranks fourth in USHL scoring with 21 points through 17 games.
Forty players – including 38 committed to NCAA schools – have been selected to participate in the 2018 USHL/NHL Top Prospects Game that will take place on Jan. 9 in Kearney, Neb.
Nineteen schools will have recruits participating in the game, which showcases USHL players eligible for the 2018 NHL Draft. Thirteen schools have multiple commits on the rosters, led by six schools with three players each: Harvard, Michigan, Minnesota, Wisconsin, Western Michigan and Yale.
NHL general managers and scouts, NHL Central Scouting and USHL general managers collaborated on the selection process. Sixteen of the 17 USHL teams are represented on the rosters, with the lone exception being USA Hockey's National Team Development Program.
This marks the sixth time and fourth consecutive year that the USHL has hosted the USHL/NHL Top Prospects Game. Past participants include first-round NHL Draft selections Shane Bowers, Kyle Connor, Brock Boeser and Jordan Schmaltz.
The Viaero Center – home of the USHL's Tri-City Storm – will host the event. Visit ushl.com to learn more.
Team East
No.
Name
Pos.
Current Team
NCAA Commitment
2
Marc Del Gaizo
D
Muskegon
Massachusetts
4
Graham Lillibridge
D
Chicago
Yale
5
Jacob Semik
D
Dubuque
Michigan
6
Max Ellis
F
Youngstown
Notre Dame
7
Michael Callahan
D
Central Illinois
Providence
8
Harrison Roy
F
Cedar Rapids
Maine
9
Noah Prokop
F
Green Bay
Omaha
10
Tyler Madden
F
Central Illinois
Northeastern
11
Xan Gurney
D
Chicago
Western Michigan
12
Aidan Fulp
D
Dubuque
Western Michigan
14
Matej Pekar
F
Muskegon
Omaha
16
Braden Costello
F
Des Moines
North Dakota
20
Curtis Hall
F
Youngstown
Yale
21
Blake McLaughlin
F
Chicago
Minnesota
22
Emilio Pettersen
F
Muskegon
Denver
23
Alex Steeves
F
Dubuque
Notre Dame
25
Jachym Kondelik
F
Muskegon
Connecticut
29
Ryan O'Reilly
F
Madison
Denver
31
Ivan Prosvetov
G
Youngstown
35
Zach Stejskal
G
Central Illinois
Minnesota Duluth
Team West
No.
Name
Pos.
Current Team
NCAA Commitment
2
Matt Kessel
D
Fargo
Miami
5
Sampo Ranta
F
Sioux City
Wisconsin
6
John St. Ivany
D
Sioux Falls
Yale
7
Christian Krygier
D
Lincoln
Wisconsin
8
Jacob Svejstrup-Schmidt
F
Fargo
Maine
9
Travis Mitchell
D
Omaha
Cornell
10
Jace Foskey
D
Tri-City
Harvard
11
Wyllum Deveaux
F
Tri-City
Harvard
14
Ryan Savage
F
Fargo
Miami
16
Cole Krygier
D
Lincoln
Wisconsin
17
Paul Cotter
F
Lincoln
Western Michigan
18
Jack Drury
F
Waterloo
Harvard
19
Devlin McCabe
F
Lincoln
Minnesota Duluth
20
Philippe Lapointe
F
Lincoln
Michigan
23
Samuel Salonen
F
Sioux City
24
Martin Pospisil
F
Sioux City
St. Lawrence
27
Jaxon Nelson
F
Sioux Falls
Minnesota
28
Jack Randl
F
Omaha
Michigan
33
Jake Kucharski
G
Des Moines
Providence
35
Jared Moe
G
Waterloo
Minnesota