Wednesday, January 3, 2018
Notes: BC, McPhee Invade Vegas
Second-generation stars at BC, Holy Cross and Harvard highlight this week's notes.
---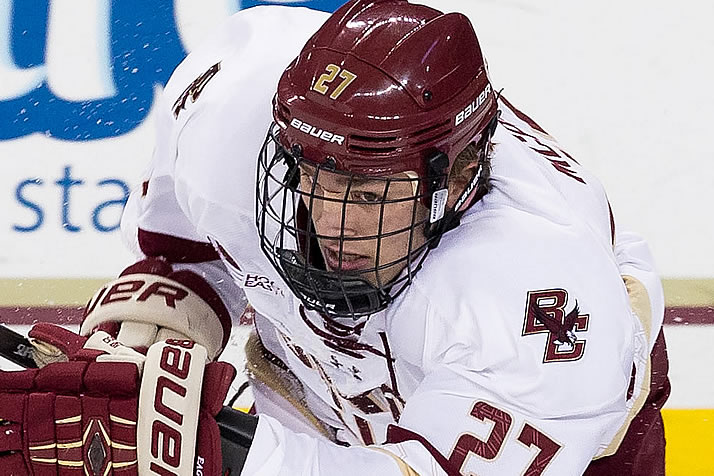 Graham McPhee, an Edmonton draft pick, has 10 points for the Eagles. (Photo: Rich Gagnon/Hockey East)
By Nate Ewell
College hockey heads to Vegas this weekend for the first Ice Vegas Invitational, and the one ranked team in the field – No. 13 Boston College – features a familiar name to locals among its leaders. Graham McPhee (Las Vegas, Nev./U.S. NTDP/EDM) has enjoyed a breakthrough sophomore season while his father, George, has led the surprising success of the Vegas Golden Knights as the team's general manager. Graham has already matched his freshman season point total (10) as he heads to Vegas, where the field also includes Arizona State, Michigan Tech and Northern Michigan.
---
Must Read/See/Hear Material
Sporting News: The Olympian
Duluth News Tribune: Once a trend in college hockey, Olympic-sized rinks are going away
N.Y. Times: A hockey league in the U.S. attracts Europeans with an eye on college
Mining Journal: Payne stays sane, not vain, during senior reign
NCAA.com: Starting a college hockey program from scratch
Pittsburgh Post-Gazette: Ferguson has a shot at the NHL
Wild.com: Belpedio propels Miami with leadership, two-way play
---
Five More Storylines No One Should Be Without
BGSU's youth movement – Bowling Green is 9-3-6 since a 1-3-0 start, including claiming the Great Lakes Invitational title Tuesday at Detroit's Little Caesars Arena. Freshmen have played a critical role, making up three of the top five Falcons scorers, and rookie Eric Dop (Lewis Center, Ohio/Tri-City-USHL) has formed a terrific goaltending tandem with sophomore Ryan Bednard (Macomb, Mich./Youngstown-USHL/FLA). Dop got the start in the GLI championship and made 29 saves in the 4-1 win against Michigan Tech, a rematch of last year's WCHA championship game.
Most Points, Freshman Class
77 – Massachusetts
64 – Minnesota State
62 – Bowling Green
58 – Wisconsin
54 – Minnesota Duluth
Holy Cross's second-generation scorer – Holy Cross senior Scott Pooley (Granger, Ind./Muskegon-USHL) enters 2018 with 16 goals, tied for the national lead and within striking distance of becoming the Crusaders' first 20-goal scorer since 2005-06, when they won Atlantic Hockey and reached the NCAA West Regional Final. Pooley has grown up around the college game; his father, Paul, is the associate head coach at Notre Dame. The elder Pooley led the nation in scoring as a senior at Ohio State in 1984.
Harvard's second-generation Olympian – Harvard junior Ryan Donato (Boston, Mass./Dexter School/BOS) is the hottest of the four current college players named to the U.S. Olympic team on Tuesday, joining St. Cloud State's Will Borgen (Moorhead, Minn./Omaha-USHL/BUF), Boston University's Jordan Greenway (Canton, N.Y./U.S. NTDP/MIN) and Denver's Troy Terry (Denver, Colo./U.S. NTDP/ANA). Donato – whose father, Harvard head coach Ted Donato, was on the 1992 U.S. Olympic Team – had eight goals in December and is averaging a goal per game. | Friday's Harvard game is on NESN; Saturday's is on NESNplus | Players, Alums on U.S. Olympic Team
Most Goals Per Game, Last Five Seasons
1.00 – Ryan Donato, Harvard (2017-18)
0.92 – Kyle Connor, Michigan (2015-16)
0.90 – Johnny Gaudreau, Boston College (2013-14)
0.86 – Jimmy Vesey, Harvard (2014-15)
Skilled scorer – and broadcaster – A balanced attack has led St. Cloud State to a No. 1 ranking entering its series with Minnesota this weekend, with six Huskies scoring six or more goals. Junior Robby Jackson (Alameda, Calif./Dubuque-USHL) leads the way with seven goals and has at least a point in 13 games. Jackson, a broadcast communication major, is also skilled behind the microphone; the high school baseball player has done broadcast work for local high school hockey games and SCSU baseball games. | Saturday's game is on CBSSN; Sunday's game is on FOX Sports North and TSN2
Big Ten standings battle – Penn State and Wisconsin have been off since Dec. 9 and resume play this weekend in State College. While Notre Dame leads the Big Ten standings by 14 points – easily the largest lead in the six conferences – just four points separate second through sixth place, with the Nittany Lions and Badgers two points apart in third and fifth place, respectively. Conference finish takes on even more importance in the Big Ten this season as the postseason tournament moves to campus sites, and the No. 2, 3 and 4 seeds will host quarterfinal series. | Saturday's game is on BTN
Big Ten Standings
30 pts. – Notre Dame (10-0-0)
16 – Ohio State (5-4-1)
15 – Penn State (4-4-2)
14 – Minnesota (4-7-1)
13 – Wisconsin (4-5-1)
12 – Michigan (3-5-2)
8 – Michigan State (2-7-1)
---
NHL Note of the Week
Two Golden Knights teams – Vegas in the NHL and Clarkson in the NCAA – posted shutouts Tuesday night to extend lengthy winning streaks. The two teams both boast the second-best record in their respective leagues.
---
Fries at the Bottom of the Bag
TSN released its January schedule of games available in Canada; Sunday's doubleheader on TSN2 features both of the teams ranked No. 1 in this week's national polls … Twenty-two current NCAA players compete in the semifinals of the IIHF World Junior Championship on Thursday for the U.S. (19) and Canada (3).