Wednesday, January 10, 2018
Notes: Sturtz Fuels PSU Success
Natural goal scorer has developed his all-around game as a junior with Nittany Lions.
---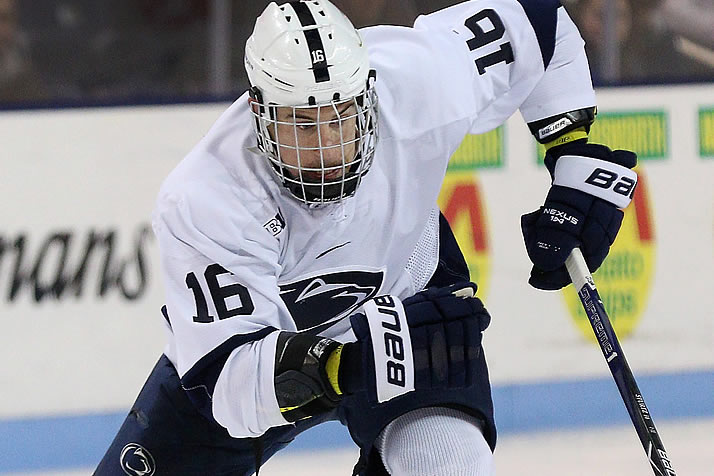 Andrew Sturtz is one of four active players (and two juniors) with at least 50 career goals (Photo by Craig Houtz, Penn State Athletic Communications).
By Nate Ewell
Penn State has erased a 5-7-0 start with a 7-0-3 run, fueled by junior Andrew Sturtz (Buffalo, N.Y./Carleton Place-CCHL) whose 28 points are just two shy of the national lead. The team's leading goal scorer as both a freshman and sophomore, the 5-foot-8, 185-pound Sturtz has developed his all-around game and is closing in on 100 career points (currently 92). This weekend the No. 13 Nittany Lions put their unbeaten streak up against No. 6 Ohio State, which has won six straight since a 4-0 loss to Penn State on Dec. 2. | Saturday's game is on BTN
Active Leaders, Career Goals
59 – Brady Ferguson, Robert Morris
53 – Adam Gaudette, Northeastern (VAN)
51 – Scott Pooley, Holy Cross
50 – Andrew Sturtz, Penn State
---
Must Read/See/Hear Material
Forbes.com: ASU looks to build on triumph in Vegas as college hockey explores expansion
USA Hockey Magazine: Red, White & Blueliners
MiHockeyNow.com: Berenson on rink dedication
NHL.com: Iafallo siblings penning success stories with Kings, Ohio State
Washington Post: Boeser took the entire NHL by surprise. Except TJ Oshie
Podcast: College Hockey Today
---
Five More Storylines No One Should Be Without
Bobcat breakthrough – Quinnipiac is 4-2-1 in its last seven ECAC Hockey games after an 0-4-0 conference start, and the Bobcats have been bolstered by a breakthrough season from sophomore Alex Whelan (Ramsey, N.J./Jersey-USPHL). Whelan started his college career as a healthy scratch but excelled in the final weeks of last year; now he leads Quinnipiac with nine goals and leads the nation with 102 shots on goal. The former New Jersey high school state player of the year had his first career two-goal game in Quinnipiac's overtime win at Colgate last Friday. | Saturday's game at Harvard is on NESN
Most Shots per Game
5.29 – Dylan Sikura, Northeastern (CHI)
5.07 – Ryan Donato, Harvard (BOS)
4.86 – Alex Whelan, Quinnipiac
4.67 – Max Veronneau, Princeton
4.59 – Scott Pooley, Holy Cross
Loggins a key at NMU – Californian Troy Loggins (Huntington Beach, Calif./Sioux Falls-USHL) extended his point streak to five games in a near-homecoming at the Ice Vegas Invitational, continuing an impressive season for the Northern Michigan junior. After a freshman year cut short by injury (0-3—3 in 16 GP), Loggins chipped in 10 goals last season, and his development has continued under first-year head coach Grant Potulny. A left wing like NMU leading scorer Robbie Payne (Gaylord, Mich./Chicago-USHL), Loggins has teamed with center Adam Rockwood (Coquitlam, B.C./Coquitlam-BCHL) to provide secondary scoring for the Wildcats, who return to WCHA play this weekend with a 9-5-2 conference record. Loggins was the Clark Cup MVP in 2015 when he led the Sioux Falls Stampede to the USHL title.
Pantano steps up at Merrimack – Merrimack is 4-2-1 in its last seven, including road wins at Denver, New Hampshire and UConn. Junior goaltender Craig Pantano (Bridgewater, Mass./South Shore-USPHL) – who made only one appearance in his first two years on campus – has a .924 save percentage in the recent seven-game stretch entering a home rematch with UConn on Friday. Pantano backed up Chicago Blackhawks prospect Collin Delia for two years and did not play the first six games of this season, but has appeared in 15 of 16 since then.
UMD welcomes back five – Minnesota Duluth, which had a school-record five players on the U.S. National Junior Team, didn't let their absence slow the team down. The Bulldogs won Dartmouth's Ledyard Bank Classic while that group of five was competing in the World Junior Championship and enter the 2018 portion of their schedule on a three-game unbeaten streak. U.S. captain Joey Anderson (Roseville, Minn./U.S. NTDP/NJ) and his brother Mikey (Roseville, Minn./Waterloo-USHL/LA) are two of the returnees who should help further spark UMD as it looks to climb the NCHC standings.
Junior line powers RIT – RIT and Air Force – who have combined to win the last three (and nine of the last 11) Atlantic Hockey tournament titles – meet this weekend in RIT's first home games in six weeks. An all-junior, all-Ontario line makes up the Tigers' second-, third- and fourth-leading scorers, with Gabe Valenzuela (Brampton, Ont./North York-OJHL), Erik Brown (Keene, Ont./Kemptville-CCHL) and Abbott Girduckis (Belleville, Ont./Wellington-OJHL) combining for 54 points in 18 games (3.0 points per game). Brown leads the team with 12 goals, including a seven-game goal streak earlier in the season.
---
NHL Note of the Week
Six schools had alumni named to the NHL All-Star Game: Boston College (2), Boston University, Massachusetts, UMass Lowell, Minnesota and North Dakota.
---
Fries at the Bottom of the Bag
Notre Dame's 15-game winning streak is a school record and the third-longest in Division I since 2002-03 (trailing Boston College, 19 games in 2011-12, and Harvard, 16 games in 2016-17) … Bemidji State goaltender Michael Bitzer (Moorhead, Minn./Lincoln-USHL) recorded his 20th career shutout, tied for second in NCAA history behind Ryan Miller (26). The Beavers have won six straight and are 6-0-3 in their last nine entering a home-and-home with North Dakota … Five players have already held or shared the national scoring lead since New Year's Day … Hockey Canada is expected to announce its men's Olympic roster Thursday, with several current college players candidates to join the four NCAA players on Team USA.