Wednesday, January 17, 2018
Notes: Suess Making a Name
Minnesota State star enjoying his best season after changing his surname to honor his mother.
---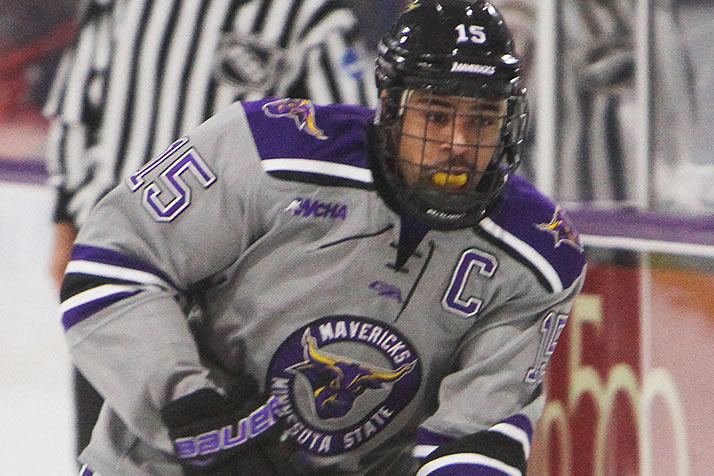 C.J. Suess has nine goals in his last eight games for Minnesota State.
By Nate Ewell
Minnesota State senior C.J. Suess (Forest Lake, Minn./Sioux Falls-USHL/WPG) continues to climb the point charts – for Mavericks career leaders and this year's national leaders – making a name for himself with a new name. Suess changed his last name from Franklin in the offseason to honor his mother and her side of the family. A star since day one with the Mavericks, his 114 career points are just five shy of Boston Bruin David Backes's totals in Mankato, and Suess could finish among the school's top five Division I scorers. His 30 points this season are tied for sixth nationally and include 9 goals and 12 points in the last 8 games. | NCAA.com: Suess making sure his (new) name is remembered | Saturday's game, part of Hockey Day in Minnesota, is on FOX Sports North+
---
Must Read/See/Hear Material
College Hockey Nation: Episode 6: Bowling Green, Michigan Tech
Associated Press: Young college try: Boeser, Keller impress as NHL rookies
Associated Press: Penn State is growing into 'Hockey Valley'
The Athletic: 2017-18 midseason Top 50 NHL prospects
Grand Forks Herald: Whitecloud drawing big NHL interest
Duluth News Tribune: Anderson brothers' relationship maturing at UMD
Centre Daily Times: Penn State hockey crowd already among nation's best
Daily Collegian: How one number drove Hamilton to become one of college hockey's top defensemen
---
Five More Storylines No One Should Be Without
Old friends in the Windy City – Notre Dame and Wisconsin meet in South Bend and Chicago this weekend, as Fighting Irish goaltender Cale Morris (Larkspur, Colo./Waterloo-USHL) puts the nation's longest winning streak (15 games) and best save percentage (.956) on the line. Morris will test those against Kyle Hayton (Denver, Colo./Sioux City-USHL), Wisconsin's goalie who helped Morris get his start at the position more than 15 years ago and approximately 1,000 miles from Chicago, when they were growing up in Denver. Hayton entered this season as the active career leader in save percentage, a position that Morris now holds thanks to his impressive sophomore season. | UND.com: Much ado about Morris | Sunday's game is on NBCSN
Best Career Save Percentage, Active Goalies
.955 – Cale Morris, Notre Dame
.940 – David Hrenak, St. Cloud State
.933 – Colton Point, Colgate (DAL)
.930 – Daniel Mannella, St. Lawrence
.929 – Kyle Hayton, Wisconsin
Yale's latest offensive star – Yale will be well represented by offensive talent on the U.S. Olympic team with Mark Arcobello, Broc Little and Brian O'Neill all in the red, white and blue. Current Bulldog junior Joe Snively (Herndon, Va./Sioux City-USHL) is on pace to join O'Neill as the only players this century to lead Yale in scoring three times. Snively has 10 points in Yale's current 5-1-1 run that has returned the Bulldogs to .500 entering a home weekend against Union and Rensselaer. | Friday's game is on ESPN3, TSN GO
Northeastern's secret weapon – Sometimes overlooked behind Northeastern's dynamic offensive duo of Adam Gaudette (Braintree, Mass./Cedar Rapids-USHL/VAN) and Dylan Sikura (Aurora, Ont./Aurora-OJHL/CHI) is senior Nolan Stevens (Sea Isle City, N.J./U.S. NTDP/STL), who should soon join the other two with 100 career points (currently 98). Stevens, the son of Los Angeles Kings head coach John Stevens, has accumulated those numbers despite missing more than half of last season due to injury. His 46 career goals rank 12th among active players and his 20-goal season has a sophomore makes him one of 16 active players – joining Gaudette and Sikura – with a 20-goal season to his credit. | Friday's game is on NESN, TSN GO
Goalie has Air Force soaring – No team returned more points (322) or goals (119) from last season than Air Force, but the Falcons had to replace all-conference goaltender Shane Starrett, who signed with the Edmonton Oilers. Junior Billy Christopolous (Raleigh, N.C./Alberni Valley-BCHL) stepped in and has been especially good lately, allowing only three goals in the last four games and posting his first career shutout Saturday at RIT. Christopoulos flew in an F-16 this summer and is considering pursuing a career as a pilot; in the meantime the Carolina Hurricanes fan has made every start for the Falcons and carries a three-game winning streak into this weekend's home series vs. Sacred Heart.
Bergh leads CC – Junior co-captain Mason Bergh (Eden Prairie, Minn./Chicago-USHL) has helped lead Colorado College to its most wins (9) in five seasons with room to build on that total. Bergh, classmate Trey Bradley (Tampa, Fla./Sioux Falls-USHL) and sophomore Nick Halloran (Draper, Utah/Trail-BCHL) have formed a potent first line; the trio has accounted for 46% of the Tigers' goals. Bergh won a Minnesota state championship with Eden Prairie High School and as the state celebrates Hockey Day in Minnesota this Saturday, he stands second among Minnesota-born players in scoring this season. | Friday's game is on CBSSN
Most Points, Minnesota Natives
30 – C.J. Suess, Minnesota State (Forest Lake)
28 – Mason Bergh, Colorado College (Eden Prairie)
25 – Odeen Tufto, Quinnipiac (Chaska)
---
NHL Note of the Week
Madison Square Garden (Saturday, Michigan State vs. Minnesota) and United Center (Sunday, Notre Dame vs. Wisconsin) are two of eight NHL arenas that will host NCAA men's games this season.
---
Fries at the Bottom of the Bag
The first phase of fan voting for the Hobey Baker Award is open on Facebook … Friday's 11-7 Omaha-Miami game featured the 10th Division I men's goalie to be credited with a goal, and Omaha head coach Mike Gabinet was mic'd up for it … This weekend against rival UNH, Maine is celebrating the 40th anniversary of the program and Alfond Arena … Army West Point plays its annual rivalry game with Canada's Royal Military College on Saturday … Twelve games are on national or regional sports networks between Thursday and Sunday.