Friday, January 26, 2018
Olympics to Feature 38 Collegians
Current and former NCAA players headed to PyeongChang for men's tournament.
---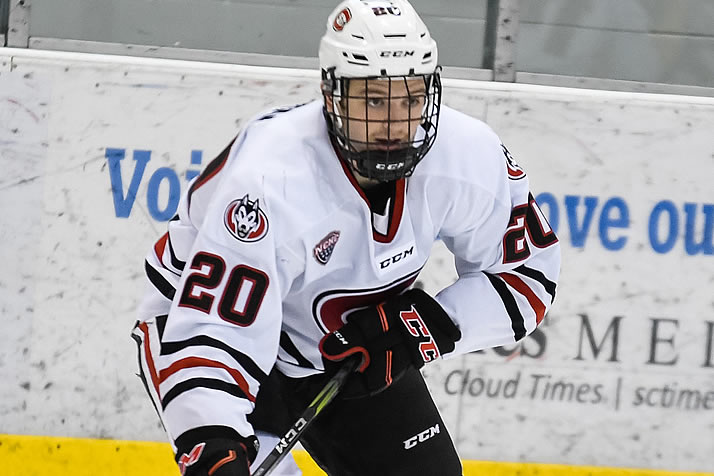 Junior Will Borgen is one of two St. Cloud State representatives on the U.S. Olympic roster.
Thirty-eight current and former NCAA players are set to represent their countries in the 2018 Winter Olympics men's hockey tournament in PyeongChang, South Korea.
NCAA Players/Alumni in Olympics
College representation can be found on seven Olympic rosters, led by the 21 NCAA players and alumni on the United States. Other countries with NCAA representatives include:
9 players – Canada
3 – Korea
2 – Sweden
1 – Norway, Slovakia, Slovenia
Twenty-five NCAA schools have representatives in the tournament, led by Boston University with four representatives (all on the U.S.). Yale has three alumni, also all on the U.S.
Several players could face former college teammates in the tournament:
Alaska Anchorage: Mat Robinson (Canada) and Luka Vidmar (Slovenia)
Michigan: Andrew Ebbett (Canada) and Chad Kolarik (U.S.)
Michigan State: Brock Radunske (Korea) and Jim Slater (U.S.)
Vermont: Ryan Gunderson (U.S.) and Viktor Stalberg (Sweden)
None of those matchups are scheduled in group play, which is slated for Feb. 14-18. The single-elimination phase of the tournament begins Feb. 20, with the gold medal game set for Feb. 25.
Five current NCAA players will take a break from their college seasons to compete in the Olympics. North Dakota's Ludvig Hoff (Norway) will join four Americans: Will Borgen (St. Cloud State), Ryan Donato (Harvard), Jordan Greenway (Boston University) and Troy Terry (Denver).
In addition to the players, college hockey will be well represented behind the bench of the U.S. entry. Wisconsin head coach Tony Granato is the head coach, while Yale head coach Keith Allain is one of his assistants. NCAA alumni Chris Chelios (Wisconsin), Ron Rolston (Michigan Tech) and Scott Young (Boston University) are the other assistant coaches.