Wednesday, February 14, 2018
Notes: Duo Leads Denver
Borgstrom, Gambrell in the spotlight as Pioneers chase consecutive titles.
---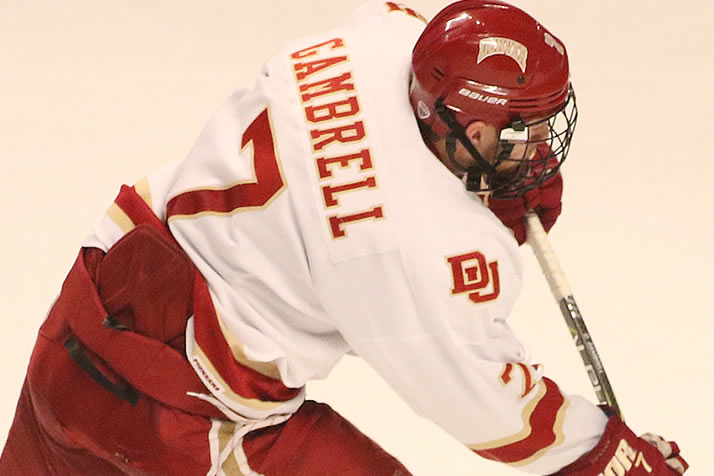 Dylan Gambrell ranks second among juniors in college hockey and fifth among all players with 123 career points (Photo by Larry Radloff).
By Nate Ewell
The defending national champions are unbeaten in seven straight, as Denver is playing some of its best hockey entering the Gold Pan series with rival Colorado College. The Pioneers will be missing Troy Terry to the Olympics, but still boast a pair of scorers among the nation's top 18: sophomore Henrik Borgström (Helsinki, Finland/HIFK U20/FLA) and junior Dylan Gambrell (Bonney Lake, Wash./Dubuque-USHL/SJ). That duo has combined for 9 goals and 14 assists in 8 games in the New Year; they are chasing a second straight title after deciding to return to school rather than sign NHL contracts last offseason. | Friday's game is on CBSSN; Saturday's is on Altitude
Most Career Points, Active Juniors
129 – Adam Gaudette, Northeastern (VAN)
123 – Dylan Gambrell, Denver (SJ)
115 – Mason Jobst, Ohio State
Most Career Points, Active Sophomores
80 – Henrik Borgström, Denver (FLA)
69 – Denis Smirnov, Penn State (COL)
69 – Tanner Laczynski, Ohio State (PHI)
---
Must Read/See/Hear Material
Lansing State Journal: An MSU hockey player, his father and a fatal disease
Grand Forks Herald: Overlooked by Michigan schools, Wolanin finds fit at North Dakota
The Miami Student: The guys who make it and the guys who don't
Wisconsin State Journal: Wagner 'set the standard' for Badgers players
Watertown Daily Times: Amorosa, Summers are Golden Knights' best on the blue line
Daily Free Press: Carpenter leading BU through adversity
College Hockey News: Penn State's 'Mayor' makes things happen
California Rubber: Loggins at 100%, leading the way at NMU
Star Tribune: Hastings has Mavericks driving toward Frozen Four
WCHA.com: MTU & Mitch's Misfits
---
Five More Storylines No One Should Be Without
Bentley opens new home – The long-awaited opening of Bentley's new on-campus Bentley Arena arrives Friday against Army West Point (which also opened the relatively new rinks at Colgate and Penn State). The Falcons are on a 4-1-0 run fueled by senior Kyle Schmidt (Menomonee Falls, Wisc./Sioux City-USHL), who has 4 goals and 4 assists in that time. The high-scoring Schmidt ranks ninth among active players with 114 career points and hasn't missed a game in his college career (147 GP). | Boston Globe: At Bentley, finally, an ice of their own
Woods, Alaska in playoff push – The WCHA is the one conference where not every team makes the playoffs, and Alaska enters its final four regular-season games in the seventh of eight available spots. Nanooks defensemen have accounted for 24 goals, most of any team in the nation, including 8 from senior captain Justin Woods (Fairbanks, Alaska/Lincoln-USHL). Woods is enjoying the best season of his career, one which was interrupted in 2014-15 when he was diagnosed with Ewing's Sarcoma, a rare form of bone cancer. Last month he celebrated three years cancer-free.
Most Goals, Defensemen
24 – Alaska
23 – Boston University, North Dakota
22 – Minnesota State, Quinnipiac
Sheehy sparks Minnesota – No. 10 Minnesota enters a top-10 showdown with No. 6 Ohio State after receiving a spark from junior captain Tyler Sheehy (Burnsville, Minn./Youngstown-USHL) in last weekend's sweep of Wisconsin. Sheehy, the reigning Big Ten Player of the Year, led the Gophers in scoring by 10 points last season. Now, his 5-point weekend against the Badgers makes him one of five players within two points of the team scoring lead. He has multiple-point games in three straight games in true road contests. | Friday's game is on BTN; Saturday's is on ESPNU
Most Players, 23-Plus Points
6 – Clarkson, Minnesota State
5 – Boston University, Minnesota, Northern Michigan, Penn State, Robert Morris, Western Michigan
Cornell's next goalie star – Cornell's goaltending tradition – which includes Canadian Olympian Ben Scrivens and the legendary Ken Dryden – has found its next star in freshman Matthew Galajda (Aurora, Ont./Victoria-BCHL). Galajda, who posted his NCAA-leading seventh and eighth shutouts last weekend, grew up on the campus of Toronto's St. Andrew's College boarding school, where his father, David, is the director of residential life. Galajda starred for the school prior to a two-year stint in the BCHL.
Most Shutouts
8 – Matthew Galajda, Cornell
7 – Jake Kielly, Clarkson
5 – Michael Bitzer, Bemidji State
5 – Colton Point, Colgate (DAL)
5 – Tanner Jaillet, Denver
5 – Andrew Shortridge, Quinnipiac
Surging Vermont – Vermont, which was 4-15-4 just over three weeks ago, is on a 5-0-2 run and would host a first-round playoff series if the season ended today. Sophomore goaltender Stefanos Lekkas (Elburn, Ill./Sioux Falls-USHL) has starred in that stretch, posting a .945 save percentage and earning four one-goal wins. In the USHL Lekkas led the Sioux Falls Stampede to the Clark Cup in 2015.
---
NHL Note of the Week
Johnny Gaudreau (Boston College) and Phil Kessel (Minnesota) rank second and tied for third, respectively, in NHL scoring. The only time two NCAA alumni finished in the top three in NHL scoring was 1990-91, when St. Louis Blues linemates Brett Hull (Minnesota Duluth) and Adam Oates (Rensselaer) trailed only Wayne Gretzky.
---
Olympic Note of the Week
Wednesday Boston University's Jordan Greenway became the first men's player to score goals in the Olympics and the NCAA in the same season since Paul Kariya and Peter Ferraro (both of Maine) in 1993-94. | Infographic
The Players' Tribune: More than a medal | St. Cloud Times: Borgen: From neck skate cut to the Olympics | The Crimson: Donato to compete on world's biggest stage
---
Fries at the Bottom of the Bag
Three games Monday night featured three hat tricks; before that the college hockey season had seen a hat trick every 14.4 games … Beanpot MVP Adam Gaudette (Braintree, Mass./Cedar Rapids-USHL/VAN) has 44 goals in his last 55 games dating back to last season … The next episode of "College Hockey Nation" will be available on ESPN On Demand Thursday, including features on Bentley's new arena, AIC and Holy Cross … Eleven games are on national or regional sports networks between Thursday and Sunday.