Wednesday, February 28, 2018
Notes: Freshman Fuels QU
Tufto leads Bobcats into first-round series with local rival Yale.
---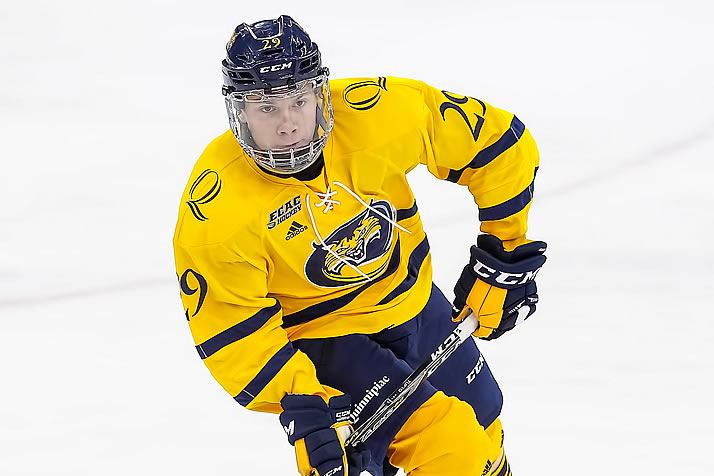 Odeen Tufto's 14 multiple-point games match Jack Eichel's output as a freshman in 2014-15.
By Nate Ewell
The first-round playoff series feature some compelling matchups including 2013 NCAA championship game rematch between local rivals Quinnipiac and Yale. The Bobcats make the short trip to New Haven led by the nation's top freshman scorer, Odeen Tufto (Chaska, Minn./Sioux City-USHL), one of five rookies to lead his team in points. Tufto has only been held off the scoresheet in consecutive games once, and his 14 multiple-point games tie Jack Eichel for the most by a freshman in the last six years.
Freshmen Leading Teams in Scoring
39 pts. – Odeen Tufto, Quinnipiac
29 – Logan Hutsko, Boston College
29 – Scott Perunovich, Minnesota Duluth
23 – John Leonard, UMass
22 – Brennan Kapcheck, AIC
---
Must Read/See/Hear Material
Pucks & Rec: Rich heritage allows Buffalo to inspire
Watertown Daily Times: Rempal a true marksman for Golden Knights
Grand Forks Herald: Johnson adjusting to new role as utility man
Boston Herald: Lots of big-name clubs on outside of NCAA Tournament
WCHA.com: WCHA Announces Jeff Sauer WCHA Championship Trophy
USAHockey.com: What's next? | Q&A with Mike Snee, College Hockey Inc.
---
Five More Storylines No One Should Be Without
Rookies lead PSU to rematch – Penn State earned a home playoff series by sweeping Minnesota last weekend, and will have to face the Gophers again for the right to reach the Big Ten semifinals. Rookie linemates Alex Limoges (Winchester, Va./Waterloo-USHL) and Evan Barrett (Bristol, Pa./U.S. NTDP/CHI) teamed with sophomore Liam Folkes (Scarborough, Ont./Brockville-CCHL) for a dangerous line that had its most productive weekend against the Gophers. Limoges has four of his seven goals on the season in the last three games, adding depth to a Nittany Lion attack that already boasts six 25-point scorers. | This weekend's series is on FOX Sports North
This Weekend's Playoff Rematches of Last Weekend's Games
Big Ten: Minnesota at Penn State (PSU swept last weekend)
ECAC Hockey: Rensselaer at Colgate (Colgate won, 5-2, on Sat.)
Hockey East: Merrimack at UMass Lowell (teams split last weekend)
AIC's European influence – American International will host a playoff game for the first time in its Division I history, as the Yellow Jackets welcome Niagara to Springfield, Mass. The Yellow Jackets and second-year head coach Eric Lang have been bolstered by significant contributions from Europeans, with an NCAA-leading 10 players from six European countries on the roster. That's part of a growing non-North American influence in Division I that has hit an all-time high in 2017-18.
Players from Outside North America, NCAA Division I Men
2017-18 – 96
2016-17 – 82
2015-16 – 58
Each of those three years was a record number
UMass young guns – Picked last in Hockey East, Massachusetts will host a first-round playoff series thanks to a 4-1-1 record down the stretch. Five freshmen sit atop the Minutemen scoring chart, led by local product John Leonard (Amherst, Mass./Green Bay-USHL). Leonard grew up a UMass fan, cheering on the team while his father, John, was an assistant men's basketball coach at the school. He heads a freshman class that has produced 144 points, 30% more than any other team's rookies.
Most Points, Freshman Class
144 – Massachusetts
111 – Bowling Green
110 – Minnesota State
109 – Boston University
107 – Minnesota Duluth
BGSU's on- and off-ice leader – Bowling Green hopes to begin its march to a second straight WCHA championship game as it hosts Ferris State in a first-round series. The Falcons have a leader on and off the ice in senior captain Mitch McLain (Baxter, Minn./Langley-BCHL), who leads the team with 16 goals and 96 career points. McLain also volunteers helping students with special needs at Wood Lane, a local school in Bowling Green. McLain's work in that area dates to high school and led him to becoming a mild-to-moderate intervention specialist major at BGSU. | The Blade: McLain does good work on, off ice
Miami's legacy – Miami hopes to build off a win and a tie vs. North Dakota as it heads to Denver this weekend to wrap up the regular season. The RedHawks have been led offensively by sophomore Gordie Green (Ann Arbor, Mich./Dubuque-USHL), who has built off a strong freshman season and posted a team-leading 13 goals and 30 points. Green's genes may have suggested he'd find success on the golf course – brother Charlie (senior at Michigan State), father Mike (Michigan) and grandfather Peter (North Carolina) all golfed collegiately. Gordie followed more of the path of his mom, Ann, who was a skater at Miami. | Friday's game is on CBSSN
---
NHL Note of the Week
Saturday's Stadium Series game at the U.S. Naval Academy is the third NHL outdoor game to be held on a college campus and the first of those at a venue that hadn't previously hosted an NCAA outdoor game. The 2014 Winter Classic was held at Michigan Stadium and in 2016 Minnesota's TCF Bank Stadium hosted a Stadium Series game. Next year's Winter Classic is scheduled for Notre Dame Stadium.
---
Fries at the Bottom of the Bag
USA Hockey celebrates the 11th annual Hockey Weekend Across America this weekend … Eleven teams have hit 20 wins this season; of those, only Minnesota State (six straight years), Providence (five) and Bowling Green (four) have reached 20 wins in more than two consecutive seasons … Atlantic Hockey, ECAC Hockey and Hockey East each have two teams hosting playoff series that did not host last season (AIC, Holy Cross, Colgate, Dartmouth, Massachusetts and Maine).