Wednesday, February 21, 2018
Notes: Sienerth's Senior Spring
Surging forward has Mercyhurst in reach of Atlantic Hockey title.
---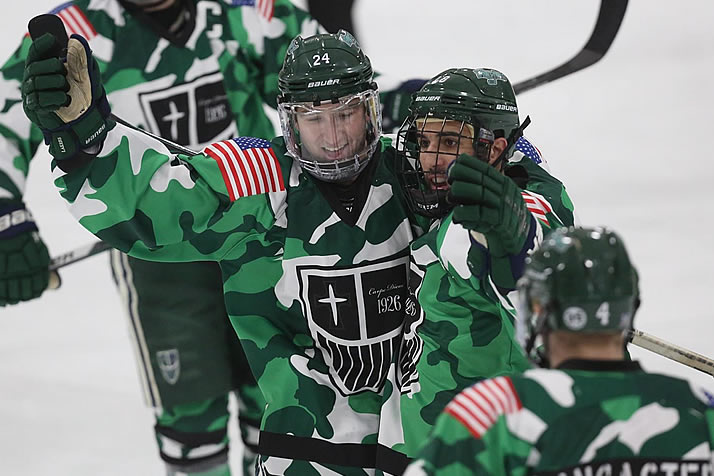 Bryan Sienerth (left) has more than doubled his career point total in his last 14 games (Photo credit Ed Mailliard).
By Nate Ewell
Sienerth's senior spring – Picked seventh in the preseason, Mercyhurst enters the final weekend of the regular season in first in Atlantic Hockey and within reach of a second conference title in five years. The Lakers are a veteran group, with 11 seniors and 11 juniors on the roster – representing the largest senior and junior classes in the nation. Just 5-6-2 in the conference at the holiday break, Mercyhurst has gone 10-2-2 down the stretch, led by hometown senior Bryan Sienerth (Erie, Pa./Sioux Falls-USHL). Sienerth, who had 14 points in his first 62 career games, is making the most of his senior spring – he has 18 points in the 14 games since Jan. 1, tied for sixth nationally in that time.
Conference Regular-Season Races at a Glance (Standings)
Atlantic Hockey (final weekend): Mercyhurst leads Canisius by 2 points
Big Ten (final weekend): Notre Dame has clinched title
ECAC Hockey (final weekend): Cornell leads Union by 4 points
Hockey East (final weekend): Boston College leads Providence by 2 points (with a game in hand) and Northeastern by 3 points
NCHC (two weeks left): St. Cloud State leads Denver by 5 points
WCHA (final weekend): Minnesota State leads Northern Michigan by 5 points
---
Must Read/See/Hear Material
Duluth News Tribune: UMD's Young emerges as physical force
Omaha World-Herald: Seniors Vesel, Randolph have been productive Omaha figures for years
Watertown Daily Times: Alftberg's versatility comes to forefront for Saints
Boston Globe: Scarfo enjoying the ride at Union
Grand Forks Herald: Pearson hockey bus a well-traveled tradition for UND fans
Pittsburgh Hockey Digest: Hebert siblings excited to join RMU hockey family
The UConn Blog: The night UConn hockey arrived
College Hockey Nation: Episode 8
---
Five More Storylines No One Should Be Without
Goalies lead LSSU into big series – Lake Superior State has won four in a row – all on the road – entering what could amount to a playoff play-in series at Ferris state. The goaltending duo of junior Nick Kossoff (W. Des Moines, Iowa/Keystone-NAHL) and freshman Mareks Mitens (Ventspils, Latvia/Aston-NAHL) has led the way, splitting time in those four games and allowing just three goals combined. The winning streak has put the Lakers one point behind eighth-place Ferris State entering the final weekend in a conference where the top eight make the postseason.
Best Save Percentage, February
.983 – Mareks Mitens, Lake Superior State
.967 – Nick Kossoff, Lake Superior State
.962 – Jake Kupsky, Union (SJ)
.960 – Stefano Durante, AIC
.960 – Mat Robson, Minnesota
SCSU's Colorado sharpshooter – New No. 1 St. Cloud state hosts No. 3 Denver this weekend in a series that could decide the NCHC title. The rankings were the same for a November series in Denver that the Pioneers swept. Among the Huskies looking to avenge those losses is junior Colorado native Mikey Eyssimont (Littleton, Colo./Sioux Falls-USHL/LA), who rooted for Denver as a kid. Eyssimont had a pair of goals last weekend as SCSU extended its unbeaten streak to seven games, giving him 14 goals on the year for the third straight season. He has improved his goal per game average each year.
McCann makes strides at Colgate – Colgate looks to secure home-ice advantage for the first round of the ECAC Hockey Tournament as it enters the final weekend of the season in sixth place. The Raiders have been led by sophomore goaltender Colton Point (North Bay, Ont./Carleton Place-CCHL), somewhat overshadowing an offensive breakthrough from his classmate, Bobby McCann (Wainwright, Alta./Bonnyville-AJHL). McCann has nearly tripled his freshman year goal total (from 5 to 14) and leads the team with 26 points, 10 more than his closest teammates.
Buckeye leaders – Ohio State has clinched home ice for the first round of the Big Ten Tournament, led by their trio of 30-point scorers in Tanner Laczynski (Shorewood, Ill./Lincoln-USHL), Matthew Weis (Freehold, N.J./Green Bay-USHL) and Mason Jobst (Speedway, Ind./Muskegon-USHL). For Weis, a senior, and Jobst, a junior captain, it is their third straight 30-point campaign, and the duo ranks seventh and eighth among active players in career scoring with 118 and 116 points, respectively.
Most 30-Point Scorers
6 – Minnesota State
3 – Denver, Northeastern, Northern Michigan, Ohio State, Princeton, RIT, St. Cloud State
Sophomore stars at Maine – Maine is within reach of a first-round bye in Hockey East, which goes to the top five teams in the conference. The Black Bears are on a 12-5-4 run fueled by their standout sophomore duo of Mitchell Fossier (Alpharetta, Ga./Sioux City-USHL) and Chase Pearson (Cornwall, Ont./Youngstown-USHL/DET). Those two have increased their combined production by 45% from last season and helped lift Maine from its 11th-place finish in Hockey East a year ago.
Most Points, Sophomore Class
140 – Western Michigan
132 – Penn State
124 – Providence
117 – AIC
116 – Maine
114 – Boston College
---
NHL Note of the Week
The New York Rangers acquired Yale alum Rob O'Gara this week, adding him to an already NCAA-heavy blueline. All of the movement leading up to the NHL trade deadline will be updated in our NHL Matchup Tool.
---
Olympic Note of the Week
Harvard's Ryan Donato (Boston, Mass./Dexter School/BOS) and Denver's Troy Terry (Denver, Colo./U.S. NTDP/ANA) finished first and second in scoring at the Olympics for the U.S. Donato, who leads the nation with 0.91 goals per game, would become the first player ever to return to the college game after leading the U.S. Olympic team in scoring. | Infographic
Boston Globe: Donato follows in his dad's footsteps | AP: Olympians put hockey seasons on hold | The Ringer: Meet Jordan Greenway, your favorite amateur American hockey player
---
Fries at the Bottom of the Bag
Back-to-back hat tricks and eight goals in three games put RIT junior Erik Brown (Keene, Ont./Kemptville-CCHL) within two goals of the national lead and two goals shy of the school's Division I record … This week's No. 1 team, St. Cloud State, is the third team to be ranked No. 1 in the last four weeks and one of four teams receiving first-place votes this week.