Thursday, March 22, 2018
10 Need-to-Know Facts About NCAA Hockey Scholarships
What you need to know as you pursue your dream of earning an NCAA hockey scholarship.
---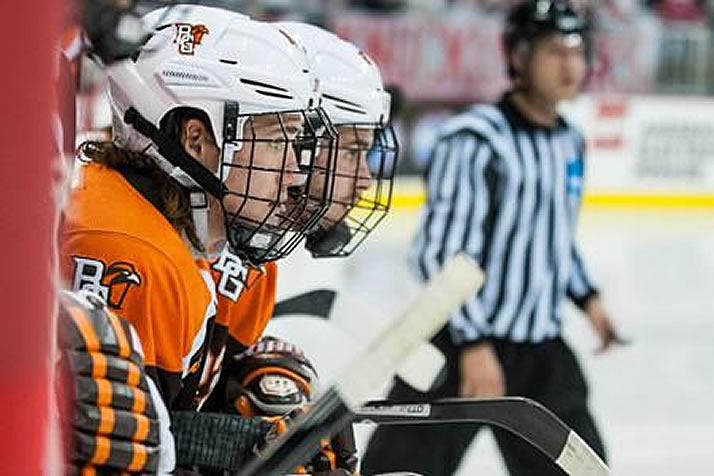 It's the dream of so many young hockey players and their parents.
And it's often misunderstood.
A hockey scholarship to a Division I program is a treasured prize, a ticket to student-athletes reaching their full athletic and academic potential. With so many shooting for that goal, it's worth reviewing these 10 facts about scholarships:
Why College Hockey? | NCAA Eligibility | Recruiting FAQ
1. Most Division I men's hockey programs offer 18 athletic scholarships. Some schools – in the Ivy League, RIT and Union – do not offer athletic scholarships. All of those schools offer competitive financial aid packages, whether or not they are tied to a student-athlete's athletic ability.
2. Those scholarships can be divided up among members of the team at the coaching staff's discretion. Some teams might award 18 full scholarships and carry eight or nine players who do not receive athletic aid. Most will divide their scholarships so that more than 18 players are on athletic scholarship; on some teams, every player will receive at least a portion of a hockey scholarship.
3. Athletic scholarships may be supplemented by other forms of financial aid. Many schools have need-based or academic-based financial aid programs in place, another reason why academic success in high school can benefit a prospective student-athlete. A top hockey player with excellent grades may qualify for academic aid – saving his family money, and saving his NCAA team scholarship dollars that they can then allocate to another player.
4. Need-based financial aid is determined by an institution's financial aid office and varies by school. It is typically calculated based upon the student and his family's ability to contribute to the cost of his education. Many schools have grants or loans available to cover additional costs.
5. Coaches determine which players on their teams receive athletic scholarships, but need-based or academic-based scholarships are determined by an institution's financial aid office, not the coaching staff.
6. Many scholarships will cover summer classes and even allow students who turn pro prior to graduation to return to school to complete their degree. NHL players like Colton Parayko, Alec Martinez, David Backes, Nick Bjugstad and Anders Lee have all finished their degrees while playing in the NHL.
7. Athletic scholarship offers prior to enrollment are formalized by signing a National Letter of Intent. The scholarship offers can be for anywhere from one to five years, and cannot be signed prior to a prospective student-athlete's 12th grade year. Any commitments prior to that time are verbal commitments; those are not legally binding for either the athlete or the institution.
8. Scholarships can be offered for up to five years. Athletic scholarships cannot be reduced or cancelled year-to-year based on ability or performance, or because of injury. Some reasons why a scholarship could be cancelled include academic ineligibility or disciplinary issues. Any student-athlete whose athletic aid is reduced or cancelled has the right to a hearing with institutional representatives outside of the athletic department.
9. Many schools offer scholarships that include additional grants to cover the full cost of attendance. A full athletic scholarship has typically covered tuition and fees, room and board, and books. Full cost of attendance grants are designed to cover additional expenses such as transportation to and from campus and additional meals. The amount of these full cost of attendance grants varies by school, and not all schools will offer them.
10. NCAA Division III schools do not offer athletic scholarships, but do provide need- and academic-based aid, much like the Division I schools that operate without athletic scholarships.