Sunday, March 18, 2018
Field Set for NCAA Tourney
The path to St. Paul has been set for the 2018 NCAA Tournament.
---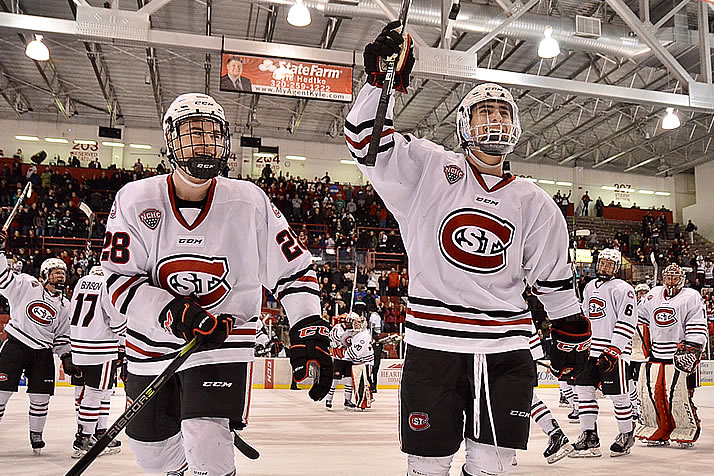 St. Cloud State claimed the No. 1 overall seed in the 16-team field.
The path to St. Paul is set, and three teams that are in search of their first national championship are among the top four seeds in the field.
St. Cloud State enters the tournament with the No. 1 overall seed, while four conference tournament winners occupy the last four seeds in the field, a first since the bracket expanded to 16 in 2003.
Bracket (.pdf) - Sortable statistics - TV schedule
All games in the tournament will be broadcast on the ESPN family of networks. TSN GO will carry the first 14 games of the tournament in Canada, with the championship game on TSN2.
The Huskies are one of three Minnesota schools that will be joined by Air Force in the West Regional in Sioux Falls, S.D. Minnesota State and Minnesota Duluth will meet in the second first-round game there.
Big Ten regular-season and playoff champion Notre Dame earned the second No. 1 seed and will travel to Bridgeport, Conn., to meet Michigan Tech in the East Regional. Providence and Clarkson – both runners-up in their conference tournaments – also meet in Bridgeport.
Cornell is the third No. 1 seed and will meet Hockey East playoff champion Boston University in the first round of the Northeast Regional in Worcester, Mass. Michigan and Northeastern face off in the second game at that site.
Allentown, Pa., hosts the Midwest Regional where Ohio State holds the top seed. The Buckeyes will face ECAC Hockey playoff champion Princeton, which makes its first appearance since 2009. The defending national champion Denver Pioneers face host Penn State in the second game in Allentown.
Denver hopes to become the first team to repeat as national champions since the 2004 and '05 Denver squads. Seven schools have won the last seven NCAA championships, including four first-time champions.