Thursday, March 22, 2018
Five Finalists Named for Richter
Two freshmen, two sophomores among top contenders for goalie award.
---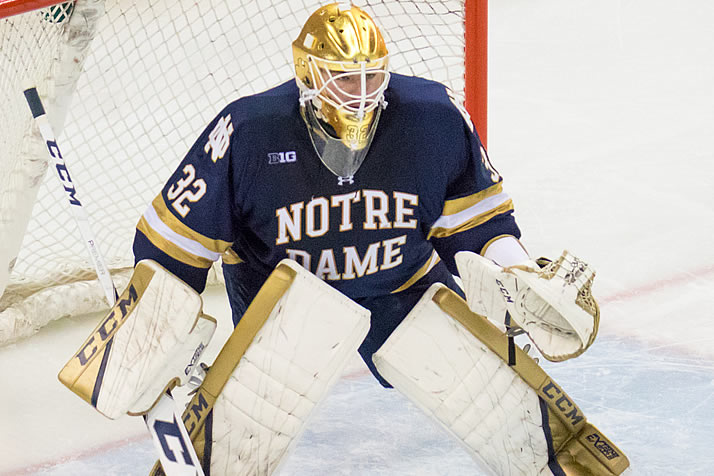 Notre Dame's Cale Morris leads the nation with a .946 save percentage.
The Mike Richter Award has named the five finalist for the 2018 award, given to the top goaltender in college hockey. They are:
Matthew Galajda, Fr., Cornell
Tanner Jaillet, Sr., Denver
Cale Morris, So., Notre Dame
Colton Point, So., Colgate
Cayden Primeau, Fr., Northeastern
Jaillet won the award in 2017 and is the lone upperclassman of the group of finalists, which includes two freshmen and two sophomores.
Four of the five are in the NCAA Tournament and were named first-team all-conference, with Colgate's Point being the lone exception on both fronts. Point does rank second nationally with a .944 save percentage and was 16-12-5 with the Raiders.
Point (Dallas) and Primeau (Montreal) are NHL draft picks, while Galajda, Jaillet and Morris are undrafted.
The 2018 Mike Richter Award will be presented at ESPN's #CawlidgeHawkey event at Tom Reid's Hockey City Pub, on Friday, April 6 (7:15 p.m.), featuring John Buccigross, Barry Melrose and Mike Richter. Fans are encouraged to attend the event, which will feature a Q&A, giveaways and autographs.
Candidates for the Mike Richter Award were determined by nominations from all 60 NCAA Division I men's hockey head coaches. The finalists and winner are selected by a committee of coaches, scouts and members of the media.
Past winners are: Jaillet (2017), Thatcher Demko (Boston College, 2016), Zane McIntyre (North Dakota, 2015) and Connor Hellebuyck (UMass Lowell, 2014).