Thursday, March 1, 2018
HWAA 2018: State-by-State MVPs
We pick the best players by home state in honor of USA Hockey's Hockey Weekend Across America.
---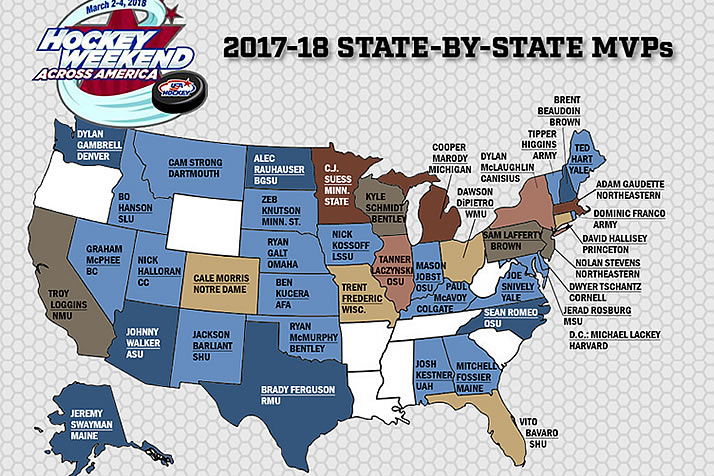 USA Hockey's Hockey Weekend Across America celebrates the passion for hockey that exists throughout the United States.
In the spirit of celebrating hockey across all corners of the U.S. – and as we have done for seven straight years now – College Hockey Inc. is saluting the top contributors in Division I men's hockey from each state this season.
In all, 41 states plus the District of Columbia are represented on Division I rosters, from Minnesota (197 players) to D.C., Kansas, Montana, New Mexico, Oklahoma and Vermont (1 each).
Scroll down to see our infographic featuring each state's selection. As you can imagine, picking the one "best" player from some states was a huge challenge. We based decisions on this year's performance and gave an edge to players whose teams have performed well.
A few notes on this year's honorees:
Three players – Alabama Huntsville's Josh Kestner (AL), Air Force's Ben Kucera (KS) and Minnesota State's Zeb Knutson (SD) – were honored for the fourth straight year.
32 schools had a player selected, led by Ohio State with three honorees: Mason Jobst (IN), Tanner Laczynski (IL) and Sean Romeo (NC).
Army West Point, Bentley, Brown, Maine, Minnesota State, Northeastern, Sacred Heart and Yale each had two honorees.
Think we made a poor choice in your state? Let us know on Twitter and tag @collegehockey.
Hockey Weekend Across America events include "Wear Your Favorite Hockey Jersey Day" on Friday and nationwide opportunities on Saturday to try hockey for free. For more information visit hockeyweekendacrossamerica.com.