Thursday, March 29, 2018
Three Named to Hobey Hat Trick
Borgstrom, Donato and Gaudette top vote-getters for 2018 honor.
---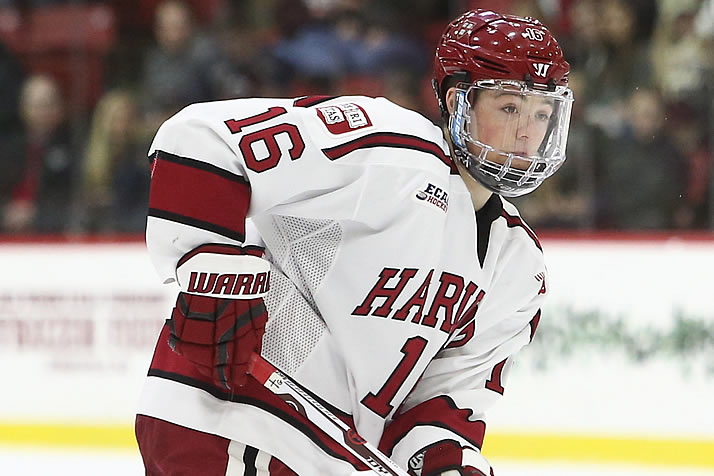 Ryan Donato's season included 26 goals for Harvard, an Olympic appearance and now the Boston Bruins.
Three dynamic forwards – each of whom has already signed in the NHL – make up the Hobey Hat Trick of three finalists for the 2018 Hobey Baker Award, given to the top player in college hockey.
Denver's Henrik Borgström, Harvard's Ryan Donato and Northeastern's Adam Gaudette are the top three vote-getters for the Hobey, which will be awarded on Friday, April 6, in St. Paul.
Borgström (Helsinki, Finland/HIFK U20/FLA), a sophomore, earned NCHC Player of the Year honors in a follow-up to his national championship freshman season. He led Denver with 23 goals and 52 points in 40 games this season and signed with the Florida Panthers this week.
Borgström's former teammate, Will Butcher, won the Hobey Baker Award last season. Denver could become the first team since Maine in 1992-93 (Scott Pellerin, Paul Kariya) to win consecutive Hobeys. Borgström would be the first Finn and second European (Peter Sejna, 2003) to win the award.
Donato (Boston, Mass./Dexter School/BOS) earned ECAC Hockey Player of the Year honors as a junior after being named Ivy League Player of the Year as a sophomore. The current Boston Bruin led Harvard with 26 goals and 43 points in 29 games and also led the U.S. Olympic Team in goals and points.
Donato would be the fifth Harvard player to win the Hobey, just two years after his former teammate Jimmy Vesey.
Gaudette (Braintree, Mass./Cedar Rapids-USHL/VAN) leads the nation in goals (30) and points (60) in his impressive junior season at Northeastern. Gaudette – who is expected to make his NHL debut Thursday night for Vancouver – earned Hockey East Player of the Year honors and led the Huskies to the Beanpot championship.
Gaudette would be the first Northeastern player to win the Hobey Baker Award.
The winner of the 2018 Hobey Baker Award will be announced Friday, April 6, at 6 p.m. ET at the Roy Wilkins Auditorium in St. Paul, Minn. The announcement will be televised live on the NHL Network and streamed online at hobeybaker.com.