Monday, March 19, 2018
Top 2018 NCAA Tournament Storylines
Nine schools chase their first title in wide-open 16-team field.
---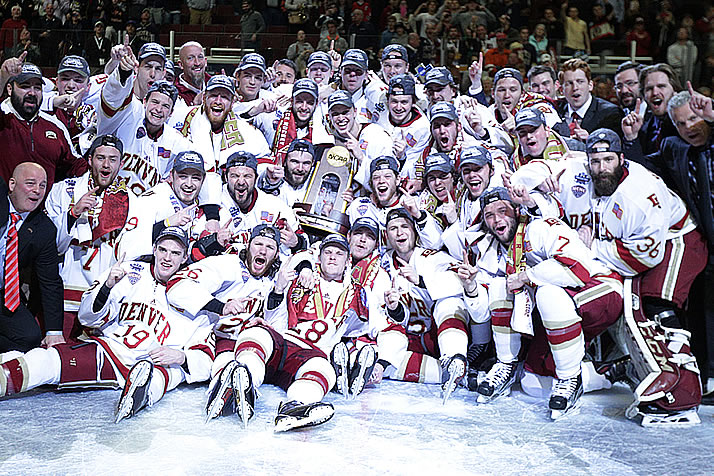 Denver hopes to become the first repeat champions since the Pioneer teams of 2004 and 2005 (Photo by Larry Radloff).
Who's next? – Seven schools have won the last seven national championships, including four first-time winners. Only three of those seven most recent champions are in this year's field (Denver, Providence, Minnesota Duluth), and there are lots of opportunities for first-time winners. More than half of the field has never won a championship (nine teams), including three of the top four seeds.
Full bracket (.pdf)

NCAA Tournament Media Kit (.pdf)

Sortable Team Stats

TV Schedule
Repetition – Denver seeks to become the tournament's first repeat champion since the Denver teams of 2004 and 2005. The Pioneers went 11-1-2 against the rest of the field in the regular season. They are appearing in their 11th consecutive NCAA Tournament, the only school with an active streak of more than five years. Providence, Boston University and Minnesota Duluth are the only other schools that have made the field at least four years in a row.
Longest Active Appearance Streaks:
Denver – 11
Providence – 5
Boston University, Minnesota Duluth – 4
View the future – Twenty-nine NHL teams have at least one draft pick in the tournament, with a total of 78 drafted players on the 16 rosters (Air Force and Princeton are the only teams without an NHL draft pick). The Chicago Blackhawks have the most draft picks in the tournament with nine. Boston University (12), Michigan (10) and Providence (9) have the most draft picks on their rosters.
Draft Picks Playing NCAA Hockey
While most players are drafted prior to arriving at college, 35 players in the tournament – including first-round prospects Quinn Hughes (Michigan) and Brady Tkachuk (BU) – are eligible for the 2018 NHL Draft.
Forty-seven NCAA schools have had a former player in the NHL this season, including 14 of the 16 teams in the tournament (Air Force and Penn State are the exceptions). Thirty percent of all NHL players developed in NCAA hockey.
NHL Draft Picks by Region
35 – Northeast Region
19 – East Region
13 – Midwest Region
11 – West Region
Big scorers – For the first time in at least six years, the nation's top five scorers all made the NCAA Tournament. Each has at least 50 points entering the tournament. In all, 13 of the nation's top 23 scorers are in the field.
Highest scoring pairs of teammates
113 points – Adam Gaudette/Dylan Sikura, Northeastern
107 – Max Veronneau/Ryan Kuffner, Princeton
94 – Henrik Borgstrom/Troy Terry, Denver
86 – Tony Calderone/Cooper Marody, Michigan
85 – C.J. Suess/Zeb Knutson, Minnesota State
Young goalies – Eleven of the 16 tournament teams feature a starting goalie in his first season as the team's primary starter in net, including four freshmen. Denver's Tanner Jaillet, one of two senior starting goalies in the field, has played nine career NCAA Tournament games, more than the rest of the goalies in the tournament combined.
Tournament Starting Goalies by the Numbers
11 – In first year as team's starter
6 – Have NCAA Tournament experience
4 – Freshmen
3 – Transfers
2 – Seniors
2 each – From North Carolina and Colorado
Experience counts – Twelve teams in the tournament are led in scoring by a junior or senior. Only one freshman leads his team in scoring, and it's also the only defenseman leading his team in scoring: Minnesota Duluth's Scott Perunovich.
From the state of hockey – As 16 teams hope to advance to St. Paul, 73 Minnesotans will be playing for the chance to play in their home state. That is the most representatives of any state or province in the tournament, nearly double the next-closest state (Michigan, 37). Fourteen schools have at least one Minnesota native on their roster (Cornell and Providence are the exceptions). Ten countries, including 31 states and eight Canadian provinces, are represented on tournament rosters.
Streaking four seeds – Each of the four No. 4 seeds in the tournament won their conference playoff title, a first since the NCAA field expanded to 16 in 2003. Princeton (7-0-1) and Boston University (6-0-1) are the only schools entering with unbeaten streaks longer than four games. Four seeds have enjoyed success in the tournament lately, recording seven first-round upsets in the last five years combined. Five No. 4 seeds have reached the Frozen Four in that time and two have won the NCAA title.
European influence – A record number of Europeans played Division I this season (96) and 22 are in the NCAA Tournament. Nine Finns are in the tournament, including Denver leading scorer and Hobey Baker Award finalist Henrik Borgstrom. Slovakian David Hrenak is the No. 1 goalie for top-seeded St. Cloud State.
Leading the way – Nearly half the coaches in the field – seven of 16 – are making their first or second NCAA Tournament appearance with their school. Mel Pearson has led Michigan to the tournament in his first year with the Wolverines after guiding Michigan Tech last season; he is the first head coach to make back-to-back tournaments with different teams. His successor at Michigan Tech, Joe Shawhan, is one of three coaches making their Division I tournament debuts (also Clarkson's Casey Jones and Princeton's Ron Fogarty).
Coaches' kids – Four players in the tournament are sons of NHL coaches, led by Northeastern captain Nolan Stevens, whose father John is the head coach of the Los Angeles Kings. Denver's Tyson McLellan (Edmonton head coach Todd McLellan), Minnesota Duluth's Justin Richards (Tampa Bay assistant Todd Richards) and Clarkson's John Carter MacLean (Arizona assistant John MacLean) are also sons of NHL coaches. Boston University features Bobo Carpenter, whose father Bobby coaches the KHL's Kunlun Red Star, and Brady Tkachuk, whose father Keith is an amateur scout for the St. Louis Blues.
Hobey watch – Seven of the 10 finalists for the Hobey Baker Award are in the tournament, with at least one in each region. Three of those – including the only teammates up for the award, Northeastern's Adam Gaudette and Dylan Sikura – are in the Northeast Regional in Worcester.
---
NOTES BY REGION
Midwest Regional (Allentown, PA)
Penn State (making its second NCAA appearance) and Princeton (fourth) are the two teams with the least NCAA Tournament history in the field … Princeton's last appearance came in 2009 under current Penn State head coach Guy Gadowsky … Seven of the nine Pennsylvania natives in the field are playing in Allentown (six on Penn State and OSU's Luke Stork) … Steve Rohlik (Wisconsin, 1990) and Jim Montgomery (Maine, 1993) are the two coaches in the tournament who won the NCAA championship as players.
Northeast Regional (Worcester, MA)
The Cornell-Boston University first-round game is a rematch of the 1967 and '72 national championship games … Cornell (15-3-2) and BU (13-3-3) have the first- and third-best records among NCAA Tournament teams since Christmas … Goaltenders Matthew Galajda (Cornell) and Cayden Primeau (Northeastern) rank first and second among freshmen goalies nationally in goals-against average (and among all tournament goalies in career GAA) … Northeastern (Adam Gaudette/Dylan Sikura) and Michigan (Tony Calderone/Cooper Marody) have two of the four highest-scoring duos in the nation … Boston College won the last six regionals in Worcester.
East Regional (Bridgeport, CT)
Notre Dame-Michigan Tech is the only first-round matchup featuring two conference tournament champions … Notre Dame head coach Jeff Jackson was an assistant coach at Lake Superior State during Michigan Tech head coach Joe Shawhan's senior season … The starting goalies for the top two seeds in the region (Cale Morris and Hayden Hawkey) are both Colorado natives; the other two (Jake Kielly and Patrick Munson) are Minnesota natives … Notre Dame (16 games) and Clarkson (14) boast the two longest winning streaks of the 2017-18 season.
West Regional (Sioux Falls, SD)
Air Force, which joins three Minnesota schools in Sioux Falls, features a Minnesota native as its head coach (Coleraine's Frank Serratore) and leading scorer (Minnetonka's Erik Baskin) … 50 of the 73 Minnesota natives in the tournament are in this region … The leading scorer for Minnesota State (C.J. Suess) and leading goal scorer for St. Cloud State (Mikey Eyssimont) both played for the USHL's Sioux Falls Stampede … Minnesota State teammates Zeb Knutson and Walker Duehr are the only two South Dakota natives in Division I … St. Cloud State head coach Bob Motzko's career includes stops in Sioux Falls and as an assistant coach with Frank Serratore at Denver … This is just the second regional held in a state that isn't home to a Division I program (St. Louis, 2011); multiple Frozen Fours, including the last two, have been in states that were not home to Division I teams.
---
MISCELLANEOUS
Three first-round games are rematches of regular-season meetings (Clarkson-Providence, Cornell-Boston University and Minnesota State-Minnesota Duluth); all three of those matchups took place on Nov. 25 … Fifteen schools have appeared in the last 10 NCAA championship games, and only six of those are in this year's tournament … Four teams are receiving first-place votes in the USCHO.com national poll, the first time that has happened entering the NCAA Tournament since 2011 … The potential exists for three teams of Huskies to reach St. Paul (St. Cloud State, Northeastern and Michigan Tech).