Tuesday, March 27, 2018
Top St. Paul Storylines
Familiar field convenes with chance for eighth school to win in eight years.
---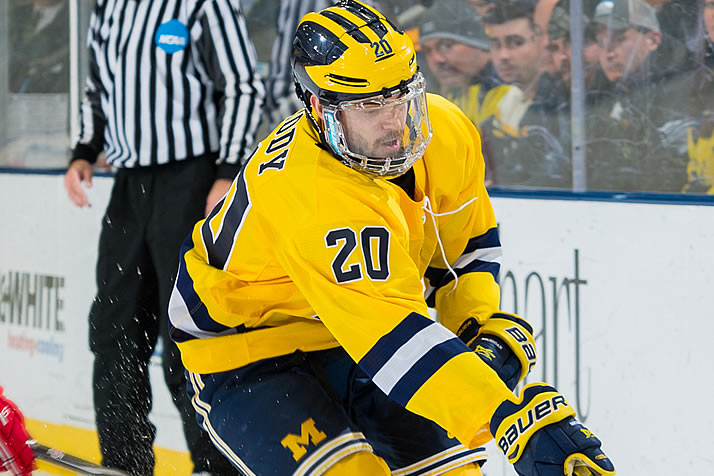 Cooper Marody (49 points) leads five 40-point scorers who have advanced to St. Paul.
By Nate Ewell
Thursday, April 5
6 p.m. ET: Minnesota Duluth vs. Ohio State (ESPN2/TSN GO)
9:30 p.m. ET: Michigan vs. Notre Dame (ESPN2/TSN GO)

Saturday, April 7
7:30 p.m. ET: Championship Game (ESPN/TSN2)
---
Familiar field – The 2018 NCAA Frozen Four features two repeat semifinalists from last year (Minnesota Duluth, Notre Dame), the first time since the 2007 and '08 Frozen Fours that multiple teams are making return trips. It also features three of the same teams from the last time the event was in St. Paul in 2011 (Michigan, Minnesota Duluth, Notre Dame), when UMD captured its first national title.
---
New face? – The last seven NCAA championships have been won by seven schools, and Minnesota Duluth is the only Frozen Four entrant among that group. The Bulldogs started that run in 2011 in St. Paul. The tournament has had one stretch of eight winners in eight years, from 1984-91.
Four of the last seven champions were first-time winners, and Ohio State or Notre Dame could join that group.
---
B1G party – The Frozen Four will feature three schools from one conference for just the fifth time in its history and the first time since 2005. Big Ten teams had combined for five wins in the previous four NCAA Tournaments (since the conference was formed in 2013-14); they won six games in the regionals and are guaranteed at least one more win in St. Paul.
Three Teams from One Conference at a Frozen Four
2018 – Big Ten (Michigan, Notre Dame, Ohio State)
*2005 – WCHA (Colorado Coll., Denver, Minnesota, N. Dakota)
1999 – Hockey East (Boston College, New Hampshire, Maine)
1992 – CCHA (Lake Superior State, Michigan, Michigan State)
1981 – WCHA (Michigan Tech, Minnesota, Wisconsin)
*Four teams
---
Future stars – Nearly two-thirds of all NHL teams (19 of 31) have draft picks in the Frozen Four (25 total), with several other free agent and 2018 NHL Draft prospects in the mix as well. Michigan leads the schools with 10 draft picks on its roster, while the host Minnesota Wild lead all NHL teams with three prospects in the field. It marks the second year in a row, after Chicago last April, that the host NHL team has had the most draft picks at the Frozen Four.
NHL Draft Picks by Team
10 – Michigan
6 – Minnesota Duluth, Notre Dame
3 – Ohio State
Prospects in the Frozen Four by NHL Team:
3 – Minnesota
2 – Carolina, Dallas, Florida, New Jersey
1 – Arizona, Boston, Chicago, Colorado, Columbus, Edmonton, Los Angeles, Montreal, NY Islanders, Philadelphia, San Jose, Toronto, Vancouver, Winnipeg
---
Experienced leaders – All four head coaches have won NCAA championships, either as head coaches (Notre Dame's Jeff Jackson and Minnesota Duluth's Scott Sandelin), assistant coaches (Jackson, Sandelin and Michigan's Mel Pearson) or as a player (Ohio State's Steve Rohlik). Rohlik could join five men who have won titles as both player and head coach: Dean Blais, Mike Eaves, George Gwozdecky, Jim Montgomery and Al Renfrew. None of the four head coaches are graduates of the school they lead, just the second time that has happened in a Frozen Four field (1969 the other).
---
The roads traveled – A bit on the paths to St. Paul for each of the four semifinalists:
Michigan: First-year head coach Mel Pearson – the first coach to lead different teams to consecutive NCAA Tournaments – has led the Wolverines to a nine-win improvement from last season. They were 8-10-2 on Jan. 7, however, and just 1-6-0 against eventual NCAA Tournament teams. Since then they have gone 14-4-1 (6-3-0 vs. NCAA teams), led by junior Cooper Marody (20 points) and sophomore Hayden Lavigne (.914).
Minnesota Duluth: After losing six players from last year's Frozen Four team to NHL contracts, the Bulldogs started 7-9-2. The turnaround began around Christmas, even with five players at the World Junior Championship, and saw UMD go 16-7-1 down the stretch. Hunter Shepard posted six shutouts in that time behind a defense featuring five freshmen.
Notre Dame: The Irish impressed from start to finish in their first season in the Big Ten, becoming the nation's only team to win its regular-season and playoff conference title. Hobey Baker finalist Cale Morris led the team on a 16-game winning streak, the second-longest in college hockey since 1993.
Ohio State: Always potent on offense, the Buckeyes shored up their own end of the ice this year, ranking in the top three nationally in penalty kill (first) and team defense (third) after finishing 57th and 30th in those categories last year. First-year starter Sean Romeo took over in goal after all of last year's goaltending minutes graduated and 40-point scorers Tanner Laczynski and Mason Jobst led the offense.
---
Home state – St. Paul will welcome more natives of Minnesota (26) than any other state, and the Land of 10,000 Lakes is the only state or province represented on each Frozen Four roster. The home state Bulldogs lead all teams with 17 Minnesota natives but each has a key contributor who will be headed home:
17 – Minnesota Duluth (Matt Anderson, Mikey Anderson, Joey Anderson, Bender, Krieger, Kuhlman, McCormack, Perunovich, Peterson, Roehl, Roth, Samberg, Shepard, Swaney, Thomas, Tufte, Wolff)
5 – Notre Dame (Brauer, Bretzman, Gross, Hellickson, Malmquist)
3 – Ohio State (Ege, Fidler, Wiitala)
1 – Michigan (Becker)

---
Captains' log – College hockey captains typically boast fascinating stories, and the leaders of these four teams are no exception:
Michigan: Tony Calderone produced a career year as a senior, nearly doubling his goal and point totals from his first three years combined. He ranks tied for fifth nationally in goals with 24.
Minnesota Duluth: Karson Kuhlman hasn't missed a game in his four years at Duluth (164 GP) and is the leader of the young Bulldogs. While not a big scorer, it was his goal that sparked the first-round comeback win vs. Minnesota State.
Notre Dame: Jake Evans leads all players in the Frozen Four in career points (134) and the Toronto native is enjoying his best season as a senior. He shared his perspective in this video on UND.com.
Ohio State: The lone junior captain among the four teams, Mason Jobst has 98 points in the past two seasons; only Adam Gaudette, Dylan Sikura and Brady Ferguson have more. The diminutive Speedway, Ind., native has become a 200-foot player and a threat offensively whenever he is on the ice.
---
New netminders – All four teams feature goaltenders in their first year as the primary starter at their school; none entered the NCAA Regionals with any NCAA Tournament experience.
---
Rebounders – Minnesota Duluth (7-9-2) and Michigan (8-10-2) both found themselves two games under .500 well into the season but have produced impressive second halves. Their 15 wins since Christmas are just one shy of the national lead in that time (shared by three teams, including Ohio State).
Michigan has the fewest wins among the four teams in the field (22), but the most in their last 10 games (9).
Most Wins, Since Christmas
16 – Air Force, Minnesota State, Ohio State
15 – Bowling Green, Cornell, Michigan, Minnesota Duluth, Northern Michigan

---
Balanced attacks – Michigan's Tony Calderone (24 goals) and Ohio State's Mason Jobst (21) are the only 20-goal scorers in the Frozen Four field. Calderone and Jobst are the only two of the nation's top 41 goal scorers to reach the Frozen Four.
Meanwhile, only 15 players nationally posted 30 or more assists, and three of those reached St. Paul: Michigan's Cooper Marody (33), Notre Dame's Jake Evans (31) and Ohio State's Tanner Laczynski (30).
---
Draft-eligible D – Michigan's Quinn Hughes and Minnesota Duluth's Scott Perunovich highlight the 12 players in the Frozen Four eligible for the NHL Draft. Hughes – the youngest player in college hockey this year – ranks third nationally among freshmen defensemen with 29 points. Perunovich, who was not drafted in his first two seasons of eligibility, leads freshmen defensemen (and the Bulldogs team) with 36 points. Nationally he is only of only five freshmen and one of only six defensemen to lead his team in scoring.
---
One-goal wonders – Six of the 12 NCAA Regional games were decided by one goal, and signs point to more of the same in St. Paul. Three of the teams faced each other in the Big Ten Tournament, with both of those games going to overtime. On the year, eight of the 14 games between Michigan, Notre Dame and Ohio State were decided by one goal. The fourth team in the field, Minnesota Duluth, has had its last nine NCAA Tournament games decided by one goal.
Record in One-Goal Games
13-3 – Notre Dame
7-5 – Ohio State
7-6 – Michigan
5-8 – Minnesota Duluth
---
Back for more – Ohio State returns to the Frozen Four its second appearance (1998 was the first). The Buckeyes are the 10th NCAA program to go 20 years between Frozen Four appearances. Four times in the last six years a team has returned to the Frozen Four for the first time in 20-plus years (Yale-2013, Providence-2015, Harvard-2017, Ohio State-2018).
Most Years Between Frozen Four Appearances
61 – Yale
39 – Colorado College
30 – Dartmouth, Providence
26 – St. Lawrence
23 – Cornell, Harvard
21 – Clarkson, Rensselaer
20 – Ohio State
---
Smart guys – Hockey boasts the best APR (Academic Progress Rate) of any NCAA Division I men's sport in the latest NCAA data with an average four-year APR score of 986, the fourth straight year that men's hockey has led that rating. The four schools in the Frozen Four are in line with that average: Notre Dame (997), Minnesota Duluth (990), Ohio State (980) and Michigan (978).
---
NOTEWORTHY
For the third time in nine years (and just the third time since 1974), no Division I team will post 30 wins this season (also 2010, 2015) … 22 different teams have accounted for the 40 available Frozen Four berths in the last 10 seasons … Five players had multiple-goal games in the NCAA Regionals; for three, including Notre Dame's Jordan Gross and Ohio State's Kevin Miller, it was their first two-goal game of the year … Teams leading after the second period in the NCAA Regionals went 8-1, with Minnesota Duluth's first-round overtime win the lone exception.
Michigan: Michigan was picked sixth in the preseason Big Ten coaches' poll … The Wolverines' 25 Frozen Four appearances are tied with Boston College for the most all-time … The last coach to reach the Frozen Four in his first year at a school was Brad Berry, who led North Dakota to the 2016 NCAA championship … Tony Calderone enters the Frozen Four with the longest active point streak of any player (6 games, 7-5—12).
Minnesota Duluth: The Bulldogs won their lone national championship in St. Paul in 2011, an overtime victory against Michigan … Only three teams – Massachusetts (169), Boston University (129) and Minnesota State (127) – got more points from their freshmen than UMD (126) … Associate head coach Brett Larson spent two years in the same role at Ohio State (2013-15).
Notre Dame: Cale Morris is the lone top-10 Hobey Baker Award finalist and Mike Richter Award finalist in the Frozen Four … Jake Evans leads all players in the Frozen Four with 134 career points … All four of Notre Dame's Frozen Four appearances have come in the last 11 years; only Boston College and North Dakota (five each) have more in that time.
Ohio State: Steve Rohlik spent nine years as an assistant coach with Scott Sandelin at Minnesota Duluth … Ohio State has outscored opponents by 30 goals in the third period, tied with St. Cloud State for the national lead … The Buckeyes are the fourth-least penalized team in the nation (8.7 PIM/game) and the fourth-best faceoff team (54%), both best among teams in St. Paul.