Wednesday, April 11, 2018
Cup Pursuit Begins for Alumni
At least nine schools represented in each first-round NHL series.
---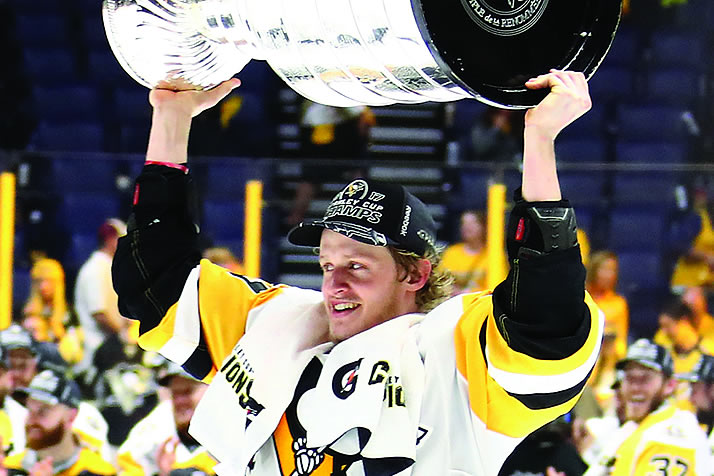 Pittsburgh seeks a third straight Cup with another roster filled with NCAA alumni, including Jake Guentzel.
The eight first-round series in the Stanley Cup playoffs will each feature at least a dozen NCAA alumni, as former college hockey stars take aim at the sport's biggest prize.
The four teams that used the most college players this season – Pittsburgh, Boston, Minnesota and New Jersey – all made the NHL's postseason, as did nine of the 12 NCAA alumni general managers in the league.
Six players who made their NHL debuts after completing their NCAA seasons could see further action in the playoffs, including Denver teammates Troy Terry (Anaheim) and Dylan Gambrell (San Jose), who find themselves on opposite sides of a first-round matchup.
Other highlights of the first round:
Bowling Green alums George McPhee (Vegas) and Rob Blake (Los Angeles) lead their teams into a first-round meeting as general managers
2009 NCAA champions Nick Bonino (Nashville) and David Warsofsky/Colin Wilson (Colorado)from Boston University are among the former college teammates who will face off in the first round
Every series has at least nine schools and 14 NCAA alumni represented on the teams' active rosters
Each of the last two years the Pittsburgh Penguins have won the Stanley Cup with record contributions from NCAA alumni. Thirteen former college players got their name on the Cup in 2016, while 15 did so last season. This year's Penguins featured 19 former college players in the regular season and have 15 on the active roster entering the playoffs.
Three hundred and ten former college players played in the NHL during the regular season, the fourth time the total number has exceeded 300. That total included six of the top 12 leaders in rookie scoring and a record number of goaltenders (28).
Here's a quick look at the NCAA connections in each first-round series (for a full look at each team visit our NHL Matchup Tool):
---
Tampa Bay vs. New Jersey
12 schools are represented on the active rosters of Tampa Bay (five alums) and New Jersey (13)
New Jersey featured 17 NCAA alumni this year, tied for third in the league
The Devils feature three NCAA champions (Will Butcher, Brian Gibbons, Jimmy Hayes)
Chris Kunitz (Ferris State) is one of only six NCAA alumni to win the Cup four times; he could join Joe Nieuwendyk as the only alums to win it with three different teams
The Devils, with Ray Shero (St. Lawrence) and John Hynes (Boston University), are one of three playoff teams with alums as both GM and head coach
---
Boston vs. Toronto
16 schools are represented on the active rosters of Boston (14 alumni) and Toronto (seven)
Boston utilized 18 NCAA alumni this year, second in the league behind Pittsburgh (19)
Both general managers played college hockey
Ryan Donato, Jordan Greenway (Minnesota) and Troy Terry (Anaheim) are the only three players to play in the NCAA, Olympics and NHL this season
---
Washington vs. Columbus
Nine schools are represented on the active rosters of Washington (seven alumni) and Columbus (seven)
T.J. Oshie and Taylor Chorney were NCAA teammates at North Dakota
Both rosters feature two NCAA champions: Cam Atkinson (Boston College), Thomas Vanek (Minnesota), Brooks Orpik (Boston College) and Shane Gersich (North Dakota)
Both general managers played college hockey, as did Columbus head coach John Tortorella (Maine)
---
Pittsburgh vs. Philadelphia
13 schools are represented on the active rosters of Pittsburgh (15 alumni) and Philadelphia (three)
Pittsburgh led the league by utilizing 19 alumni during the course of the season and had record number of alums on their Cup winning teams each of the last two years (15 in 2017, 13 in 2016)
Josh Jooris and Shayne Gostisbehere were NCAA teammates at Union
Both head coaches played college hockey, while Dave Hakstol coached at his alma mater (North Dakota)
All three Flyers NCAA alums played in the Frozen Four and two – Gostisbehere and Brian Elliott (Wisconsin) – won national titles
---
Nashville vs. Colorado
10 schools are represented on the active rosters of Nashville (five alumni) and Colorado (10)
Series features three members of Boston University's 2009 NCAA championship team: Nick Bonino, David Warsofsky and Colin Wilson; Wilson and Bonino ranked 1-2 on that team in scoring
The Predators, with David Poile (Northeastern) and Peter Laviolette (Westfield State), are one of three playoff teams with alums as both GM and head coach
---
Winnipeg vs. Minnesota
13 schools are represented on the active rosters of Winnipeg (10 alumni) and Minnesota (14)
Minnesota utilized 17 NCAA alumni this season, tied for third in the league
Matt Cullen (St. Cloud State) leads all active NCAA alumni and trails only Chris Chelios and Rod Brind'Amour all-time with 1,445 career games played
Jordan Greenway, Ryan Donato (Boston) and Troy Terry (Anaheim) are the only three players to play in the NCAA, Olympics and NHL this season
Jack Roslovic and Louie Belpedio were NCAA teammates at Miami
Blake Wheeler (Minnesota) and Matt Hendricks (St. Cloud State) both played college hockey in Minnesota
Five Jets players were All-Americans in college and three – Tucker Poolman (North Dakota), Paul Stastny (Denver) and Brandon Tanev (Providence) – won national titles
---
Vegas vs. Los Angeles
13 schools are represented on the active rosters of Vegas and Los Angeles (eight alumni each)
Both general managers were All-Americans at Bowling Green (and George McPhee won the Hobey Baker Award, while Rob Blake was a finalist)
These teams signed some of the most coveted NCAA free agents this season – Zach Whitecould to Vegas and Daniel Brickley/Sheldon Rempal to LA – though they are ineligible for the playoffs
---
Anaheim vs. San Jose
11 schools are represented on the active rosters of Anaheim (eight alumni) and San Jose (six)
Anaheim utilized 16 former college players this season, tied for fifth in the NHL
Troy Terry (Anaheim) and Dylan Gambrell (San Jose) are eligible to play; they were teammates at Denver this season and won a national title with the Pioneers last year
Three other NCAA champions are in the series: J.T. Brown (Minnesota Duluth), Paul Martin (Minnesota) and Joe Pavelski (Wisconsin)