Friday, April 6, 2018
Gaudette Claims Hobey
Nation's top scorer headlines busy Friday of national awards.
---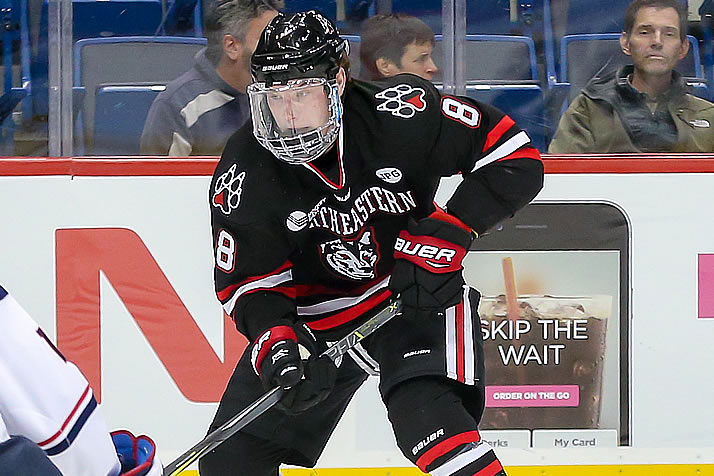 Adam Gaudette led the nation in goals (30) and points (60) in 2017-18.
Adam Gaudette became the first Northeastern Husky to capture the Hobey Baker Award, headlining the national awards bestowed on college hockey's biggest stars on Friday in St. Paul, Minn.
Gaudette, the nation's leading scorer and now a member of the Vancouver Canucks, led Northeastern to its first Beanpot championship since 1988 and to a berth in the NCAA Tournament.
Joining Gaudette among the honorees Friday:
Cale Morris, Notre Dame – Mike Richter Award
Scott Perunovich, Minnesota Duluth – National Rookie of the Year
Dylan Abood, Air Force – Derek Hines Award (unsung hero)
Sidney Peters, Minnesota – Hockey Humanitarian Award
In addition to those awards, the American Hockey Coaches Association released the 2017-18 All-America teams (listed below). Gaudette led the group of first-team All-Americans in the East, while Morris headlined the first team in the West.
Northeastern had three first-team All-Americans, with forward Dylan Sikura and defenseman Jeremy Davies joining Gaudette. Harvard had two first-teamers (Ryan Donato and Adam Fox), while Clarkson (Sheldon Rempal and Kelly Summers) and Princeton (Max Veronneau and Ryan Kuffner) both had a pair of second-teamers. Cornell's Matt Galajda was the first-team All-America goaltending selection in the East, the first freshman to earn first-team goaltending honors since Colorado College's Richard Bachman in 2008.
In the West, Denver had three All-Americans, with forwards Henrik Borgström and Troy Terry on the first team and goaltender Tanner Jaillet on the second team. Morris and Perunovich were the lone first-teamers in either the East or West to reach the Frozen Four, while Michigan's Cooper Marody and Ohio State's Tanner Laczynski were named to the second team.
Gaudette's Hobey makes Northeastern the 17th school to produce a Hobey Baker winner. It also marks the fourth of the four Beanpot schools to produce a Hobey Baker winner in the last five years (following Johnny Gaudreau, Jack Eichel and Jimmy Vesey).
Morris, who will lead Notre Dame into the national championship game Saturday night, is the fifth winner of the Richter Award. He joins Connor Hellebuyck, Zane McIntyre, Thatcher Demko and Tanner Jaillet as winners of the award.
---
AHCA/CCM All-American Teams
First Team

East

West

Matthew Galajda, FR, Cornell University
(Aurora, ON)

Goalie

Cale Morris, SO, University of Notre Dame
(Larkspur, CO)

Jeremy Davies, SO, Northeastern University
(Sainte Anne-de-Bellevue, QC)

Defense

Scott Perunovich, FR, University of Minnesota-Duluth
(Hibbing, MN)

Adam Fox, SO, Harvard University*
(Jericho, NY)

Defense

Jimmy Schuldt, JR, St. Cloud State University
(Minnetonka, MN)

Ryan Donato, JR, Harvard University
(Scituate, MA)

Forward

Henrik Borgström, SO, University of Denver*
(Helsinki, Finland)

Adam Gaudette, JR, Northeastern University
(Braintree, MA)

Forward

C.J. Suess, SR, Minnesota State University
(Forest Lake, MN)

Dylan Sikura, SR, Northeastern University
(Aurora, ON)

Forward

Troy Terry, JR, University of Denver
(Denver, CO)


Second Team

East

West

Colton Point, SO, Colgate University
(North Bay, ON)

Goalie

Tanner Jaillet, SR, University of Denver%
(Red Deer, AB)

Jacob Bryson, SO, Providence College
(London, ON)

Defense

Philip Beaulieu, SO, Northern Michigan University
(Duluth, MN)

Kelly Summers, SR, Clarkson University
(Golden Lake, ON)

Defense

Alec Rauhauser, SO, Bowling Green State University
(Bismarck, ND)

Ryan Kuffner, JR, Princeton University
(Ottawa, ON)

Defense

Nick Halloran, SO, Colorado College
(Draper, UT))

Sheldon Rempal, SO, Clarkson University
(Calgary, AB)

Forward

Tanner Laczynski, SO, The Ohio State University
(Shorewood, IL)

Max Véronneau, JR, Princeton University
(Ottawa, ON)

Forward

Cooper Marody, JR, University of Michigan
(Brighton, MI)

* First Team in 2016-17; % Second Team in 2016-17