Tuesday, April 3, 2018
Jackson Named Coach of the Year
Fighting Irish head coach making second straight Frozen Four appearance.
---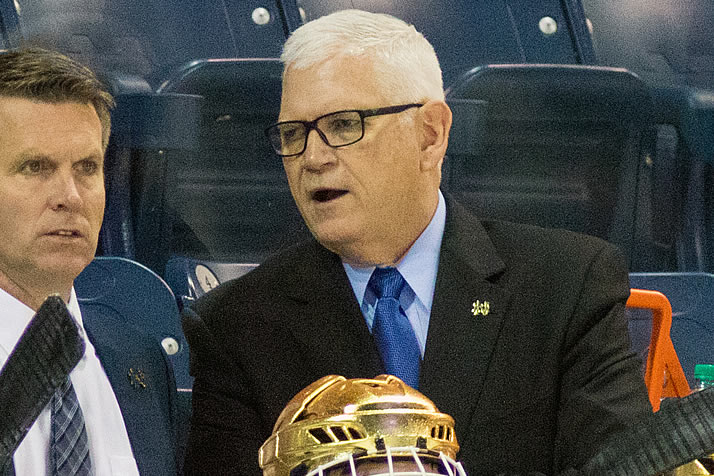 Jeff Jackson is seeking his third national championship and first at Notre Dame.
Notre Dame head coach Jeff Jackson, who led the Fighting Irish to the Big Ten regular-season and tournament championships in their first year in the league, has been named the 2018 Spencer Penrose Award winner as the national coach of the year.
Jackson, who also won the award in 2007, has Notre Dame in the Frozen Four for the second year in a row despite losing last year's leading scorer and All-American goaltender. The Fighting Irish have compiled a record of 27-9-2 entering Thursday's NCAA semifinal against Michigan.
Notre Dame's season included a 16-game winning streak that stretched from October into January, the second-longest win streak in college hockey since 1993. The Irish have been led by senior forward Jake Evans (Toronto, Ont./St. Michael's-OJHL/MTL) and sophomore goaltender Cale Morris (Larkspur, Colo./Waterloo-USHL). Morris, who played less than 20 minutes all of last season, leads the nation with a .945 save percentage.
Jackson's first head coaching stint in college hockey came at Lake Superior State, where he led the Lakers to two national championships (1992, 1994) from 1990-96. In 2005-06 he returned to the NCAA game to lead Notre Dame and is making his fourth Frozen Four appearance with the Fighting Irish.
Jackson and his staff – which includes Paul Pooley, Andy Slaggert and Zach Cisek – will be honored at the American Hockey Coaches Association's annual convention in Naples, Fla., later this month.
Fellow Big Ten coach and Frozen Four participant Steve Rohlik of Ohio State is the runner up for the 2018 Spencer Penrose Award.