Wednesday, April 4, 2018
Untold Stories of the Frozen Four
Four less-publicized keys to success in Thursday's semifinals.
---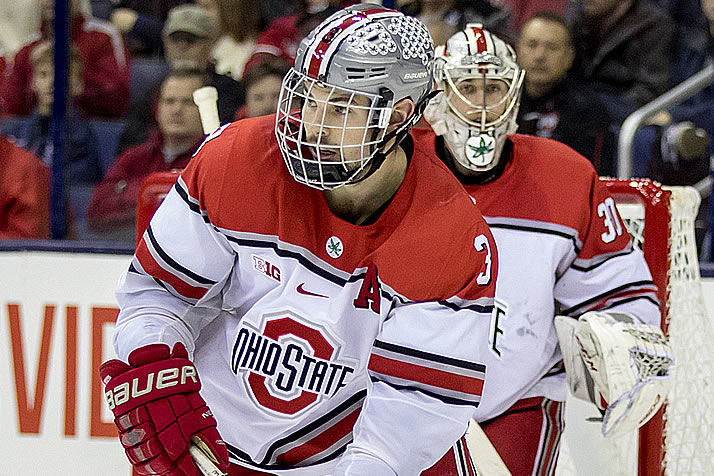 Sasha Larocque's +19 rating is tied for seventh among NCAA defensemen.
By Nate Ewell
Most fans know the names of Mason Jobst, Scott Perunovich, Cooper Marody and Cale Morris as the NCAA Frozen Four teams get set to drop the puck in the semifinals Thursday evening (6 and 9:30 p.m. ET, ESPN2/TSN GO). With the four teams practicing at Xcel Energy Center on Wednesday, College Hockey Inc. caught up with some of the less familiar names who will play key roles in their teams' national championship hopes.
---
Ohio State
As a defensive defenseman with nine points on the season, there may not be a more anonymous all-conference player in college hockey than Ohio State's Sasha Larocque (Calgary, Alta./Dubuque-USHL).
The second-team All-Big Ten selection may be relatively unknown, despite spearheading the Buckeyes' transformation into one of the nation's best defensive teams. It comes just a few years after nearly quitting hockey altogether.
At 19, after his fourth season in the AJHL, Larocque was ready to hang up his skates and enroll at Dalhousie University in Halifax, Nova Scotia. Mike Field, then with the Dubuque Fighting Saints and now the associate head coach at Arizona State, coaxed Larocque out of his planned retirement and into the USHL.
"I decided to give it one more chance and ended up making the team," Larocque said of Dubuque. "It led to this, so it was kind of a cool route for me. I thought I had enjoyed hockey enough and was ready to move on and get life going. I was just going to go to school."
Larocque ended up captaining that Dubuque team, a sign of the leadership he would bring to Columbus. The junior is also a well rounded student-athlete who sees a future beyond hockey in the oil and gas industry, like his father. He majors in earth science with a minor in environmental sciences and last summer traveled to Iceland as part of his minor.
"It's an incredible country," he said of the trip. "One of the places we were staying you'd walk out the door and there's a volcano to your left, you turn around and there's a glacier on the other side. They call it the land of fire and ice and it makes sense that way."
Larocque – whose studies include research into groundwater aquifers, hydrocarbons and noble gases – is working to strike what may seem like an unlikely balance between oil and gas exploration and preserving the environment.
"My interest in the oil and gas field is in the safety of it all," he said. "It's the understanding that, yes we are going to need oil and gas for a long time, but we have to do it the right way so we don't ruin the environment, because we are going to need that a lot longer."
---
Minnesota Duluth
Amid Minnesota Duluth's nine-member freshman class are NHL draft picks and World Junior Championship participants, including defenseman Scott Perunovich, who may be the top freshman in the nation this season.
Less heralded but also integral are a couple of guys who, as of last Fourth of July, figured they would be in the USHL this season. While their UMD teammates may have seen another Frozen Four run as unlikely, defenseman Louie Roehl (Eden Prairie, Minn./Minnesota Wilderness-NAHL) and forward Justin Richards (Columbus, Ohio/Lincoln-USHL) didn't even expect to be playing college hockey in 2017-18.
Roehl and Richards have combined for just two goals – both from Roehl – but their coaches describe them as integral to the team's success. Roehl is a shut-down, penalty killing defenseman, while Richards has played third-line center with a responsible, 200-foot game that convinced them to bring him in early in the first place.
Both fielded July phone calls from associate head coach Brett Larson inviting them to join the Bulldogs in the fall. They each took a couple of days to consider the offers – wanting to be sure that they could come in and be ready for college hockey – before deciding to make the jump.
"I was planning on going back to Lincoln and I thought I needed another year to develop my game and come in and play well," Richards said. "To have this opportunity right now, I never thought I would be here last summer. It's been an unbelievable experience this year and I can't wait for this weekend."
Roehl and Richards don't play flashy games, as their stats would suggest. But knowing their roles – and playing to them – has allowed them to make such a substantial impact. The same can be said for all nine players in the UMD freshman class.
"I think we know what we have, and we each have our own role," Roehl said. "We do our job and at the end of the day we know we are all young. We can keep improving and keep getting better, but we have all the confidence in the world in each other."
"We all try to keep our games simple – that's how we play as a team," Richards added. "We don't try to do anything too fancy. We know we're not a flashy team by any means, and that's kind of our identity."
---
Michigan
Jeff Tambellini became intrigued about the college path, he said, while his father was working for the Vancouver Canucks and he saw prospects like Bill Muckalt work their way toward the NHL.
Now, after three years at Michigan and 12 years of playing pro hockey, Tambellini finds himself on a staff with Muckalt, with Tambellini serving as an undergraduate assistant. He is completing his degree while working with the Wolverines.
"It's been a great transition," said Tambellini. "I've been fortunate first to get the call in September to even have the opportunity to come back. To have the year that we've had has been great and it's gotten us back to a familiar Michigan spot."
Tambellini works closely with some of the high-skill Wolverines like Cooper Marody, who are filling the same roles he occupied from 2002-05. His presence can help those players – both on and off the ice.
"I talk to our guys all the time," Tambellini said. "[Education] is important, whether you are going to be in the NHL for 20 years or two. The guys who walk out of here with college degrees, having that degree from Michigan gives you so much leverage and credibility. It's important whether guys plan on staying for four years or staying for one."
For more from Tambellini, check out the latest College Hockey Today podcast.
---
Notre Dame
Last year Andrew Oglevie was a bit of a media darling, the overtime goal scorer who sent Notre Dame to the Frozen Four. The Californian's goal total exploded from five as a freshman to 21, thanks in part to skating with All-American Anders Bjork.
This year he's just as important to Notre Dame's offense, if not more so, though his goal total has dipped to 13. His contributions may have flown under the radar a bit in part because of a position change from wing to center.
"He had been playing with Jake [Evans] on right wing, but I think for offensive depth we needed Andrew to play center," head coach Jeff Jackson said. "In some ways he's better on the wing because he gets to utilize his speed a little bit more. Last year playing wing you'd see him on a stretch pass from Jordan [Gross] get a breakaway and score a big goal, and he doesn't get to do that when he's playing down low on the breakout or defensively.
"He's a responsible player at center, so he does a great job in that aspect. With his skating and puck skills, he's got a lot of positive attributes. He does a great job on our penalty kill. He's a key guy on the power play."
Center wasn't foreign to Oglevie, having played the position a bit with the USHL's Cedar Rapids Roughriders. But the move also allowed him to continue his development at the NCAA level and show more of his versatility.
"It really teaches you how to play defense a little bit better," Oglevie said. "It lets you be more in control of the game, I'd say. You learn the ins and outs of what it takes to be control at the middle of the ice."
As a result, Notre Dame has its top two scorers on different lines, as Evans and Oglevie give the Fighting Irish an enviable one-two punch up the middle.