Tuesday, May 15, 2018
Rule Changes Timing of Visits
Visits with coaches on campus only permitted after Sept. 1 of grade 11.
---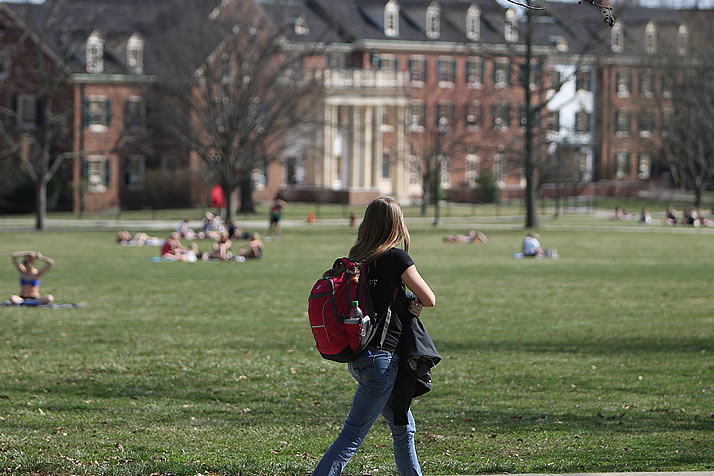 University admissions staff can provide campus tours to prospects of any age.
Visiting a college campus can be a critical part of the recruiting process, and often can help a prospective student-athlete determine the right fit for their college career.
New NCAA rules, which went into effect in April 2018, impact the role college coaches can play in those visits and when prospective student-athletes are allowed to interact with coaches on campus.
The two types of recruiting visits – official visits and unofficial visits – both may take place beginning Sept. 1 of a prospect's grade 11 year in high school. Previously, unofficial visits could take place at any time and official visits were not permitted until grade 12.
Prospective student-athletes (PSAs) still may visit college campuses at any time and take campus tours conducted by representatives from the admissions office. The new rules prohibit college coaches from interacting with PSAs or providing complimentary tickets to games prior to Sept. 1 of a PSA's grade 11 year.
After that date, college coaches may provide PSAs with tours of their arenas and other facilities and complimentary tickets for the PSA and their immediate family.
Below are some of the key distinctions between official and unofficial visits:
| | | |
| --- | --- | --- |
| | Official Visits | Unofficial Visits |
| First permitted | Sept. 1 of grade 11 | Sept. 1 of grade 11 |
| Number permitted | Five per PSA (one per school) | Unlimited |
| Expenses | Covered by the NCAA school | Covered by the PSA |
| Length of visit | Up to 48 hours | Unlimited |
PSAs may contact coaches at any time, and coaches may reach out to PSAs beginning Jan. 1 of grade 10, so recruiting conversations often begin before a PSA is permitted to visit campus.
Visits – whether official or unofficial – can be a key step in the recruiting process, allowing coaches and PSAs to build a better relationship and determine if there is a fit for both sides.
Since there is no limit on the number of unofficial visits a PSA may take, it can allow them to visit a variety of schools and try to picture where they would like to spend their college years. Many prospects use unofficial visits to narrow down their list of potential schools – others get to campus and know right away that it's right for them.
Top prospects planning an unofficial visit should reach out to coaches in advance to arrange the details. They aren't always easy to schedule, given the busy calendars for both PSAs and NCAA coaches. PSAs are encouraged to look at their own team's schedule and if their travels take them near a college campus, find the time to stop by.
They may just find their future home.