Thursday, June 28, 2018
Hall Calls for St. Louis
Vermont legend to be inducted in Hockey Hall of Fame
---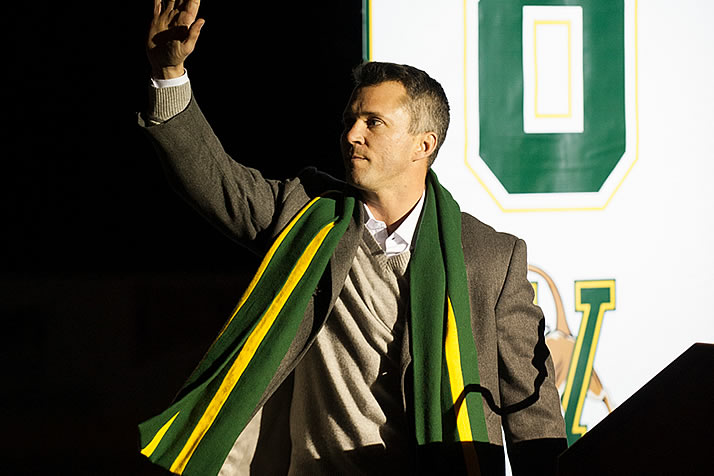 Vermont retired Martin St. Louis's number 8 in January of 2016.
Martin St. Louis, an NCAA legend who entered pro hockey undrafted after four standout seasons at Vermont, received his call from the Hockey Hall of Fame Tuesday and will join the game's immortals there this fall.
The three-time first-team All-American Catamount will become the 18th former college player inducted in the Hockey Hall of Fame as a player. He is the 12th in the last 11 years and joins Adam Oates (Rensselaer) and Joe Mullen (Boston College) as the only undrafted college players to earn induction.
St. Louis will be formally inducted on Nov. 12 along with NHL Commissioner (and Cornell alum) Gary Bettman, Martin Brodeur, Jayna Hefford, Willie O'Ree and Alexander Yakushev.
St. Louis finished his NHL career with 1,033 regular-season points in 1,134 games played. Only eight NCAA alumni have recorded more points in the NHL and St. Louis ranks 21st among former NCAA players in NHL games played.
St. Louis arrived in Burlington with junior teammate Eric Perrin and formed one of the most dynamic tandems college hockey has ever seen. He led Vermont in scoring for four straight seasons and in addition to first-team All-America honors was a three-time Hobey Baker Award finalist.
St. Louis, Perrin and goaltender Tim Thomas led Vermont to two NCAA Tournaments and the 1996 Frozen Four. All three classmates would go on to win the Stanley Cup during their NHL careers. St. Louis finished with 267 career points at Vermont, a record that still stands.
His 16-year NHL career began in Calgary and featured a long stretch in Tampa Bay before concluding with the New York Rangers. He won seven major NHL trophies including the Art Ross Trophy, Hart Trophy and Ted Lindsay Award in 2004, and skated in six NHL All-Star Games.
St. Louis had his number 8 retired at Vermont on Jan. 8, 2016, and became Tampa Bay's first player to have his number retired when the Lightning honored him and his No. 26 on Jan. 14, 2017.