Tuesday, June 26, 2018
NHL Draft Notes and Quotes
Seven first-rounders headline 67 NCAA selections.
---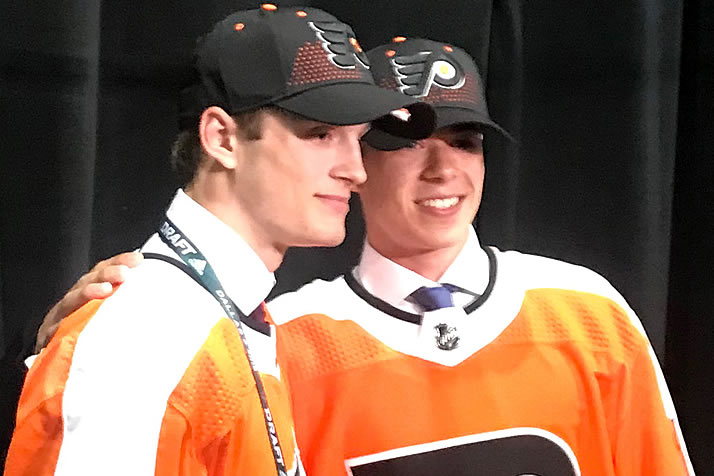 First-round Flyers picks Joel Farabee (left) and Jay O'Brien will meet in Hockey East next year with Boston University and Providence, respectively.
By Nate Ewell
The Ottawa Senators are in rebuilding mode, and the future of the franchise will have a decided NCAA feel.
A franchise that already boasted prospects like Colin White (Boston College) and Christian Wolanin (North Dakota) added seven players that are in college or headed to campus with its eight selections in the 2018 NHL Draft. The run on NCAA talent began for the Senators Friday with first-round selections Brady Tkachuk (Boston College) and Jacob Bernard-Docker (North Dakota).
Draft Recap | Sortable List of NCAA Selections
It marked the first time one NHL team left a draft with seven prospects since Chicago also took seven in 2014, and matched the most taken by one team since the Hartford Whalers selected eight in 1991.
It wasn't necessarily by design, they said, but the college guys kept finding themselves at the top of the Sens' list.
"We were kind of chuckling at the table because it just kind of fell that way," Chief Amateur Scout Trent Mann said. "There wasn't any real reason. There was a lot of major-junior players that we really liked, but you can't handpick where you pick.
"If they get picked, you have to roll to the next guy on your list. We felt at the time those were the best players available and that's how we went, but there was no focus to get more college or Tier II kids."
Among the group were two incoming freshmen at North Dakota, defensemen Jacob Bernard-Docker (first round) and Johnny Tychonick (second round). While the Senators may have said there was no grand plan in their selections, an ecstatic Tychonick didn't think it could be a coincidence.
"I think Ottawa did that as a little bit of plan. I don't know but I hope," Tychonick said. "We're going to the same team. Coincidence? I don't know."
---
Philadelphia also took two NCAA-bound players in the first round, and both cited a potential future rival as someone they model their game after: Pittsburgh Penguin Jake Guentzel.
If Joel Farabee and Jay O'Brien turn out like the former Omaha star, Boston University and Providence will be excited. Guentzel himself was a third-round selection, but Farabee and O'Brien will enter college this fall with a little more fanfare as first-rounders.
"These are both very good hockey players," Flyers general manager Ron Hextall said. "We wanted hockey sense. We wanted good character. Obviously, they are both skilled, to be selected in the first round. But they are both well-rounded players."
---
More than half of Saturday's fourth-round selections were current or future college players, tying a record for one round with 17 NCAA picks (also the sixth round in 2015 and the ninth round in 2004).
They seemed to come in pairs, as well, with future teammates taken in back-to-back picks to start the round in Miami's Matej Pekar (Buffalo) and Jonathan Gruden (Ottawa). After those two:
Future Denver teammates Ryan O'Reilly (Detroit) and Slava Demin (Vegas) went at No. 98 and 99 overall.
Incoming Yale freshmen John St. Ivany (Philadelphia) and Curtis Hall (Boston) both went in the fourth round as well.
---
Vegas, with only one previous draft in its history, was the only NHL team that didn't have a draft pick in the NCAA ranks last season. The Golden Knights will have multiple prospects playing college hockey in 2018-19, however.
One of those is Bowling Green forward Brandon Kruse, as Vegas general manager and NHL GM of the Year George McPhee chose the sophomore from his alma mater in the fifth round.
Kruse will be joined by 2017 Golden Knights pick Jack Dugan (Providence), fourth-rounders Slava Demin (Denver) and Paul Cotter (Western Michigan) and sixth-rounder Peter DiLiberatore (Quinnipiac) in the college ranks in 2018-19.
Some of that, assistant director of player personnel Bob Lowes said, was by design.
"The development path of them going to school is the best for them sometimes," Lowes said. "A few of them we really like where they are going and the time they have to develop their game."
---
Also of note:
All six Division I conferences were represented among the 67 NCAA players and recruits selected, plus independent Arizona State.
Thirty-two schools had a player or recruit selected; 14 schools were represented in the first three rounds.
Seventh-rounder Jakov Novak (Ottawa) will be the first NHL draft pick to play for Bentley this fall. Novak was the MVP of the NAHL with the Janesville Jets.
David Hrenak, the only current college goaltender selected, is the sixth St. Cloud State played taken by the Los Angeles Kings since 2008. The Kings have accounted for 32% of all SCSU selections in that time (6 of 19).
Twin brothers Christian and Cole Krygier – who will be freshmen at Michigan State in the fall – were selected within five picks in the seventh round by the Islanders and Panthers, respectively.
Nine players who spent 2017-18 in college were selected, led by first-rounders Brady Tkachuk and Quinn Hughes, plus third-rounders Scott Perunovich and Logan Hutsko. Four of the other five selections from the college ranks were not included on NHL Central Scouting's final rankings.
The USHL set a record with 57 players with USHL ties selected in the draft, including 45 who played in the league last season. That was 10 more selections than any other league in the world.
Twenty-seven of the 31 NHL teams selected at least one NCAA player or recruit.
Brady Tkachuk joined his father, Keith, as the first father-son combination from the NCAA ranks to both be selected in the first round.