Friday, June 15, 2018
U.S. Names Junior Camp Roster
Seventeen schools represented among 33 NCAA players invited.
---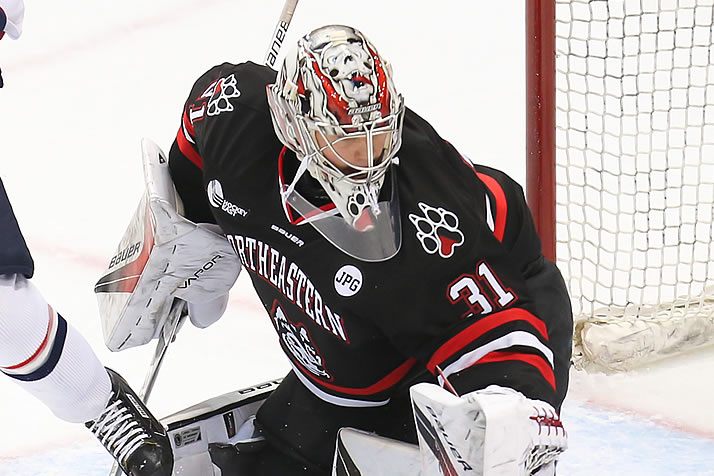 Cayden Primeau earned first-team All-Hockey East honors as a freshman in 2017-18.
The 2018 World Junior Summer Showcase will feature 33 NCAA players or recruits on the United States rosters, USA Hockey announced Friday.
Nearly one-third of all Division I programs will be represented on the U.S. roster, with 17 schools boasting at least one player or recruit at the event, which serves as an audition for the 2019 U.S. National Junior Team.
Boston University leads all schools with five players or recruits invited, followed by Minnesota Duluth (four), Boston College (three) and Wisconsin (three).
Six players – Mikey Anderson, Quinn Hughes, Josh Norris, Ryan Poehling, Dylan Samberg and Brady Tkachuk – return from the 2018 U.S. National Junior Team that captured the bronze medal at the World Junior Championship. All six played NCAA hockey last season.
The 2018 World Junior Summer Showcase will take place July 28-Aug. 4 in Kamloops, B.C., and will feature teams from Canada, Finland, Sweden and the U.S.
Minnesota State head coach Mike Hastings is the head coach of the 2019 U.S. National Junior Team, with assistance from Dartmouth associate coach David Lassonde, Ohio State associate coach Steve Miller and Minnesota Duluth head coach Scott Sandelin.
Clarkson alum Chris Clark and Michigan Tech alum Pat Mikesch will serve as guest coaches at the camp.
U.S. World Junior Summer Showcase Roster
Player
2017-18 Team
NCAA Team

Goaltenders
Kyle Keyser
Oshawa (OHL)
Spencer Knight
USA Hockey NTDP (USHL)
Boston College
Keith Petruzzelli
Quinnipiac (ECAC)
Quinnipiac
Cayden Primeau
Northeastern (HEA)
Northeastern

Defensemen
Matt Anderson
Minnesota Duluth (NCHC)
Minnesota Duluth
Mikey Anderson
Minnesota Duluth (NCHC)
Minnesota Duluth
Josh Ess
Wisconsin (Big Ten)
Wisconsin
David Farrance
Boston University (HEA)
Boston University
Quinn Hughes
Michigan (Big Ten)
Michigan
Joe Keane
Barrie (OHL)
Phil Kemp
Yale (ECAC)
Yale
Ben Mirageas
Providence (HEA)
Providence
K'Andre Miller
USA Hockey NTDP (USHL)
Wisconsin
Tommy Miller
Michigan State (Big Ten)
Michigan State
Alec Regula
London (OHL)
Dylan Samberg
Minnesota Duluth (NCHC)
Minnesota Duluth
Mattias Samuelsson
USA Hockey NTDP (USHL)
Western Michigan
Reilly Walsh
Harvard (ECAC)
Harvard

Forwards
Evan Barratt
Penn State (Big Ten)
Penn State
Noah Cates
Omaha (USHL)
Minnesota Duluth
Sasha Chmelevski
Ottawa (OHL)
Logan Cockerill
Boston University (HEA)
Boston University
Cole Coskey
Saginaw (OHL)
Paul Cotter
Lincoln (USHL)
Western Michigan
Sean Dhooghe
Wisconsin (Big Ten)
Wisconsin
Jack Drury
Waterloo (USHL)
Harvard
Joel Farabee
USA Hockey NTDP (USHL)
Boston University
Jon Gruden
USA Hockey NTDP (USHL)
Miami
Curtis Hall
Youngstown (USHL)
Yale
Jack Hughes
USA Hockey NTDP (USHL)
Logan Hutsko
Boston College (HEA)
Boston College
Brandon Kruse
Bowling Green (WCHA)
Bowling Green
Ivan Lodnia
Erie (OHL)
Jacob McGrew
Spokane (WHL)
Grant Mismash
North Dakota (NCHC)
North Dakota
Josh Norris
Michigan (Big Ten)
Michigan
Jay O'Brien
Thayer Academy (Prep)
Providence
Ryan Poehling
St. Cloud State (NCHC)
St. Cloud State
Jason Robertson
Kingston (OHL)
Brady Tkachuk
Boston University (HEA)
Boston University
Oliver Wahlstrom
USA Hockey NTDP (USHL)
Boston College
Jake Wise
USA Hockey NTDP (USHL)
Boston University