Thursday, August 2, 2018
24 Remain in U.S. Junior Camp
Defending champs lead 14 schools represented on U.S. roster.
---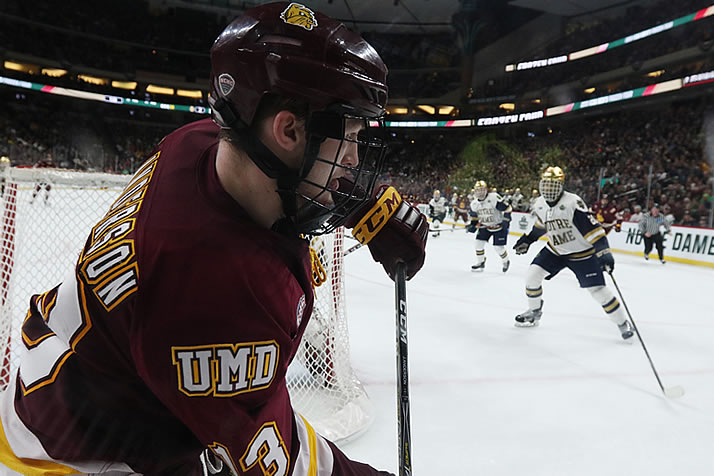 Mikey Anderson recorded 23 points as a freshman for Minnesota Duluth in 2017-18.
Twenty-four NCAA players remain on the United States roster for the final three days of the 2018 World Junior Summer Showcase, USA Hockey announced Wednesday. The U.S. opened play at the event with two rosters that combined to win three of four games on Monday and Tuesday.
The 24 remaining NCAA players represent 14 schools, led by defending national champion Minnesota Duluth with four representatives. Boston University boasts three players in camp, while Boston College, Harvard, Michigan, Providence and Western Michigan have two each. The World Junior Summer Showcase serves as an audition for the 2019 U.S. National Junior Team and is taking place in Kamloops, B.C.
The remaining U.S. players will face the three other participating teams in games that will be televised by the NHL Network the next three days:
Thurs., Aug. 2: United States vs. Sweden, 4 p.m. ET
Fri., Aug. 3: United States vs. Finland, 4 p.m. ET
Sat., Aug. 4: United States vs. Canada, 5 p.m. ET
Canada and Finland each feature a trio of NCAA players on their rosters. Canada's roster features rising sophomores Shane Bowers (Boston University) and Ian Mitchell (Denver), as well as incoming freshman Jacob Bernard-Docker (North Dakota). Finland has a trio of incoming freshmen in Filip Lindberg (Massachusetts), Sampo Ranta (Wisconsin) and Aarne Talvitie (Penn State).
Minnesota State head coach Mike Hastings is the head coach of the 2019 U.S. National Junior Team, with assistance from Northeastern assistant coach Jerry Keefe, Dartmouth associate coach David Lassonde, Ohio State associate coach Steve Miller and Minnesota Duluth head coach Scott Sandelin.
U.S. World Junior Summer Showcase Roster
Player
2017-18 Team
NCAA Team

Goaltenders
Kyle Keyser
Oshawa (OHL)
Spencer Knight
USA Hockey NTDP (USHL)
Boston College
Keith Petruzzelli
Quinnipiac (ECAC)
Quinnipiac
Cayden Primeau
Northeastern (HEA)
Northeastern

Defensemen
Matt Anderson
Minnesota Duluth (NCHC)
Minnesota Duluth
Mikey Anderson
Minnesota Duluth (NCHC)
Minnesota Duluth
Quinn Hughes
Michigan (Big Ten)
Michigan
Joe Keane
Barrie (OHL)
Phil Kemp
Yale (ECAC)
Yale
Ben Mirageas
Providence (HEA)
Providence
Dylan Samberg
Minnesota Duluth (NCHC)
Minnesota Duluth
Mattias Samuelsson
USA Hockey NTDP (USHL)
Western Michigan
Reilly Walsh
Harvard (ECAC)
Harvard

Forwards
Evan Barratt
Penn State (Big Ten)
Penn State
Noah Cates
Omaha (USHL)
Minnesota Duluth
Sasha Chmelevski
Ottawa (OHL)
Logan Cockerill
Boston University (HEA)
Boston University
Paul Cotter
Lincoln (USHL)
Western Michigan
Sean Dhooghe
Wisconsin (Big Ten)
Wisconsin
Jack Drury
Waterloo (USHL)
Harvard
Joel Farabee
USA Hockey NTDP (USHL)
Boston University
Jack Hughes
USA Hockey NTDP (USHL)
Grant Mismash
North Dakota (NCHC)
North Dakota
Josh Norris
Michigan (Big Ten)
Michigan
Jay O'Brien
Thayer Academy (Prep)
Providence
Ryan Poehling
St. Cloud State (NCHC)
St. Cloud State
Jason Robertson
Kingston (OHL)
Brady Tkachuk
Boston University (HEA)
Boston University
Oliver Wahlstrom
USA Hockey NTDP (USHL)
Boston College