Friday, August 17, 2018
U.S. Prospects Roster Released
12 schools represented on 42-player roster.
---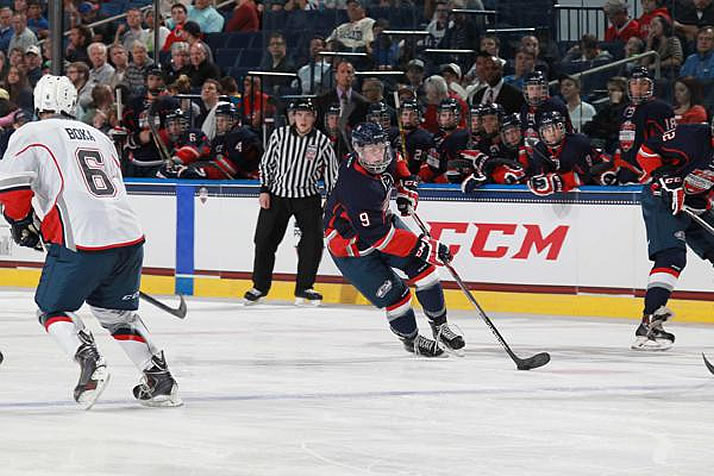 The first six USA Hockey All-American Prospect Games produced 155 NHL Draft picks.
At least 35 future NCAA players are among the 42 named to compete in the seventh annual USA Hockey All-American Prospects Game, USA Hockey announced Friday.
The 35 Division I commits and three uncommitted college prospects will face off Sept. 19 at St. Paul's Xcel Energy Center in a game featuring the top American players eligible for the 2019 NHL Draft.
The commits include six future Boston University Terriers, the most of the 12 schools represented on the roster. Boston College and Minnesota have five representatives each, including Gopher freshman defenseman Ben Brinkman – the lone player on the roster slated to play at the NCAA level in 2018-19.
Seventeen states are represented on the roster, led by 10 Minnesotans who will be skating on "home ice" at Xcel Energy Center. This marks the first time the event will be held in St. Paul.
The roster includes 19 players from USA Hockey's National Team Development Program, many of the 31 players who have ties to the USHL.
Players are selected for the USA Hockey All-American Prospects Game by USA Hockey in conjunction with NHL Central Scouting. The first six years of the game have produced 155 NHL Draft picks, including 36 first-round selections.
2018 All-American Prospects Game Roster
Name
Birthdate
2018-19 Team
NCAA Team/Commitment

Goaltenders
Spencer Knight
4/19/01
U.S. NTDP (USHL)
Boston College
Cameron Rowe
6/1/01
U.S. NTDP (USHL)
Omaha
Isaiah Saville
9/21/00
Minnesota Magicians (NAHL)
Omaha
Dustin Wolf
4/16/01
Everett (WHL)

Defensemen
Ben Brinkman
10/4/00
Minnesota
Minnesota
Braden Doyle
8/24/01
Lawrence Academy (Prep)
Boston University
Ethan Frisch
10/29/00
Green Bay (USHL)
North Dakota
Drew Helleson
3/26/01
U.S. NTDP (USHL)
Boston College
Zac Jones
10/18/00
Tri-City (USHL)
Massachusetts
Michael Koster
4/13/01
Tri-City (USHL)/Chaska HS
Minnesota
Case McCarthy
1/9/01
U.S. NTDP (USHL)
Boston University
John Prokop
5/13/01
Omaha (USHL)
Uncommitted
Jayden Struble
8/9/01
St. Sebastian's (Prep)
Northeastern
Henry Thrun
3/12/01
U.S. NTDP (USHL)
Harvard
Alex Vlasic
6/5/01
U.S. NTDP (USHL)
Boston University
Marshall Warren
4/20/01
U.S. NTDP (USHL)
Harvard
Cade Webber
1/5/01
Rivers School (Prep)
Boston University
Cam York
1/5/01
U.S. NTDP (USHL)
Boston College

Forwards
John Beecher
4/5/01
U.S. NTDP (USHL)
Michigan
Kaden Bohlsen
1/10/01
Des Moines (USHL)
Minnesota
Matt Boldy
4/5/01
U.S. NTDP (USHL)
Boston College
Cole Caufield
1/2/01
U.S. NTDP (USHL)
Wisconsin
Judd Caulfield
3/19/01
U.S. NTDP (USHL)
North Dakota
Ryder Donovan
10/4/00
Duluth East HS
North Dakota
Ryan Drkulec
9/22/00
Waterloo (USHL)
Uncommitted
John Farinacci
2/14/01
Dexter School (Prep)/Muskegon (USHL)
Harvard
Michael Gildon
6/21/01
U.S. NTDP (USHL)
Ohio State
Jack Hughes
5/14/01
U.S. NTDP (USHL)
Uncommitted
Aaron Huglen
3/6/01
Roseau HS
Minnesota
Trevor Janicke
12/25/00
U.S. NTDP (USHL)
Notre Dame
Arthur Kaliyev
6/26/01
Hamilton (OHL)
Owen Lindmark
5/17/01
U.S. NTDP (USHL)
Wisconsin
Robert Mastrosimone
1/24/01
Chicago (USHL)
Boston University
Garrett Pinoniemi
6/15/01
Holy Family Catholic HS
Minnesota
Shane Pinto
11/12/00
Lincoln (USHL)
North Dakota
Nick Robertson
9/11/01
Peterborough (OHL)
Grant Silianoff
1/4/01
Cedar Rapids (USHL)
Notre Dame
Austen Swankler
8/21/01
Waterloo (USHL)
Michigan
Luke Toporowski
4/12/01
Spokane (WHL)
Alex Turcotte
2/26/01
U.S. NTDP (USHL)
Wisconsin
Danny Weight
5/1/01
U.S. NTDP (USHL)
Boston College
Trevor Zegras
3/20/01
U.S. NTDP (USHL)
Boston University