Tuesday, September 25, 2018
Leagues Tab Preseason Favorites
Coaches, media project their top teams by conference for 2018-19.
---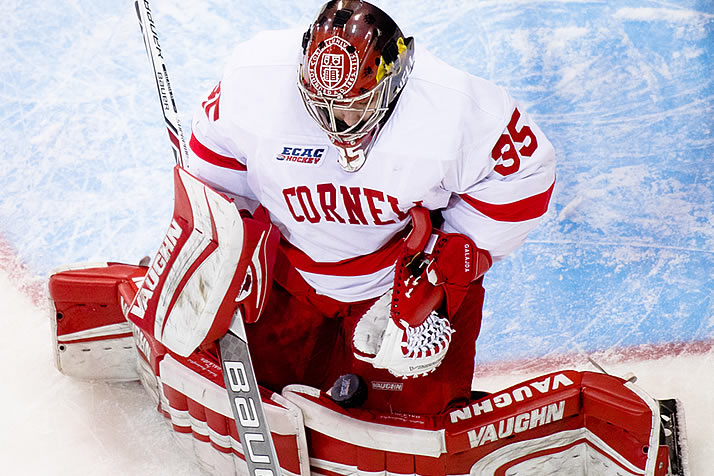 Returning All-American Matt Galajda and Cornell are the preseason favorites in ECAC Hockey (Photo by Riley Joslin).
As the Oct. 6 puck drop for the 2018-19 season rapidly approaches, conferences are releasing preseason coaches' and media polls projecting the favorites entering the campaign.
NCAA Tournament teams from last season top the preseason polls in five of the six conferences, while Boston College edged Providence in the Hockey East poll after narrowly missing the tournament a year ago.
Boston College, Cornell and Minnesota State are 2017-18 regular-season champions predicted to repeat, while defending NCAA champion Minnesota Duluth is the preseason pick in the NCHC.
Only one of the six preseason favorites in 2017-18 went on to win its conference (Minnesota State in the WCHA).
---
Atlantic Hockey Coaches' Poll
| | | |
| --- | --- | --- |
| 1. | Air Force (7) | 97 points |
| 2. | Canisius (4) | 92 |
| 3. | Robert Morris | 66 |
| 4. | Mercyhurst | 65 |
| 5. | AIC | 60 |
| 6. | Army West Point | 55 |
| 7. | RIT | 49 |
| 8. | Holy Cross | 40 |
| 9. | Bentley | 31 |
| 10. | Sacred Heart | 29 |
| 11. | Niagara | 21 |
---
Big Ten Coaches' Poll
| | |
| --- | --- |
| 1. | Ohio State |
| 2. | Michigan |
| 3. | Notre Dame |
| 4. | Minnesota |
| 5. | Penn State |
| 6. | Wisconsin |
| 7. | Michigan State |
---
ECAC Hockey Coaches' Poll
| | | |
| --- | --- | --- |
| 1. | Cornell (8) | 117 points |
| 2. | Princeton (4) | 106 |
| 3. | Union | 97 |
| 4. | Clarkson | 92 |
| 5. | Harvard | 89 |
| 5. | Yale | 64 |
| 7. | Quinnipiac | 63 |
| 8. | Dartmouth | 54 |
| 9. | Colgate | 36 |
| 10. | Rensselaer | 28 |
| | St. Lawrence | 28 |
| 12. | Brown | 18 |
---
ECAC Hockey Media Poll
| | | |
| --- | --- | --- |
| 1. | Cornell (16) | 246 points |
| 2. | Princeton (4) | 217 |
| 3. | Clarkson | 200 |
| 4. | Union | 193 |
| 5. | Harvard (1) | 180 |
| 6. | Dartmouth | 126 |
| 7. | Yale | 124 |
| 8. | Quinnipiac | 119 |
| 9. | Colgate | 92 |
| 10. | Rensselaer | 56 |
| 11. | Brown | 47 |
| 12. | St. Lawrence | 40 |
---
Hockey East Coaches' Poll
| | | |
| --- | --- | --- |
| 1. | Boston College (5) | 93 points |
| 2. | Providence (4) | 92 |
| 3. | Boston University (1) | 84 |
| 4. | Northeastern (1) | 66 |
| 5. | Maine | 61 |
| 6. | Massachusetts | 56 |
| 7. | UMass Lowell | 52 |
| 8. | Connecticut | 41 |
| 9. | New Hampshire | 26 |
| 10. | Vermont | 19 |
| 11. | Merrimack | 15 |
---
Hockey East Media Poll
| | |
| --- | --- |
| 1. | Providence (9) |
| 2. | Boston College (8) |
| 3. | Boston University (2) |
| 4. | Northeastern (1) |
| 5. | Maine |
| 6. | UMass Lowell |
| 7. | Massachusetts |
| 8. | Connecticut |
| 9. | Vermont |
| 10. | New Hampshire |
| 11. | Merrimack |
---
NCHC Media Poll
| | | |
| --- | --- | --- |
| 1. | Minnesota Duluth (20) | 209 points |
| 2. | St. Cloud State (6) | 182 |
| 3. | North Dakota | 150 |
| 4. | Western Michigan | 121 |
| 5. | Denver (1) | 115 |
| 6. | Colorado College | 98 |
| 7. | Omaha | 61 |
| 8. | Miami | 36 |
---
WCHA Coaches' Poll
| | | |
| --- | --- | --- |
| 1. | Minnesota State (7) | 88 points |
| 2. | Northern Michigan (2) | 80 |
| 3. | Bowling Green | 76 |
| 4. | Michigan Tech (1) | 64 |
| 5. | Bemidji State | 54 |
| 6. | Ferris State | 49 |
| 7. | Lake Superior State | 40 |
| 8. | Alaska | 36 |
| 9. | Alabama Huntsville | 35 |
| 10. | Alaska Anchorage | 18 |
---
WCHA Media Poll
| | | |
| --- | --- | --- |
| 1. | Minnesota State (13) | 182 |
| 2. | Bowling Green (1) | 159 |
| 3. | Northern Michigan (5) | 150 |
| 4. | Michigan Tech | 133 |
| 5. | Bemidji State | 110 |
| 6. | Ferris State | 102 |
| 7. | Alabama Huntsville | 69 |
| 8. | Lake Superior State | 57 |
| 9. | Alaska | 47 |
| 10. | Alaska Anchorage | 28 |