Thursday, October 18, 2018
Notes: Irish Take Title to Omaha
Burke's hat trick helped Notre Dame pick up where it left off last season.
---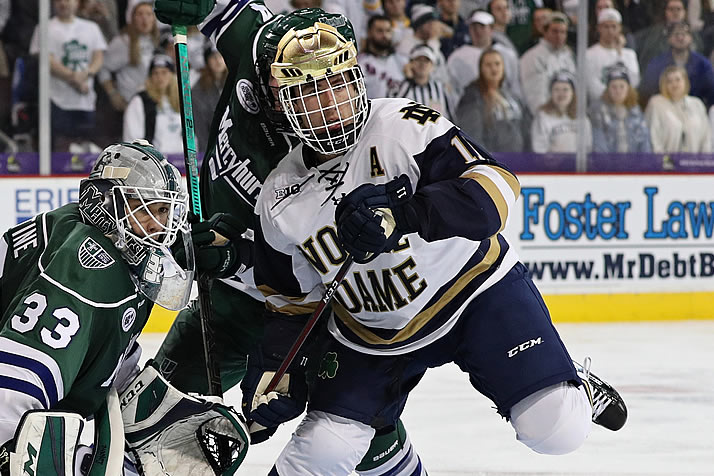 Cal Burke is one of four players – all juniors or seniors – with a hat trick this season (Photo by Ric Kruszynski / Mercyhurst Athletic Communications / Erie Sports Commission).
By Nate Ewell
Junior Cal Burke (Boxborough, Mass./Cedar Rapids-USHL) is the top returning scorer on a Notre Dame team that lost its top three scorers, and his second career hat trick in the season opener helped propel the Irish to the Ice Breaker Tournament title. Burke is one of 10 juniors or seniors who played in both games for the Irish, significant experience from last year's Big Ten championship team despite the losses at the top of the lineup. They are back on the road this weekend for a series at Omaha before next weekend's national championship game rematch with Minnesota Duluth. | FloHockey: Burke brothers hope to bring a title to Notre Dame | Friday's game is on CBSSN
---
Must Read/See/Hear Material
College Hockey Inc.: 2019 Ice Breaker awarded to Toledo
The Athletic: Cheer, cheer for Notre Dame? The Avs certainly will
FloHockey: Bemidji State scrapes points off North Dakota behind Driscoll
Grand Forks Herald: From nervous beginnings, the NCHC rises in prominence
Top Preseason Storylines | CHI Media Kit (.pdf)
---
Five More Storylines No One Should be Without
Maier the man at Union – Union's second-year captain Cole Maier (Pequannock, N.J./Nanaimo-BCHL) has increased his offensive output each year on campus, and his seven points through three games this season put him one point off the national scoring lead. He heads up a nine-player senior class for the Dutchmen, who are 2-0-1 after struggling through an 0-5-0 start last season. Maier and Union visit No. 12 Northeastern for two games this weekend. | Friday's game is on NESN; Saturday's is on NESNplus
Largest senior classes:
10 – Mercyhurst, Omaha
9 – Minnesota, St. Cloud State, Union
Atlantic series highlights cancer fight – The top two teams in Atlantic Hockey's preseason poll meet this weekend as Air Force visits Canisius for two games. Saturday is the Golden Griffins' Pink the Rink game, one of numerous initiatives around the country this month to raise awareness and funds for the fight against cancer. Canisius head coach Trevor Large is taking part in the Real Men Wear Pink initiative and raising money for the American Cancer Society.
"NewMass" faces biggest challenge – The rebuilding effort at Massachusetts – dubbed #NewMass by the program – takes its 2-0-0 record to No. 1 Ohio State this weekend. The top five scorers for the Minutemen last season were freshmen, led by sophomore Cale Makar (Calgary, Alta./Brooks-AJHL/COL). Makar, the No. 4 overall pick by the Colorado Avalanche in 2017, is the highest draft pick in college hockey in 2018-19 and the first top-10 pick to play multiple seasons of college after being drafted since James van Riemsdyk (New Hampshire, 2007 NHL Draft). | USCHO.com: With underclassmen-dominated squad, UMass taking strides
Germany's team – Minnesota State, coming off a home sweep of Boston University, continues its challenging early-season schedule with a series at North Dakota this weekend. The Mavericks are led by the German duo of juniors Marc Michaelis (Mannheim, Germany/Green Bay-USHL) and Parker Tuomie (Bremerhaven, Germany/Sioux Falls-USHL), linemates who had a hand in five of the team's nine goals last weekend. The Mavericks – with those two plus freshman Julian Napravnik (Bad Nauheim, Germany/Des Moines-USHL) – feature three of the six Germans playing Division I.
Europeans in Division I by Year
2018-19 – 110 (all-time high)
2017-18 – 96
2016-17 – 82
2015-16 – 58
Experience leads SCSU – Brett Larson emerged from last weekend's meeting of first-year head coaches with two wins against Erik Largen and Alaska, giving his No. 4 St. Cloud State team a 2-0-0 record entering a home series with Northern Michigan. While Larson may be new, his team is experienced, with the Huskies bringing back players who accounted for 303 points last season to lead the nation. | Friday's game is on FOX Sports North+
Most Returning Points from 2017-18:
St. Cloud State – 303
Boston College – 289
Minnesota State, Sacred Heart – 275
Penn State – 274
---
NHL Note of the Week
Last Saturday Duncan Keith (Michigan State) joined Matt Cullen (St. Cloud State) as only the second active NCAA alum to play 1,000 career NHL games. Five more are poised to join them in the coming weeks: Ryan Suter (Wisconsin, 997 career games), Ron Hainsey (UMass Lowell, 994), Brooks Orpik (Boston College, 988), Thomas Vanek (Minnesota, 971) and Chris Kunitz (Ferris State, 971). | NCAA Alumni with 1,000 NHL GP
---
Fries at the Bottom of the Bag
Six players – five of them seniors – recorded five points last weekend … Seven games this weekend are on national or regional sports networks … RIT hosts Colgate Saturday in its annual homecoming game at the downtown Blue Cross Arena … Atlantic Hockey played the season's first conference games last weekend; Hockey East joins the fray with two conference games this weekend … The two coaches with the longest tenures at their schools meet as Mercyhurst (Rick Gotkin, 31st season) visits Ferris State (Bob Daniels, 27th season) … USA Hockey's National Team Development Program, which features four Boston University commits and three Harvard commits on its Under-18 Team, visits those two schools for exhibitions this weekend.