Wednesday, October 10, 2018
Notes: Top Ice Breaker Storylines
Mercyhurst plays host to elite field this weekend in Erie, Pa.
---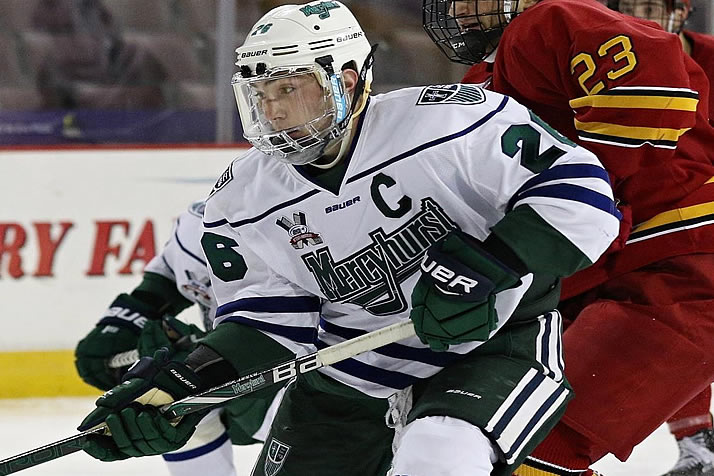 Lakers senior Derek Barach is the top returning scorer in the 2018 Ice Breaker field.
By Nate Ewell
An elite field is set to gather in Erie, Pa., for the 22nd annual Ice Breaker Tournament to be held Oct. 12-13 at Erie Insurance Arena. Mercyhurst – the first host from Atlantic Hockey in the tournament's history – welcomes Miami, Notre Dame and Providence. Between them the teams boast:
- Two defending conference champions (Mercyhurst and Notre Dame)
- Three 20-win teams from a year ago (Mercyhurst, Notre Dame, Providence), with an average win total of 21.3 between the four teams
- Appearances in seven of the last 11 Frozen Fours
Friday, Oct. 12
4 p.m. ET: Providence vs. Miami
7:30 p.m. ET: Notre Dame vs. Mercyhurst
Saturday, Oct. 13
4 p.m. ET: Consolation Game
7:30 p.m. ET: Championship Game
All games streaming on Stretch Internet
Top Preseason Storylines | CHI Media Kit (.pdf)
---
Five More Ice Breaker Storylines No One Should be Without
Title track? – Each of the last three NCAA champions opened the season in the Ice Breaker, and the last two served as hosts: Minnesota Duluth in 2017, Denver in 2016 and North Dakota in 2015. Three Ice Breaker champions have gone on to win the NCAA title that season: Boston University (2008-09), Boston College (2011-12) and North Dakota (2015-16).
Each of the last seven Ice Breaker champions have gone on to make the NCAA Tournament that season.
Goal oriented – Nationally, less than 40 players who scored 15-plus goals last year are back for 2018-19, and four of them will be in Erie: Mercyhurst's Derek Barach, Miami's Gordie Green and Providence's Kasper Bjorkqvist and Josh Wilkins. Notre Dame, the only team in the field without a returning 15-goal scorer, got 14 last year from top returning scorer Cal Burke.
Top returning scorers in 2018 Ice Breaker
38 points – Derek Barach, Mercyhurst
33 – Gordie Green, Miami
31 – Joseph Duszak, Mercyhurst
31 – Josh Wilkins, Providence

Ice Breaker Tournament History
Starting strong – A number of freshmen will get their first real taste of college hockey at the Ice Breaker. Although three of the teams have already played regular-season games, top prospects like Jay O'Brien (Providence), Jonathan Gruden (Miami) and Jake Pivonka (Notre Dame) all enter in search of their first college goals.
Several active NHLers who started their college hockey career in the Ice Breaker, including Brooks Orpik (Boston College), Brian Boyle (Boston College), Ben Bishop (Maine), Johnny Gaudreau (Boston College) and Casey Mittelstadt (Minnesota).
Ice Breaker history – Mercyhurst, Miami and Providence are all making their second appearance in the Ice Breaker Tournament as it celebrates its 22nd year in 2018-19. Notre Dame is in its fifth Ice Breaker and is the only team in the field with a championship to its credit (2014). The event – sponsored by the Hockey Commissioners Association and managed by College Hockey Inc. – brings together four of the nation's top teams from different conferences for the traditional start to the college hockey season. Mercyhurst is seeking to become the first host to win the title since 2013 (Minnesota) as the event makes its first visit to the state of Pennsylvania.
Miscellaneous
Three of the four teams in the field return their No. 1 goaltender from a year ago, headlined by Mike Richter Award winner Cale Morris of Notre Dame
The four coaches in the field all rank among the top 14 active Division I coaches in career wins, led by Rick Gotkin (second) and Jeff Jackson (fourth)
Boston College, Boston University and Minnesota are tied with the most Ice Breaker championships all time (three each).
Notre Dame's five Ice Breaker appearances are tied with Boston College, Michigan State and Minnesota for the most all-time.
---
Elsewhere Around the Country
Arizona State, coming off its first home sweep in program history, hosts new No. 1 Ohio State this weekend … Matt Curley (Alaska Anchorage) became the first of the country's six first-time head coaches to post a victory Sunday night … Atlantic Hockey features the nation's first conference games this weekend with two series (Canisius at Holy Cross, AIC at Niagara) … Four NHL first-round draft picks should make their NCAA debuts this weekend, including Boston College's Oliver Wahlstrom and Wisconsin's K'Andre Miller as the Eagles visit the Badgers … Three series feature two top-20 teams in the USCHO.com poll: No. 8 Boston University at No. 11 Minnesota State; No. 3 Minnesota Duluth at No. 19 Michigan Tech; No. 17 Clarkson at No. 16 Penn State.
---
Must Read/See/Hear Material
Daily Gazette: Union's Adams forging ahead after brother's death
Wisconsin State Journal: Support system has helped Miller become a top hockey talent
Omaha World-Herald: After missing much of junior year, Morelli back to captain UNO
Daily Collegian: Third Time's the Charm for Carvel
---
NHL Note of the Week
A record 209 NCAA alumni were on NHL opening-night active rosters, seven more than a year ago.