Wednesday, October 31, 2018
Notes: Two-Sport Athlete Leads Army
Streaking Black Knights host rival Air Force, plus much more.
---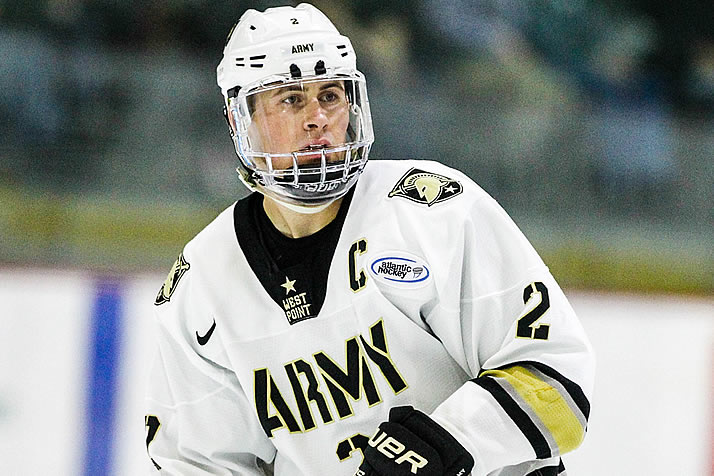 Dalton MacAfee, who had 21 points last season, has nine through seven games this year.
By Nate Ewell
Army West Point carries a five-game unbeaten streak and a 3-0-1 Atlantic Hockey record into its rivalry weekend with Air Force. The Black Knights are led by senior captain Dalton MacAfee (Needham, Mass./South Shore-USPHL), one of two defensemen tied for the team lead in scoring with nine points. MacAfee not only balances the time demands of being a cadet and a student-athlete – he also plays midfield on the Army lacrosse team. The son of former NFLer and Notre Dame All-American Ken MacAfee, Dalton leads Army in shots (27) and plus/minus (+4).
Longest Active Unbeaten Streaks
6 – Minnesota Duluth (6-0-0)
5 – Penn State (5-0-0)
5 – Quinnipiac (5-0-0)
5 – Army West Point (4-0-1)
---
Must Read/See/Hear Material
Duluth News Tribune: New NCAA proposal aims to slow down recruiting process
Grand Forks Herald: UND destination games keep growing in popularity
Duluth News Tribune: Together again, UMD's Cates brothers flourishing
Wisconsin State Journal: Benefits of summer work showing in Dhooghe's start
Cornell Sun: The road not taken: Vanderlaan's journey
Cornell Sun: Galajda lets his play do the talking
Mining Journal: NMU looks at adding more sports
Top Preseason Storylines | CHI Media Kit (.pdf)
---
Five More Storylines No One Should be Without
BGSU's Max power – Bowling Green's offense is averaging more than 5.0 goals per game, and sophomore Max Johnson (Lakeville, Minn./Sioux Falls-USHL) leads the Falcons – and the nation – with 13 points in seven games. Johnson is building on his WCHA All-Rookie Team season a year ago and has 32 points in 28 games this calendar year. Johnson won a Minnesota state championship at Lakeville North in 2015 while playing for Trent Eigner, brother of BGSU assistant coach Ty. | Both weekend games are on FloHockey
Advanced degree on D for Quinnipiac – Quinnipiac enters ECAC Hockey play at a perfect 5-0-0, led by second-year captain Chase Priskie (Pembroke Pines, Fla./Salmon Arm-BCHL/WSH). Priskie, who posted at least 25 points in each of his first three seasons, has goals in four of the team's five games this year. He also excels in the classroom, where he has already earned a degree in finance and is currently pursuing his MBA. This week Priskie was named one of 15 candidates for the 2018-19 Senior CLASS Award. | Friday's game is on NESN
Most Career Points, Active Defensemen
87 – Jimmy Schuldt, St. Cloud State
83 – Chase Priskie, Quinnipiac (WSH)
83 – Lester Lancaster, Denver
80 – Bobby Nardella, Notre Dame
73 – Adam Fox, Harvard (CAR)
The language of goals – UConn junior Alexander Payusov (Montreal, Que./Madison-USHL) is fluent in English, French and Russian – and, apparently, goal scoring. Payusov has scored in five of the Huskies' six games entering this weekend's series at Vermont. It's the next step in Payusov's rapid development – after recording just two assists in 15 games as a freshman he tied for the team lead with 12 goals last season.
Nation's Leading Goal Scorers
8 – Johnny Walker, Arizona State
7 – Alexander Payusov, Connecticut
6 – Max Johnson, Bowling Green
Spartans show road strength – Michigan State saw significant improvement in 2017-18 but still struggled on the road, winning only four games away from Munn Ice Arena. The Spartans are already halfway to that total this year after an impressive sweep at Cornell. They were led – like last year – by their dynamic first line of Taro Hirose (Calgary, Alta./Salmon Arm-BCHL), Patrick Khodorenko (Walnut Creek, Calif./U.S. NTDP-USHL) and Mitchell Lewandowski (Clarkston, Mich./Chicago-USHL), but got goals from all four lines and the defense corps in the sweep.
Denver's dynamic rookie – While Elias Pettersson makes a splash as an NHL rookie with the Vancouver Canucks, Denver's Emilio Pettersen (Manglerud, Norway/Muskegon-USHL) is tied for the scoring lead among NCAA freshmen. The two aren't related – note the different spellings and nationalities (Pettersson is Swedish) – but share offensive gifts as well as similar names. The Pioneers' Pettersen has helped Denver to a 3-0-1 start entering NCHC play despite the loss of 54.5% of its scoring from last season, more than all but three teams in the nation.
Nation's Leading Freshmen Scorers
8 pts. – Emilio Pettersen, Denver (CGY)
8 – Jachym Kondelik, Connecticut (NSH)
7 – Matt Barry, Holy Cross
7 – Jack Dugan, Providence (VGK)
7 – K'Andre Miller, Wisconsin (NYR)
7 – Demetrios Koumontzis, Arizona State (CGY)
---
NHL Note of the Week
The following teams have utilized the most NCAA alumni through Oct. 30:
15 – New Jersey
13 – Pittsburgh
12 – Anaheim
12 – Boston
12 – Minnesota
---
Fries at the Bottom of the Bag
The Notre Dame-Michigan game on Jan. 5 will be played at Notre Dame Stadium (3:30 p.m. ET, NBCSN), the 35th outdoor game in NCAA hockey's modern era and the first of two this season (also Bemidji State-Michigan Tech on Jan. 18 on Lake Bemidji) … Dartmouth's first line combined for four goals and eight points in a season-opening 7-6 overtime win vs. Harvard … Saturday's games included sellout crowds in the states of Massachusetts, Ohio, Arizona and Nevada.