Wednesday, November 14, 2018
NCAA Hockey Graduation Rate Reaches Record High
Single-year GSR hits highest point ever at 94.6%.
---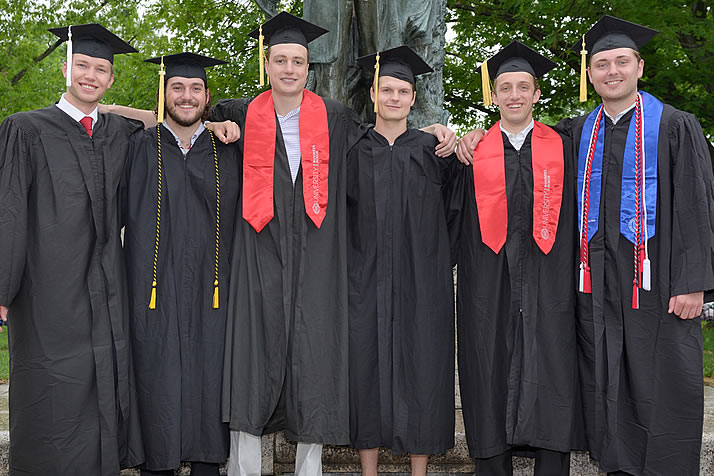 Hockey ranked second among Division I men's sports in the most recent single-year GSR data released Wednesday.
NCAA men's hockey student-athletes continue their remarkable academic success, posting a 94.6% NCAA Graduation Success Rate (GSR) in the latest data, released Wednesday by the NCAA.
That single-year data, which measures student-athletes who enrolled in 2011, is men's hockey's best single-year number since the NCAA began tracking GSR in 2002. It ranks second among all Division I men's sports in this year's data behind only skiing (95.2%)
"This is very exciting news for everyone involved with college hockey. Men's hockey student-athletes continue to demonstrate that it's possible to simultaneously achieve your athletic and academic dreams," College Hockey Inc. Executive Director Mike Snee said. "Men's hockey's performance in these NCAA metrics has always been impressive, so to reach new heights is a tremendous accomplishment and a testament to our student-athletes, coaches and institutions."
Men's hockey's single-year GSR of 94.6% stands significantly higher than the overall NCAA men's sport average (83.6%). The NCAA also measures each sport's GSR spanning a four-year period, with men's hockey posting a 90% GSR for classes enrolling from 2008 through 2011. That ranks sixth behind only fencing, gymnastics, skiing, tennis and water polo among men's sports.
Fourteen schools recorded a perfect 100% GSR in the most recent data: Bentley, Bowling Green, Canisius, Colgate, Denver, Harvard, Lake Superior State, Mercyhurst, Penn State, Princeton, Providence, Quinnipiac, Robert Morris and Yale. Thirteen more schools had rates of 90% or better.
Men's hockey's performance in the NCAA GSR follows similar success in the NCAA's Academic Progress Rate (APR). Hockey also leads all men's sports in that measure, which examines student-athletes' success in the class room and progress toward their degree.