Thursday, November 15, 2018
Notes: Balanced Attack Leads Niagara
Rivalry series, meeting of last two champs on tap this weekend.
---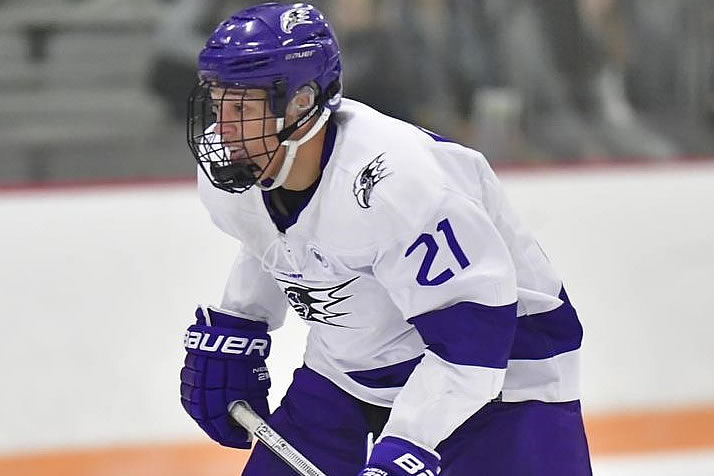 Justin Kendall has six points in Niagara's four wins this season.
By Nate Ewell
Niagara is unbeaten in three straight entering this weekend's rivalry home-and-home with Canisius, fueled by a balanced attack that features 18 goal scorers through 10 games. That's more than any other team in the country and just one less than the Purple Eagles had all of last year. Sophomore Justin Kendall (Holmen, Wis./Coulee Region-NAHL) leads the way with three tallies, matching his total from a year ago. When that offense has produced three or more goals, Niagara is 4-0-1; if it scores two or fewer it is 0-5-0.
Most Players with a Goal
18 – Niagara
17 – Penn State
16 – Union
---
Must Read/See/Hear Material
Minnesota Hockey: Putting the team first with Jimmy Schuldt
Forum Communications: Despite hometown fires and shooting, Newell keeps focus on ice
The Athletic: Only three years removed from national title, Providence grieves for two of its own
Duluth News Tribune: Tufte continues to find inspiration from late UMD captain
Grand Forks Herald: Scheel pushes to be rare starting freshman goalie at UND
FloHockey: MTU's Brice is living the Houghton dream
Penn State Daily Collegian: Larsson's uncanny instincts brought him from Sweden to Penn State
College Hockey Today: Powerful stuff | More Podcasts
ICYMI: Grad rate reaches record high
Top Preseason Storylines | CHI Media Kit (.pdf)
---
Five More Storylines No One Should be Without
Mackay provides leadership, goals – Parker Mackay (Irma, Alta./Spruce Grove-AJHL) is two-thirds of the way to his career high in goals just 10 games into the season, leading Minnesota Duluth with six tallies. The senior captain has led the defending national champions on an eight-game winning streak that is twice as long as their best run in last year's title campaign. Always leaned on for leadership, Mackay is contributing more than ever offensively entering this weekend's series with Denver, a matchup of the last two national champions. | Both games are on Altitude2; Friday's game is on TSN2
Lucchini continues family legacy – Michigan Tech ventures to Clarkson winners of four in a row, as two teams from last year's NCAA East Regional meet in Potsdam. Senior Jake Lucchini (Trail, B.C./Trail-BCHL) has fueled the Huskies' success and has 50 points since the start of last season, including eight in the last three games. Lucchini's grandfather, the late Leo Lucchini, won a World Championship with the Edmonton Mercurys in 1950. | Both games are on ESPN+
Generational guidance at BC – When you've won 1,056 games, like Boston College head coach Jerry York, your wisdom spans generations. As Joe Meloni of College Hockey News reports, York turned to a current player's father to help the Eagles snap out of an 0-5-0 start. George McPhee, the current Vegas Golden Knights general manager who played for York at Bowling Green, was part of a 1981-82 BGSU team that started 0-6-1 but went on to win the CCHA Tournament. York relayed that story, via George's son Graham, a junior forward. The Eagles are 3-0-0 since headed into Friday's game vs. UNH. | College Hockey News: Under the Microscope
Seniors guide Tigers – Princeton is unbeaten in four straight (3-0-1) heading into a weekend that includes Saturday's rematch of last year's ECAC Hockey championship game at Cornell. The senior class – which won five games as freshmen – has fueled the Tigers, led by Ryan Kuffner (Ottawa, Ont./Gloucester-CCHL) with seven goals through five games. Seniors make up the team's top four scorers and have accounted for 12 of the Tigers' 21 goals on the year. | Both games are on ESPN+
Points per Game, Senior Class
7.20 – Princeton
4.55 – Union
4.10 – St. Cloud State
3.70 – Notre Dame
3.60 – Northeastern
Hot start for Michigan's Norris – Michigan faces a second straight top-10 foe at Penn State, led by an impressive start from sophomore Josh Norris (Oxford, Mich./U.S. NTDP/OTT). The first-rounder, whose rights were traded to Ottawa in the Erik Karlsson deal this summer, is the son of former NHLer Dwayne Norris. Josh has six goals and 13 points in nine games, well on his way to his freshman year totals (8-15—23 in 37 GP).
See also: Sons of NHLers in NCAA
---
NHL Note of the Week
Los Angeles Kings goaltender Cal Petersen, who made his NHL debut Tuesday, played 91 consecutive games for Notre Dame from 2014-17, the fifth-longest games played streak by a goaltender in NCAA history.
---
Fries at the Bottom of the Bag
Massachusetts (No. 4) and Arizona State (No. 18) both had their best ever rankings in the national polls this week … Wisconsin announced plans to retire Mark Johnson's jersey on Feb. 9 … Defending NCAA champion Minnesota Duluth has the nation's longest active winning streak at eight games, double the length of the Bulldogs' best streak last year … The nation's best penalty kill, Arizona State (92.7%), meets the No. 2 power play, Harvard (40.9%), for two games this weekend.