Wednesday, November 21, 2018
Notes: Big Names in Friendship Four
Four NCAA teams in Belfast for fourth-annual tournament.
---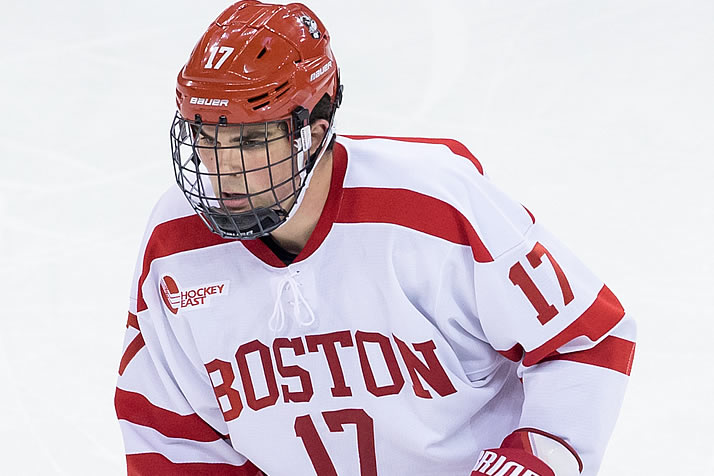 Dante Fabbro is one of 13 first-round NHL draft picks playing college hockey this season.
By Nate Ewell
Boston University is 3-1-1 in November after its 0-4-0 October, with junior defenseman Dante Fabbro (New Westminster, B.C./Penticton-BCHL/NSH) leading the way. The Predators' first-rounder has points in each of the last five games with a hand in 56% of the Terrier goals in that time. Fabbro and the Terriers are across the Atlantic this week with UConn, Union and Yale for the fourth annual Friendship Four in Belfast, Northern Ireland. He is one of 26 NHL Draft picks in the tournament. | Friendship Four games are on NESN or NESNplus, ESPN+, and TSN2 or TSN.ca/TSN App
Top Scoring Defensemen, November
10 pts. – Noah Delmas, Niagara
10 – Adam Fox, Harvard (CAR)
9 – Dante Fabbro, Boston University (NSH)
8 – Chase Priskie, Quinnipiac (WSH)
8 – Jimmy Schuldt, St. Cloud State
---
Must Read/See/Hear Material
Pucks & Recreation: Ian Edmondson: Blueline staple, breadline anchor
InForum.com: Gophers' Burke scoring goals, from the desert to Dinkytown
Grand Forks Herald: Adams carving out top-six role for UND
Boston Herald: Western Mass teams on the rise
EP Rinkside: Carolina high on Cotton from Texas
EP Rinkside: From the morning shift at the bakery to the Golden Knights
Providence Journal: Borek ready for challenge at Merrimack
---
Five More Storylines No One Should be Without
Big rivalries, big stages – A pair of ECAC Hockey rivalries are renewed on big stages in different parts of New York State this Saturday night. Madison Square Garden hosts Cornell-Harvard, while Clarkson and St. Lawrence make the short trip east to Herb Brooks Arena in Lake Placid. Cornell plays at MSG each year and drew more than 14,000 vs. Boston University last year. The historic venue in Lake Placid will play host to the ECAC Hockey championship in March. | Both games are on ESPN+
New duo for OSU – With senior Sean Romeo (Cary, N.C./Youngstown-USHL) back after playing 37 of 41 games in last year's Frozen Four season, Ohio State seemed set in goal for 2018-19. Turns out, the Buckeyes have gotten even better at the position by adding sophomore Tommy Nappier (St. Louis, Mo./Omaha-USHL) into a rotation with Romeo. The duo has held opponents to two goals or fewer in 10 of 12 games, including an NCAA-leading five shutouts. They host the nation's No. 1 offense, Penn State, for two games this weekend. | The Athletic: Buckeyes goaltenders finding success in shared time
Teams with two top-30 goalies in save percentage
Ohio State: Tommy Nappier (1st), Sean Romeo (26th)
Bemidji State: Henry Johnson (2nd), Zach Driscoll (14th)
Massachusetts: Matt Murray (7th), Filip Lindberg (10th)
Miami's man in net – Miami junior Ryan Larkin (Clarkston, Mich./Cedar Rapids-USHL), who ranked 70th among qualifying goaltenders in save percentage last year, is up to sixth this season. That improvement, from .886 to .941, has fueled a Miami team defense that ranks fifth nationally and has earned the 9-5-0 RedHawks the No. 19 spot in the USCHO.com Poll. Larkin – whose cousin, Dylan, stars for the Detroit Red Wings – has started 81 of 87 games since his freshman year entering this weekend's series at New Hampshire.
Tolvanen leads NMU – Northern Michigan heads across the Upper Peninsula to face Lake Superior State this weekend, a meeting of two rivals in the top half of the WCHA standings. Senior Atte Tolvanen (Vihti, Finland/Minot-NAHL) leads the Wildcats as one of the most experienced goaltenders in college hockey. As a sophomore, Tolvanen tied the NCAA record with five consecutive shutouts; he has added three shutouts already this season and has 11 in his career.
Most Career Saves, Active Goaltenders
2,829 – Atte Tolvanen, Northern Michigan
2,812 – Brett Magnus, Sacred Heart
2,579 – Eric Schierhorn, Minnesota
2,463 – Evan Weninger, Omaha
2,222 – Jake Oettinger, Boston University (DAL)
Bentley's sophomore star – Bentley enters a pair of in-state games (at Boston College, at Holy Cross) coming off a 4-2 win vs. Army West Point. Sophomore Luke Santerno (Smithers, B.C./Trail-BCHL) had his team-leading 13th point in that win, building upon his 30-point freshman season that earned him Atlantic Hockey All-Rookie Team honors. Santerno – whose hometown of Smithers, B.C., is about 1,000 kilometers north of Vancouver – is tied for seventh among current sophomores in career scoring.
---
NHL Note of the Week
Friday's Rangers-Flyers Thanksgiving Showdown pits David Quinn against Dave Hakstol, two of the six current NHL head coaches with NCAA coaching experience – the most there have been at one time in NHL history. They are also two of the six NHL head coaches ever hired straight from the NCAA ranks.
Current NHL head coaches with NCAA coaching experience
Jeff Blashill, Detroit
Dave Hakstol, Philadelphia
John Hynes, New Jersey
Jim Montgomery, Dallas
David Quinn, NY Rangers
Todd Reirden, Washington

NHL head coaches hired directly from NCAA
David Quinn, 2018 (Boston University to NY Rangers)
Jim Montgomery, 2018 (Denver to Dallas)
Dave Hakstol, 2015 (North Dakota to Philadelphia)
Herb Brooks, 1987 (St. Cloud State to Minnesota)*
Bob Johnson, 1982 (Wisconsin to Calgary)
Ned Harkness, 1970 (Cornell to Detroit)
* Second NHL stint
---
Fries at the Bottom of the Bag
Friday Michigan Tech is hosting a Copper Country Strong game vs. Alaska to support victims of devastating local flooding on Father's Day weekend … No. 7 Denver faces its third straight top-10 opponents this weekend as it hosts No. 9 Providence for two games … Four teams have already been No. 1 in the national polls this year, with 11 having received first-place votes … The National Letter of Intent signing period, which opened last week, now runs until August 1.