Wednesday, November 28, 2018
Notes: Graber's Got Hands
Skilled juggler also scores for Dartmouth; rivalries on tap this weekend.
---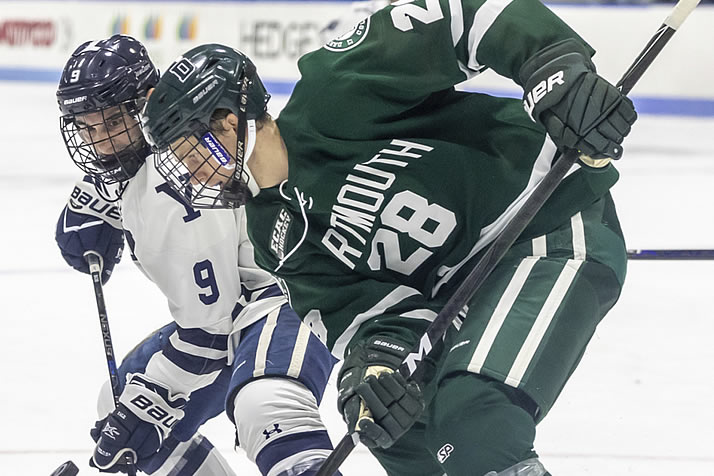 Will Graber has 23 points in his last 20 games centering the Big Green's top line.
By Nate Ewell
Dartmouth junior Will Graber (Longmont, Colo./Muskegon-USHL) is leading the Big Green in scoring for a second straight year, a sure sign that the big man (6-foot-5) has good hands. Another is his juggling prowess, which at 14 years old was earning acclaim in USA Hockey Magazine. Graber – whose Twitter handle is @JuggleHockey – has 23 points in his last 20 games while centering Dartmouth's "Timber Line" with 6-foot-3 teammates Shane Sellar (Carlisle, Pa./Janesville-NAHL) and Quin Foreman (Needham, Mass./West Kelowna-BCHL). The Big Green host Cornell and Colgate this weekend. | Both games are on ESPN+; Saturday's game is also on NESNplus
---
Must Read/See/Hear Material
The Athletic: Chick-fil-A, Chipotle and Xbox: How DU's freshman class is making the grade
The Gazette: Middendorf utilizes good genes, elite training as he tries to make his mark
Boston Herald: Swayman is Bruins' Maine man
Cornell Daily Sun: Four sophomores bring shared memories, chemistry from British Columbia to Cornell
Buffalo News: Baseball player Zurat gets new chance on the ice
Stars TV: Monty enjoys return to old school
---
Four More Storylines No One Should be Without
Rivalry games – As the calendar turns from November to December, two of college hockey's best rivalries take the ice in home-and-home series. Friday night Boston University hosts Boston College and Michigan State hosts Michigan before both series begin December on the other campus. | Friday's BC-BU game is on NESN and TSN2
Top rivalries, by games played
Michigan vs. Michigan State – 319 games
Colorado College vs. Denver – 315 games
Minnesota vs. North Dakota – 296 games
Michigan vs. Minnesota – 282 games
Boston College vs. Boston University – 277 games
Fladeby finds net – American International has won three in a row thanks in part to a big spike in production from sophomore Tobias Fladeby (Asker, Norway/Bismarck-NAHL). Fladeby has followed his one-goal freshman season with a team-leading eight in 14 games, including five tallies in the three-game winning streak. Fladeby is one of four Norwegians playing college hockey and one of 11 Europeans on the AIC roster.
Most nationalities on roster
9 – American International
7 – Connecticut, Lake Superior State, Maine
6 – Omaha, Quinnipiac
Passolt producing goals – Western Michigan returns to action this weekend after a sweep at North Dakota two weekends ago, where sophomore Josh Passolt (Hayward, Wis./Sioux Falls-USHL) scored three of his team-leading seven goals. That puts Passolt just one goal shy of his freshman year production and continues a trend that has seen him light the lamp at every stop in hockey. He had a 22-goal season with the Sioux Falls Stampede prior to joining WMU and 21 goals as a senior with Maple Grove High School in 2014-15.
Filling big skates at BSU – Bemidji State faces Michigan Tech and its 6-0-0 WCHA record this weekend after the Beavers handed Minnesota State its first conference loss on Saturday. The Beavers have started 6-5-1, overcoming the graduation of goaltender Michael Bitzer thanks to the tandem of sophomores Henry Johnson (Minneapolis, Minn./Brockville-CCHL) and Zach Driscoll (Apple Valley, Minn./Omaha-USHL). Both have save percentages above .925
Teams with Perfect Conference Records
6-0-0 – Massachusetts (Hockey East)
6-0-0 – Michigan Tech (WCHA)
4-0-0 – St. Cloud State (NCHC)
---
NHL Note of the Week
College hockey podcaster Mike McKenna – whose work you can find here – posted 34 saves Tuesday for the Ottawa Senators in a 4-3 win at Philadelphia. It was the first win and second start of the season for the former team MVP at St. Lawrence. | NHL Matchup Tool
---
Fries at the Bottom of the Bag
Nineteen defensemen are averaging at least a point per game … Penn State's Evan Barratt (Bristol, Pa./U.S. NTDP/CHI) and Alex Limoges (Winchester, Va./Waterloo-USHL) are the first two players in the nation to record 20 points. The last teammates to finish 1-2 in the national scoring race were Michigan's Kyle Connor and J.T. Compher in 2015-16 … An average of 4,268 fans attended the 22 Division I men's games on Saturday.