Monday, November 12, 2018
Rankings Highlight Draft Prospects
More than 100 current and future collegians featured by NHL Central Scouting.
---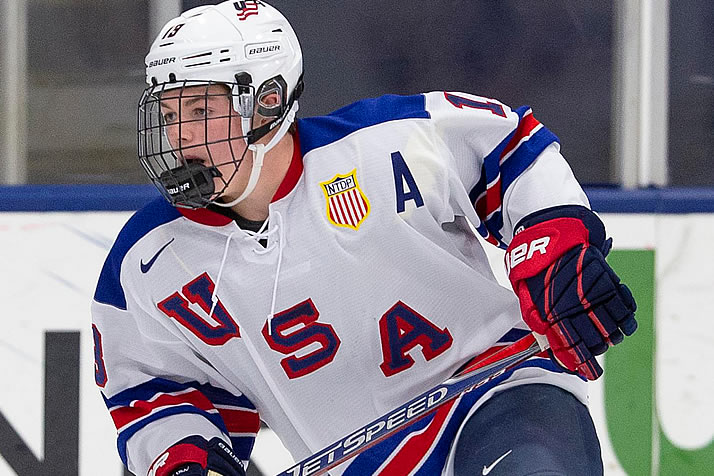 Wisconsin commit Cole Caufield has 16 goals in 18 games for USA Hockey's National Team Development Program (Photo by Rena Laverty).
More than 100 current and future NCAA players are highlighted as 2019 NHL Draft prospects in NHL Central Scouting's updated "Players to Watch" list, released Monday.
Twenty-nine of the 60 schools have a player or recruit listed in the rankings. In total, 109 players who are committed to schools or playing in NCAA-eligible junior leagues are featured, up from 104 on NHL Central Scouting's preseason watch list.
Sortable: NCAA Players to Watch for 2019 NHL Draft
Leading the way are eight players with an "A" rating as candidates to be selected in the first round. Twenty others earned "B" ratings as second- or third-round candidates.
Boston College, Boston University and North Dakota each have eight representatives in the rankings, followed closely by Minnesota (seven).
Sixteen of the prospects listed have not committed to a school but are playing in an NCAA-eligible junior or high school league.
The USHL led all junior leagues in the world with 54 players ranked, including 20 who play for USA Hockey's National Team Development Program.
Five NCAA freshmen are among those included on the watch list: Minnesota's Ben Brinkman (Edina, Minn./Edina HS), Boston College's Patrick Giles (Chevy Chase, Md./U.S. NTDP) and Adam Samuelsson (San Diego, Calif./U.S. NTDP) and Denver's Brendan Budy (Langley, B.C./Langley-BCHL) and Sean Comrie (Edmonton, Alta./Spruce Grove-AJHL).