Wednesday, December 5, 2018
Notes: No. 1 Ranking Put to Test
Top-ranked UMass enters home-and-home series with streaking Quinnipiac.
---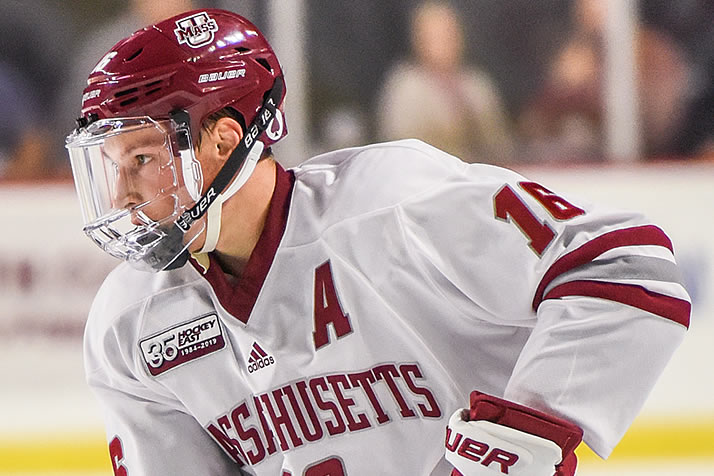 Cale Makar has at least a point in 10 of 13 games this year, including five multiple-point outings.
By Nate Ewell
Massachusetts capped off a perfect November (7-0-0) and earned the school's first No. 1 ranking in the USCHO.com poll. A stern test welcomes the Minutemen into December in the form of a home-and-home with No. 8 Quinnipiac, which has won six straight. The series features two of the more prolific offensive defensemen in a season that has seen 13 blueliners record at least a point per game: UMass sophomore Cale Makar (Calgary, Alta./Brooks-AJHL/COL) and Quinnipiac senior Chase Priskie (Pembroke Pines, Fla./Salmon Arm-BCHL/WSH). They rank second and tied for third in points per game among defensemen, trailing only Harvard's Adam Fox (Jericho, N.Y./U.S. NTDP-USHL/CAR). | MassLive.com: The sleeping giant is finally awake | Boston Globe: How UMass became the No. 3 team in the country | Friday's game is on ESPN+; Saturday's game is on Eleven Sports/NESNplus
Most Wins
13 – Quinnipiac (13-2-0)
12 – Massachusetts (12-1-0)
12 – Minnesota State (12-2-0)
11 – St. Cloud State (11-1-2)
---
Must Read/See/Hear Material
FloHockey: MTU's Kero comes through in Copper Country
InForum: Junior Gates (sort of) follows father's lead to Gophers stardom
Duluth News Tribune: Hain adjusting to life at North Dakota
Arizona Republic: Walker leading ASU to new heights
The Athletic: Westlund a Swede addition for the Buckeyes
The Athletic: Barratt surprising himself with special college season
NCHChockey.com: Blazing his own trail on the ice
DetroitRedWings.com: You Don't Know Jack
Canadiens.com: Stapley: Starting strong in the Mile High City
Minnesota Spokesman-Recorder: Two black hockey coaches meet in a historic first
The State Press: Hicks provides experience and growth for ASU
---
Five More Storylines No One Should be Without
Lively Snively – Yale has raced to a 5-2-2 start and fueling the success – as he has since he stepped foot on campus – is senior Joe Snively (Herndon, Va./Sioux City-USHL). Snively has led the Bulldogs in scoring each of the last three years, and paces the team with 13 points through nine games. The 5-foot-9, 165-pound undrafted free agent could become the first player in Yale history to lead the team in scoring four times.
Most Career Points per Game, Seniors
1.12 – Ryan Kuffner, Princeton
1.10 – Joe Snively, Yale
1.10 – Max Veronneau, Princeton
1.09 – Mason Jobst, Ohio State
0.99 – Dylan McLaughlin, Canisius
Thompson's offensive surge – Alaska is 4-3-1 after an 0-7-1 start, a stretch that has coincided with a run of offense from junior defenseman Tristan Thompson (Canmore, Alta./Brooks-AJHL). Thompson has eight points in the last eight games, including goals in three straight after last weekend's sweep of Ferris State. That's a remarkable spike in production for Thompson, who averaged 0.23 points per game for the first 74 games of his career. Thompson had some history of offensive production in juniors, including averaging a point per game as a teammate of Cale Makar with the Brooks Bandits in 2015-16.
Converted forward leads Badger D – A four-point game in a wild, back-and-forth affair Saturday vs. Penn State put freshman defenseman K'Andre Miller (Minnetonka, Minn./U.S. NTDP-USHL/NYR) atop Wisconsin's scoring chart. The Badgers, a game under .500 overall, are 6-1-2 when the first-round pick records a point. Miller's offensive skills were fostered while playing forward until he made the switch to defense in high school.
Top Scorers, Freshmen
16 pts. – Jack Dugan, Providence (VGK)
16 – Casey Dornbach, Harvard
15 – K'Andre Miller, Wisconsin (NYR)
15 – Nolan Walker, St. Cloud State
Billy the Greek – Air Force senior Billy Christopoulos (Releigh, N.C./Alberni Valley-BCHL) returned from injury to lead the Falcons to a sweep at RIT as they remain in first place in Atlantic Hockey. Christopoulos and Air Force struggled out of the gate (1-4-0, .851 save percentage), but he has won five straight with a .956 save percentage in that time. The 2018 Atlantic Hockey Tournament MVP is the son of a college wrestler and his brother played college and minor league baseball.
Gardner does it all – North Dakota, the nation's only team with multiple wins against top-four teams in the national polls, won at Minnesota Duluth Saturday, 2-1. The reigning NCHC Best Defensive Forward, senior Rhett Gardner (Moose Jaw, Sask./Okotoks-AJHL/DAL) leads the team with eight goals, all coming in November – only Penn State's Evan Barratt (10) had more in the month. Gardner has won 64.6% of his faceoffs and leads the nation with 241 faceoff wins, 15% more than any other player.
---
NHL Note of the Week
Sunday Ryan Miller tied John Vanbiesbrouck for the career win record among American goaltenders (374). Miller, one of just two goaltenders to win the Hobey Baker Award, holds the NCAA record for career shutouts with 26. He went 73-18-12 in three years at Michigan State (1999-2002) and is one of five former NCAA goaltenders to win 300-plus NHL games. | NHL Matchup Tool
Most Career NHL Wins, NCAA Alumni
484 – Ed Belfour (North Dakota)
454 – Curtis Joseph (Wisconsin)
423 – Tony Esposito (Michigan Tech)
374 – Ryan Miller (Michigan State)
301 – Mike Richter (Wisconsin)
---
Fries at the Bottom of the Bag
UMass is the fifth team to hold the national No. 1 ranking this season; seven of the top nine teams in the national polls are seeking their first NCAA titles … North Country rivals Clarkson and St. Lawrence play a home-and-home this weekend, as do New Hampshire rivals Dartmouth and UNH … Rick Middleton, on the occasion of his No. 16 being retired by the Boston Bruins, if he had to do it all over again: "I'd go to college … are you kidding me?"