Wednesday, December 5, 2018
U.S. Names Preliminary Junior Roster
23 NCAA representatives among those competing for World Junior spots.
---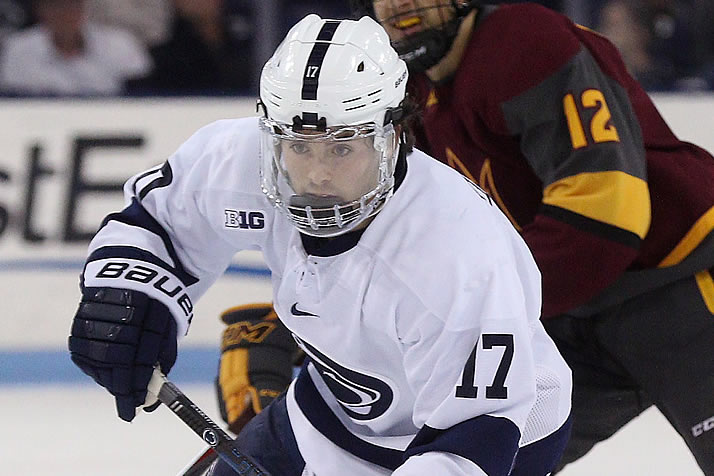 Penn State's Evan Barratt shares the national lead in scoring with 25 points.
Twenty-two NCAA players and one recruit will be among the 29 players contending for spots on the 2019 U.S. National Junior Team, as USA Hockey announced the team's preliminary roster Wednesday on NHL Network.
The roster will be reduced to 23 players for the 2019 World Junior Championship, which will be held Dec. 26 through Jan. 5 in Vancouver and Victoria, British Columbia.
The U.S. team, led by Minnesota State head coach Mike Hastings, will convene in Everett, Wash., for training camp Dec. 15-17 before heading to Kamloops, B.C. USA Hockey assistant executive director of hockey operations John Vanbiesbrouck is the general manager of the U.S. team.
Thirteen schools have representatives on the preliminary roster, led by Minnesota Duluth and Wisconsin with three each. Boston College, Boston University, Michigan, Northeastern, Providence and Yale each have two representatives.
Five players on the preliminary roster won bronze as members of the 2018 U.S. National Junior Team: Mikey Anderson (Minnesota Duluth), Quinn Hughes (Michigan), Josh Norris (Michigan), Ryan Poehling (St. Cloud State) and Dylan Samberg (Minnesota Duluth).
Hastings's staff is comprised entirely of NCAA coaches. The assistant coaches are David Lassonde (Dartmouth), Steve Miller (Ohio State), Scott Sandelin (Minnesota Duluth) and Jerry Keefe (Northeastern).
Eight more NCAA players have been named to preliminary rosters for three other teams:
Canada: Jacob Bernard-Docker (North Dakota), Shane Bowers (Boston University), Cam Crotty (Boston University), Ian Mitchell (Denver)
Czech Republic: Jachym Kondelik (Connecticut)
Finland: Filip Lindberg (Massachusetts), Sampo Ranta (Minnesota), Aarne Talvitie (Penn State)
In all, as many as 17 schools could have players participating in the 2019 World Junior Championship.
2019 U.S. National Junior Team Preliminary Roster
Name
Current Team
Goaltenders
Kyle Keyser
Oshawa (OHL)
Spencer Knight*
U.S. National Under-18 Team (USHL)
Cayden Primeau
Northeastern

Defensemen
Mikey Anderson
Minnesota Duluth
Michael Callahan
Providence
Ty Emberson
Wisconsin
Quinn Hughes
Michigan
Joey Keane
Barrie (OHL)
Phil Kemp
Yale
K'Andre Miller
Wisconsin
Dylan Samberg
Minnesota Duluth
Mattias Samuelsson
Western Michigan
Jack St. Ivany
Yale

Forwards
Evan Barratt
Penn State
Noah Cates
Minnesota Duluth
Sasha Chmelevski
Ottawa (OHL)
Logan Cockerill
Boston University
Cole Coskey
Saginaw (OHL)
Sean Dhooghe
Wisconsin
Jack Drury
Harvard
Joel Farabee
Boston University
Jack Hughes
U.S. National Under-18 Team (USHL)
Tyler Madden
Northeastern
Josh Norris
Michigan
Jay O'Brien
Providence
Ryan Poehling
St. Cloud State
Jason Robertson
Niagara (OHL)
Oliver Wahlstrom
Boston College
Sammy Walker
Minnesota
* Boston College commit