Wednesday, January 30, 2019
Notes: Crimson Prep for Beanpot
Fox leads Harvard in pursuit of its second Beanpot title in three years.
---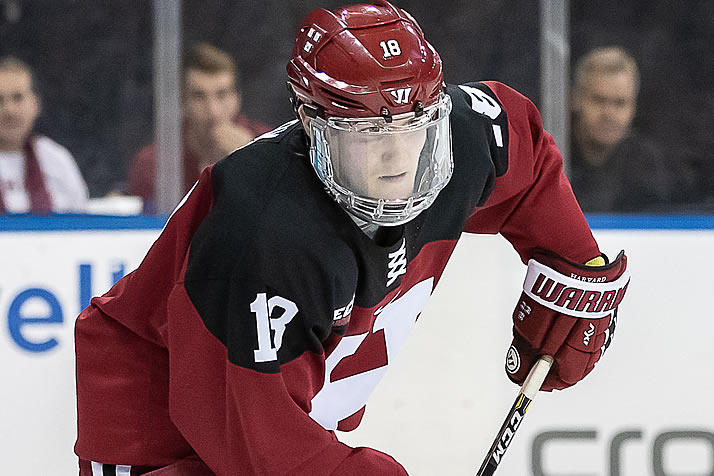 Adam Fox could become the first junior defenseman in seven years to reach the 100-career-point milestone.
By Nate Ewell
Harvard junior Adam Fox (Jericho, N.Y./U.S. NTDP/CAR) leads the Crimson into Monday's Beanpot semifinals in search of their second title in three years. Harvard has won three straight entering Friday's game vs. Dartmouth and broke into the national poll at No. 19. Fox had a goal and an assist in the Beanpot title game as a freshman, two of the 95 points he has compiled in his career. The two-time first-team All-American could become the first junior defenseman to hit 100 career points since Wisconsin's Justin Schultz in 2011-12. | Friday's game and Monday's Beanpot semifinals are on NESN | Inside Harvard Hockey
Most Points Per Game
1.62 – Taro Hirose, Michigan State
1.52 – Evan Barratt, Penn State (CHI)
1.42 – Adam Fox, Harvard (CAR)
1.37 – Joseph Duszak, Mercyhurst
1.37 – Ryan Kuffner, Princeton
---
Must Read/See/Hear Material
Pittsburgh Hockey Digest: Walkom earning his stripes at Bentley
The Rink Live: Miller picks up scraps, ends scoring drought for SCSU
Michigan Daily: After an up-and-down freshman year, Raabe has found his role
The Athletic: Fresh off the ice, Krause a valued voice for UMD
The Athletic: Red Wings prospect report: Barton and Kotkansalo
Chicago Tribune: Barratt returns to Penn State battle-tested
---
Five More Storylines No One Should be Without
Richards' breakthrough for UMD – A year ago Justin Richards (Columbus, Ohio/Lincoln-USHL) played a key role on the national champion Minnesota Duluth Bulldogs, even if it didn't often show up on the scoresheet (0 goals, 9 assists on the year). He won key faceoffs and played a checking line role in a season he originally planned to spend playing a final year of junior hockey. Now, with that year of experience, the son of Tampa Bay Lightning assistant coach Todd Richards has become one of the most improved offensive players in college hockey, producing a point per game (8-16—24 in 24 GP). He has at least a point in 18 games this year, tied for the most among any freshman or sophomore in the nation.
Biggest Point Improvement, 2017-18 to 2018-19
17 – Evan Barratt, Penn State (CHI)
16 – Brandon Fortunato, Quinnipiac
16 – Charlie Gerard, Minnesota State
15 – Justin Richards, Minnesota Duluth
13 – Josh Passolt, Western Michigan
Biggest Goal Improvement, 2017-18 to 2018-19
10 – Diego Cuglietta, Lake Superior State
10 – Mason Morelli, Omaha
9 – Karl El-Mir, UConn
8 – Justin Richards, Minnesota Duluth
7 – Charlie Gerard, Minnesota State
7 – Josh Passolt, Western Michigan
Among top 100 scorers nationally
Rookies fuel Niagara – Niagara stands 9-7-3 in Atlantic Hockey, fueled by the conference's top offense. The nation's top-scoring freshman class has sparked the Purple Eagles, led by rookie Ludwig Stenlund (Skellefteå, Sweden/Madison-USHL). Goals in four straight games and six of the last seven give Stenlund 11 on the year, which leads the nation's rookies.
Most Points, Freshman Class
86 – Niagara (34 goals-52 assists)
82 – Denver (29-53)
80 – Quinnipiac (34-46)
75 – Wisconsin (29-46)
65 – Michigan Tech (30-35)
OSU's secret weapon – Ohio State enters a series featuring the top two teams in the Big Ten (vs. Notre Dame) at No. 4 in the polls and winners of three straight. In this "year of the defenseman" in college hockey, the Buckeyes' top blueliner may be one of the most underrated: senior Sasha Larocque (Calgary, Alta./Dubuque-USHL). The defensive defenseman leads OSU at +13 and was second-team All-Big Ten last season. The earth sciences major is just a few years removed from nearly giving up hockey before current Arizona State assistant coach Mike Field convinced him to join the USHL's Dubuque Fighting Saints in 2014-15.
Smart Hawkey – The easiest pick for college hockey's all-name team, Providence goaltender Hayden Hawkey (Parker, Colo./Omaha-USHL/EDM), posted his 13th career shutout Saturday at Northeastern. Hawkey's 63 career wins lead all active goaltenders and put him two wins shy of Providence's career record. He has played 25 of 26 games for the Friars entering their weekend home series with Vermont. | Saturday's game is on NBC Sports Boston
Most Career Shutouts, Active Goaltenders
16 – Jake Kielly, Clarkson
13 – Hayden Hawkey, Providence (EDM)
12 – Hunter Shepard, Minnesota Duluth
12 – Eric Schierhorn, Minnesota
12 – Atte Tolvanen, Northern Michigan
Bolstering the Bulldogs – Ferris State posted its most impressive win of the year, 3-0 at Bowling Green, after dropping three straight close games to the top two teams in the WCHA. One theme in the Bulldogs' recent improved play: strong goaltending from junior Justin Kapelmaster (Coral Springs, Fla./Wichita Falls-NAHL). Kapelmaster, who had an .879 save percentage in his first five starts, has posted a .957 in this recent run, including the 41-save shutout of the Falcons. Ferris hosts the third nationally ranked WCHA team, Lake Superior State, this weekend. | Both games are on FloHockey
---
NHL Note of the Week
Trent Frederic, who made his NHL debut Tuesday night with the Bruins, was one of a record 11 NCAA players selected in the first round of the 2016 NHL Draft. Two of that group are juniors in college hockey this season: Boston University's Dante Fabbro (New Westminster, B.C./Penticton-BCHL/NSH) and Minnesota Duluth's Riley Tufte (Blaine, Minn./Blaine HS/DAL). | NHL Matchup Tool
---
Fries at the Bottom of the Bag
The Headway Foundation, a nonprofit founded by former college players to address concussions in hockey, is holdings its annual Concussion Awareness Weekend this weekend; learn more at headwayfoundation.com … Only one series this weekend is out of conference: Arizona State at RIT … New Hampshire junior Liam Blackburn (Prince George, B.C./West Kelowna-BCHL) boasts the longest active point streak in the nation and the longest of the season at 15 games (9 goals-12 assists) … Mercyhurst defenseman Joseph Duszak (Franklin Square, N.Y./PAL Jr. Islanders-USPHL) led the nation in goals (9) and points (17) in January.