Wednesday, January 16, 2019
Notes: Taro Hockey
Gaudreau fan leading nation in scoring just as the BC alum did in 2014.
---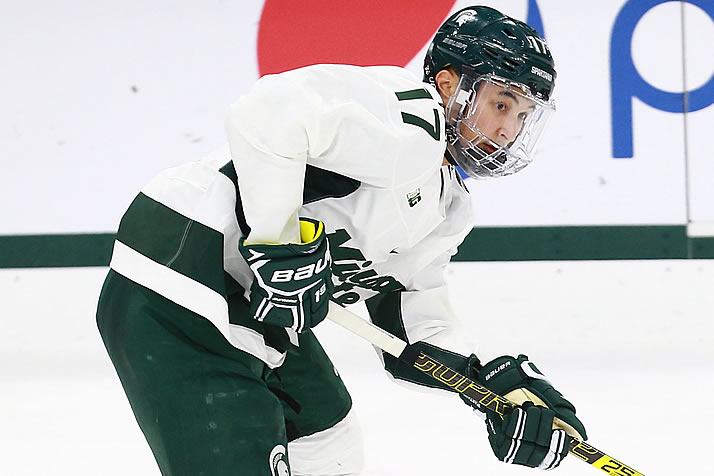 Taro Hirose has posted seven three-point games, three more than any other player in the nation.
By Nate Ewell
Michigan State junior Taro Hirose (Calgary, Alta./Salmon Arm-BCHL) is a Flames fan who admires Calgary's Johnny Gaudreau, who led the NCAA in scoring in 2013-14 with Boston College. Just as Gaudreau is taking his game to new heights in 2018-19, so is Hirose, leading the nation in scoring with 35 points, including 11 multiple-point games. Hirose eclipsed the 100-career-point mark last weekend and enters this weekend's Saturday-Sunday home series with Minnesota boasting a five-point lead in the national scoring race. | Both games are on BTN
National Scoring Leaders (Full Stats)
35 pts. – Taro Hirose, Michigan State
30 – Evan Barratt, Penn State (CHI)
30 – Alex Limoges, Penn State
29 – Odeen Tufto, Quinnipiac
29 – Joseph Duszak, Mercyhurst

Most Career Points, Active Juniors
102 – Marc Michaelis, Minnesota State
101 – Taro Hirose, Michigan State
99 – Tanner Laczynski, Ohio State (PHI)
91 – Adam Fox, Harvard (CAR)
88 – Josh Wilkins, Providence
---
Must Read/See/Hear Material
Arizona Republic: ASU captain springs marriage proposal on volleyball girlfriend
New Haven Register: Quinnipiac's Shortridge has the hot hand
FloHockey: Germans play a key role for Minnesota State
Omaha World Herald: Good work habits paying off for Morelli, Olofsson
California Rubber: With slew of California players, Denver again a national powerhouse
Bulldog Insider Podcast: Hunter Shepard makes the right move
NHL.com: BC alum Matheson emphasizes mental side with Panthers
---
Five More Storylines No One Should be Without
On the lake – Bemidji State celebrates Hockey Day Minnesota by hosting Michigan Tech Friday night on Lake Bemidji, which will become the 14th site to host an NCAA Division I men's outdoor game in the modern era – and the first outdoor game not held at an existing stadium. Bemidji State is the 35th team to play outdoors in that time. The Beavers are 4-0-2 in the opening game of their last six weekend series and 0-6-0 in the second game. | Wild.com: For Serratore brothers, every day is Hockey Day | Outdoor Game History
Jozefek emerges for NU – A balanced attack has Northeastern 14-4-1 entering a big home-and-home with No. 1 UMass, with junior Grant Jozefek (Chester, N.J./Lincoln-USHL) leading the way. Jozefek – who had just eight goals in his first two seasons combined – has taken on added responsibility after the Huskies lost their top three scorers from last season and his 19 points lead the team. He saw a similar spike in production from year one to two in the USHL, doubling his point total with the Lincoln Stars and jumping from four goals to 21. | Friday's game is on NESN; Saturday's is on NESN+; both are streaming on TSN
Show Me goaltending at WMU – Western Michigan and the nation's longest active unbeaten streak visit No. 2 St. Cloud State this weekend. Trevor Gorsuch (St. Charles, Mo./Chicago-USHL) has played every minute in net during the streak, posting a .941 save percentage in that time and solidifying the Broncos' goaltending position. The senior – who played just four games all of last year – ranks 12th nationally in save percentage (.928), one of three Missouri natives in the top 21 along with Ohio State's Tommy Nappier (St. Louis, Mo./Omaha-USHL) and Boston College's Joseph Woll (Dardenne Prairie, Mo./U.S. Under-18 Team-USHL/TOR). | Both games are on FSNorth+
Longest Active Unbeaten Streaks
10 – Western Michigan (9-0-1)
8 – Lake Superior State (7-0-1)
7 – Denver (7-0-0)
6 – Clarkson (6-0-0)
6 – Northern Michigan (6-0-0)
Lady Byng Girduckis – RIT heads to Bentley unbeaten in five straight (4-0-1) and senior Abbott Girduckis (Belleville, Ont./Wellington-OJHL) leads the nation with 2.20 points per game in that time. The Tiger co-captain, whose younger brother Aidan is a freshman at Robert Morris, would be a top contender if college hockey had a Lady Byng Award. Abbott Girduckis is one of three players among the nation's top 100 scorers who hasn't taken a penalty this season.
Fewest PIM, Top 100 Scorers
0 – Abbott Girduckis, RIT (24 points)
0 – Patrick Newell, St. Cloud State (23)
0 – Tyler Madden, Northeastern (18)
Seniors leading Union – A productive senior class leads Union into Saturday's Mayor's Cup game against Rensselaer, as the group looks to avenge a weekend sweep at the hands of the Engineers in October. The Dutchmen's top four scorers are all seniors, and they are looking to return to the NCAA Tournament after last year's second-half surge left them just outside of the field. Cole Maier (Pequannock, N,.J./Nanaimo-BCHL) leads the group with 20 points, including a four-assist effort in Union's win vs. then-No. 1 St. Cloud State two weeks ago.
Most Points, Senior Class
92 – Mercyhurst
80 – Princeton
78 – Union
78 – Canisius
78 – Ohio State
---
NHL Note of the Week
Monday Brooks Orpik became the 52nd NCAA alumnus to play 1,000 regular season NHL games. No former college players reached that milestone in 2017-18, but five already have this season and two more could join them. | NCAA Alumni with 1,000 NHL GP
Most NHL GP, Active NCAA Alumni
1,480 – Matt Cullen, St. Cloud State
1,043 – Duncan Keith, Michigan State
1,037 – Ryan Suter, Wisconsin
1,032 – Ron Hainsey, UMass Lowell
1,005 – Thomas Vanek, Minnesota
1,001 – Brooks Orpik, Boston College
992 – Chris Kunitz, Ferris State
985 – Ryan Kesler, Ohio State
---
Fries at the Bottom of the Bag
The Hockey Humanitarian Award released its list of 17 nominees for the 2019 award … 81 players are featured in the first phase of fan voting for the Hobey Baker Award, which opened Wednesday … The nation's top 14 scorers represent 12 states, provinces or countries (Alberta and New York are the only locales with multiple representatives) … The annual game between Army West Point and Royal Military College of Canada is set for Saturday at West Point … Among the other rivalry games this weekend: Harvard at Cornell (Fri., ESPN+), Denver vs. Colorado College (Sat. is on Altitude2 and TSN.ca) … United Center hosts Notre Dame-Wisconsin on Sunday (BTN) … There are Division I men's games on eight straight days from Jan. 15-22.