Friday, February 15, 2019
Duluth to Host 2020 Ice Breaker
Season-opening tournament returns to AMSOIL Arena.
---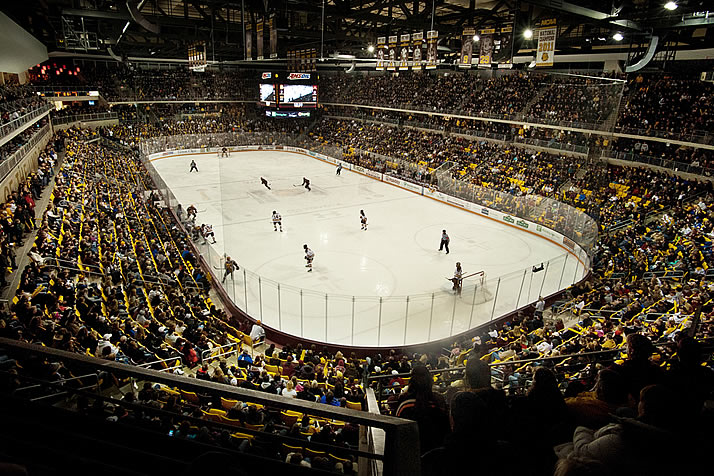 AMSOIL Arena hosted the 2017 Ice Breaker Tournament, won by Michigan Tech.
College hockey's signature opening weekend event -- the Ice Breaker Tournament -- will be headed to AMSOIL Arena again in 2020 with the University of Minnesota Duluth serving as the host.
"We are extremely excited and honored to host the 2020 Ice Breaker Tournament," said UMD athletic director Josh Berlo. "This tournament will put UMD at the forefront of the men's college hockey world for the start of the 2020 season. We couldn't be prouder to host and wish to express our appreciation to the Hockey Commissioners Association, College Hockey Inc., and our partners - Holiday Station Stores, Essentia Health, and Visit Duluth - for helping making this happen. In addition, this tournament will bring four additional Division I games and positive economic activity to Duluth."
Ice Breaker Tournament History
The Ice Breaker Tournament traditionally features four of the nation's top teams – each from a different conference – and the 24th annual tourney should be no exception as the defending NCAA champion Bulldogs of the NCHC will be joined by a pair of long-time rivals in Minnesota (Big Ten) and Minnesota State (Western Collegiate Hockey Association) as well as 2015 NCAA title winner Providence (Hockey East). The first-round matchups, set for Oct. 9, 2020 at the 6,756-seat AMSOIL Arena, will be determined at a later date.
UMD has competed in three previous Ice Breaker Tournaments – in 2003 in East Lansing, Mich., in 2014 in South Bend, Ind., and in 2017 at AMSOIL Arena. In 2020, Minnesota will make its sixth Ice Breaker Tournament appearance and Providence College its third. Minnesota State will be a first-time participant.
Since its inception in 1997, the Ice Breaker has been held at an array of on- and off-campus sites, including high-end venues such as the Xcel Energy Center (St. Paul), Scottrade Center (St. Louis) and Kohl Center (Madison, Wis.). The 2019 event is scheduled for the Huntington Center in Toledo, Ohio.
"The 2017 Ice Breaker was a tremendous success and we knew the tournament would be back in Duluth sooner than later," said College Hockey Inc. Executive Director Mike Snee. "Four of the top programs in the country competing in one of the best buildings will be a wonderful way to begin the 2020-21 men's college hockey season."
The opening round of 2017 Ice Breaker Tournament drew the fourth largest crowd in AMSOIL Arena history as 7,203 spectators watched the Bulldogs take down Minnesota in a 4-3 overtime thriller. Michigan Tech went on to win the 2017 Ice Breaker championship.
Tournament details with ticket prices will be released at a later date and posted at umdbulldogs.com/icebreaker. Tickets to the 2020 Ice Breaker Tournament will be included in 2020-21 UMD men's hockey full season ticket packages AND half-season ticket holders (Friday or Saturday night) will have the corresponding Ice Breaker games included in their season ticket package. Season ticket holders will also have an exclusive opportunity to purchase extra tickets to the 2020 Ice Breaker Tournament.