Wednesday, February 20, 2019
Notes: Top Prospect Leads Wolverines
Hughes starring as Michigan eyes move up in Big Ten.
---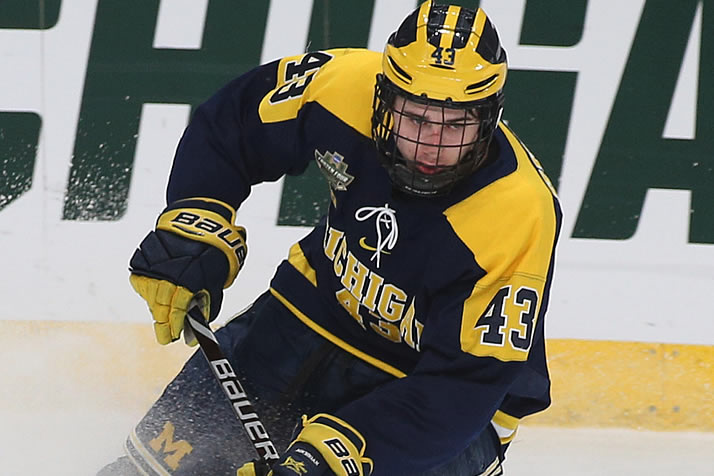 Quinn Hughes has followed his stellar freshman season with points in 19 of 26 games this year (Photo by Larry Radloff).
By Nate Ewell
Quinn Hughes (Orlando, Fla./U.S. NTDP/VAN) is averaging more than a point per game and the Vancouver Canucks first-rounder has already matched his freshman year point total (29). He leads Michigan into its series against Big Ten-leading Ohio State with the Wolverines, currently fourth in the league, looking to climb as high as second in the final two weeks of the regular season. Hughes, whose brother Jack is the No. 1 prospect for the 2019 NHL Draft, is himself rated as the No. 1 NHL prospect already drafted by an NHL team. | SI.com: Hughes growing into Michigan's unquestioned leader before entering NHL | Friday's game is on FS1, Saturday's is on BTN
Defensemen Leading Teams in Scoring
Air Force: Matt Koch
Army West Point: Dalton MacAfee
Bemidji State: Justin Baudry
Ferris State: Cooper Zech
Harvard: Adam Fox (CAR)
Holy Cross: Johnny Coughlin (tied)
Mercyhurst: Joseph Duszak
Michigan: Quinn Hughes (VAN)
Niagara: Noah Delmas
Northeastern: Jeremy Davies (NJ)
Northern Michigan: Philip Beaulieu
Notre Dame: Bobby Nardella
Wisconsin: K'Andre Miller (NYR)
---
Must Read/See/Hear Material

FloHockey: Makar & Fabbro: Two Canadian princes delight NCAA fans
Hockey Think Tank Podcast: Penn State's Chase Berger
Times Union: Savory making the most of opportunity with RPI
The Rink Live: Sheehy, Jobst are friends but rivals
The Athletic: The NHL is Bowers' goal; now he must figure out the best way to get there
The Athletic: After a run at WJC, a few Bulldogs are looking strong as ever
Union Leader: Extra skater comes in handy, in different ways
GoPSUSports.com: Folkes: A true underdog story

ICYMI: Ice Breaker to return to Duluth
---
Five More Storylines No One Should be Without
Humitz shines in trying times – Lake Superior State junior Max Humitz (Livonia, Mich./Tri-City-USHL) is putting together his best season in trying times. Humitz's 30 points on the year included four in the Great Lakes Invitational while his father, Mike, was in hospice; Mike passed away the day after the Lakers' GLI win. Max has continued to excel since his father's passing, posting eight goals and 15 points in 10 games, including back-to-back game-winning goals vs. Michigan Tech last weekend. The victories lifted No. 18 Lake Superior State to its first 20-win season in 12 years. | Hometownlife.com: Hockey community, Redford Union Schools mourn loss of Mike Humitz | Both weekend games are on FloHockey
Nazarian, UNH in playoff position – New Hampshire is sitting in the eighth and final playoff spot in Hockey East in head coach Mike Souza's first season behind four 20-point scorers – one from each class. The senior, Ara Nazarian (Boxford, Mass./Des Moines-USHL), leads the group with 12 goals entering the final five games of the regular season – all against Northeastern and UMass Lowell. Nazarian, who was named ESPN Boston Mr. Hockey at Malden Catholic High School, has improved his offensive numbers in each of his four seasons in Durham. | Friday's game is on NESN+; Saturday's is on NESN
Senden sparks North Dakota – North Dakota's 5-1 win at Western Michigan last Friday was sparked by a goal and an assist from freshman Mark Senden (Medina, Minn./Fargo-USHL), no stranger to leading his teams to success. Senden came to Grand Forks having captained Fargo to the Clark Cup championship last year and Wayzata High School to the Minnesota state title in 2016. The rookie center has eight of his 10 points since the start of December, including three multiple-point games.
Balanced Bulldogs – A weekend sweep of Colgate and Cornell put Yale within two points of the ECAC Hockey lead with two weekends to play. Seven Bulldogs accounted for the team's eight goals on the weekend and goaltenders Sam Tucker (Wilton, Conn./Choate Rosemary Hall) and Corbin Kaczperski (China Township, Mich./Lone Star-NAHL), as usual, split time in net. Tucker, a senior, and Kaczperski, a junior, have each played half of Yale's goaltending minutes since Kaczperski made his NCAA debut on Dec. 1, 2017.
Most Evenly Split Goalie Duos
Yale: Sam Tucker and Corbin Kaczperski
Ohio State: Tommy Nappier and Sean Romeo
Michigan State: John Lethlemon and Drew DeRidder
Michigan: Hayden Lavigne and Strauss Mann
Top of the D – In the "year of defensemen" in college hockey, Mercyhurst junior Joseph Duszak (Franklin Square, N.Y./PAL Jr. Islanders-USPHL) leads all blueliners in goals (15), assists (26, tied with Harvard's Adam Fox) and points (41). Duszak may not have entered the season with the profile of Hughes (see above) or UMass's Cale Makar (Calgary, Alta./Brooks-AJHL/COL), but he has been an offensive threat in the past and could join Fox as the first junior defensemen to record 100-plus career points since Wisconsin's Justin Schultz, now with the Pittsburgh Penguins.
Most Career Points, Active Defensemen
112 – Chase Priskie, Quinnipiac (WSH)
108 – Jimmy Schuldt, St. Cloud State
102 – Adam Fox, Harvard (CAR)
98 – Bobby Nardella, Notre Dame
93 – Joseph Duszak, Mercyhurst
89 – Philip Beaulieu, Northern Michigan
---
NHL Note of the Week
Twenty-seven players who were playing NCAA at this time last year have appeared in the NHL, including 2018 Frozen Four MVP Karson Kuhlman (Minnesota Duluth), who made his debut for the Bruins on Saturday. | NHL Matchup Tool
Note: Matchup Tool will be updated with movement leading up to the NHL trade deadline
---
Fries at the Bottom of the Bag
Conferences have either two weeks (Atlantic Hockey, Big Ten, ECAC Hockey, WCHA) or three weeks (Hockey East, NCHC) remaining in their regular seasons … Here's a rundown of conference tournament formats … Michigan State's Taro Hirose (Calgary, Alta./Salmon Arm-BCHL) is the nation's first player to 50 points, nine more than any other player … Ten national or regional sports networks will carry a total of 14 games this weekend, including the first college hockey game on FS1 (Ohio State-Michigan on Friday).