Thursday, February 7, 2019
Podcast: ASU's Powers Visits
Head coach of surprising Sun Devils looks ahead on College Hockey Today.
---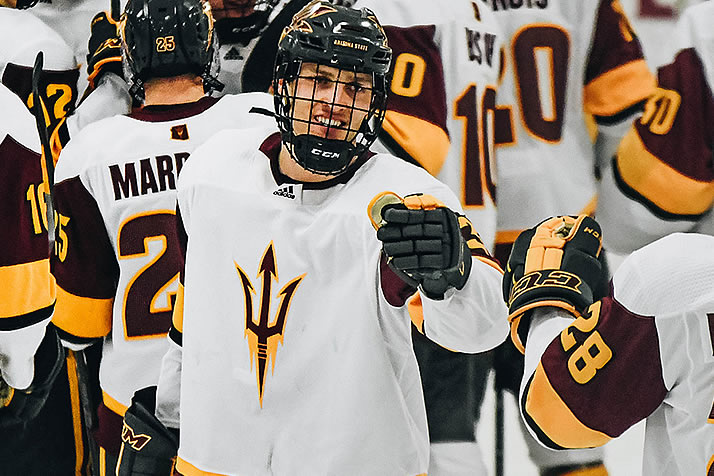 Arizona State has four regular-season games remaining: two vs. AIC and two at Minnesota.
Arizona State has climbed to eighth in the Pairwise rankings and 11th or 12th in the national polls in just the fourth season of Division I hockey for the Sun Devils.
Last weekend's sweep at RIT gave Arizona State three straight wins and a 19-10-1 record. They boast the nation's leading goal scorer in Johnny Walker (Phoenix, Ariz./Chicago-USHL) and the top goaltender in wins and shutouts in Joey Daccord (Boston, Mass./Muskegon-USHL/OTT).
With only four games remaining in the regular season – and no conference tournament to play in – college hockey fans will spend much of the next month watching the computer rankings to see if ASU can become the first independent to make the NCAA Tournament since 1992.
It all makes for a tremendous amount of buzz around head coach Greg Powers' program. With that as a backdrop, he visited with Nate Ewell and Brad Schlossman on the College Hockey Today podcast this week.
Listen to the episode here:
Listen to "Most Improved Podcast feat. Greg Powers" on Spreaker.
Powers talks about everything from building the program to what lies ahead in the next month and potential future conference affiliation.
As that unfolds, the hockey world will be watching to see if the Sun Devils can qualify for the NCAA Tournament, and where they'll be headed.
For more episodes of College Hockey Today, subscribe on iTunes or Google Play.