Wednesday, March 20, 2019
'D' Top List of Hobey Finalists
Top 10 for college hockey's highest individual honor feature six defensemen.
---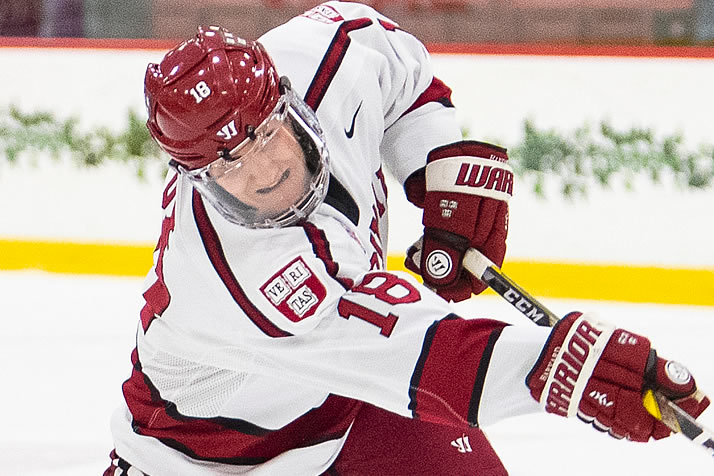 Adam Fox shares the lead among the nation's defensemen with 46 points.
The 10 finalists for the 2019 Hobey Baker Award feature six defensemen, the most in the history of the award.
The finalists for college hockey's top individual honor, who include five players competing for conference championships this weekend, are:
Joseph Duszak, Jr., D, Mercyhurst
Adam Fox, Jr., D, Harvard
Taro Hirose, Jr., F, Michigan State
Quinn Hughes, So., D, Michigan
Mason Jobst, Sr., F, Ohio State
Cale Makar, So., D, Massachusetts
Patrick Newell, Sr., F, St. Cloud State
Chase Priskie, Sr., D, Quinnipiac
Jimmy Schuldt, Sr., D, St. Cloud State
Nico Sturm, Jr., F, Clarkson
The 10 finalists were selected by voting from all 60 Division I college hockey head coaches plus online fan balloting. Next, the 29-member Selection Committee and an additional round of fan balloting through hobeybaker.com will determine the 2019 Hobey Baker Award winner.
Criteria for the award include outstanding skills in all phases of the game, strength of character on and off the ice, sportsmanship and scholastic achievements.
The finalists include:
The first finalist from Mercyhurst in Duszak
The first pair of finalists from St. Cloud State in the same year in Newell and Schuldt
The first finalist from Germany in Sturm
The second finalist from Indiana in Jobst (after John-Michael Liles)
The second and third finalists from Florida (after Shayne Gostisbehere)
The Hobey Hat Trick of three finalists will be revealed on April 4, with the winner announced on Friday, April 12, in Buffalo at the Frozen Four.