Wednesday, March 13, 2019
Notes: A Look at the Favorites
Gerard's offensive spike boosts Minnesota State, plus more notes on the regular-season champions.
---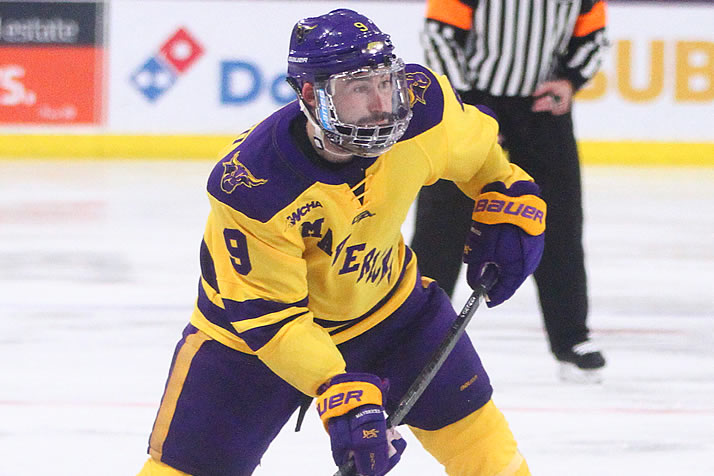 Charlie Gerard's 22-point improvement as a junior mirrors that of his brother, Freddy, last year.
By Nate Ewell
All six Division I men's conferences are in the postseason this weekend, either quarterfinals (Atlantic Hockey, ECAC Hockey, Hockey East, NCHC) or semifinals (Big Ten, WCHA). Favorites won 13 of 14 series last weekend; this week's notes look at the top seed in each conference.
Even after losing its top two scorers and No. 1 defenseman, Minnesota State rolled to a 22-5-1-1 WCHA record and won the regular-season title by 12 points in the standings. Despite the departures the Mavericks returned a lot of talent, and got increased production from the likes of junior Charlie Gerard (Rocky River, Ohio/Madison-USHL), whose point total spiked from 5 to 27. Charlie's older brother, Freddy (Rocky River, Ohio/Madison-USHL), also won a conference title this season as a senior at Ohio State. Freddy likewise saw a 22-point improvement from his sophomore to junior year (from 2 points to 24). Charlie and Freddy's cousin, Red Gerard, won gold in snowboard slopestyle at the 2018 Olympics. | WCHA playoffs are on FloHockey
Biggest Point Improvement over 2017-18
27 – Alex Limoges, Penn State
24 – Evan Barratt, Penn State
22 – Charlie Gerard, Minnesota State
21 – Cale Makar, Massachusetts (COL)
20 – Will Lockwood, Michigan (VAN)
20 – Brandon Fortunato, Quinnipiac
Among top 100 scorers, not including transfers
---
Must Read/See/Hear Material

WWMT: Andy Murray purchasing student tickets for WMU game
The Rink Live: Josh Fenton Q&A
Mankato Free Press: Mavericks are doing it with defense
New York Times: Balance of power shifts in Minnesota hockey
The Pipeline Show: Northeastern's Jeremy Davies
ESPN.com: Ranking the top 15 NCAA undrafted free agents
Boston.com: In a down year for powers, UMass might be the nation's best team
---
Five More Storylines No One Should be Without
OSU's Miller enjoys second-half surge – In the first half of the season, Ohio State was the rare team succeeding without a defenseman producing significant points. Junior Matt Miller (East Palestine, Ohio/Youngstown-USHL) has erased that qualifier in the second half, producing 15 points in his last 13 games and ranking 10th nationally among defensemen in scoring since Jan. 1. Miller, whose brother J.T. plays for the NHL-leading Tampa Bay Lightning, possesses a booming shot and has four game-winners among his five goals on the year. He lists his favorite player as his brother's Lightning teammate, Wisconsin alumnus Ryan McDonagh. | Big Ten playoffs are on BTN
Christensen keys AIC's rise – AIC's Atlantic Hockey championship capped a meteoric rise under head coach Eric Lang, who took over in 2016-17 after the Yellow Jackets won seven games the year before. Picked fifth in the conference in the preseason poll, they have exceeded expectations thanks in part to junior forward Blake Christensen (Coral Springs, Fla./Wenatchee-BCHL), whose 42 points are only 8 off the national lead. Christensen's father, Terry, was a longtime assistant coach at Michigan State and is currently the vice president of hockey operations with the OHL's Flint Firebirds. | MassLive.com: After decades of losing, AIC is savoring its success | Atlantic Hockey playoffs are on AtlanticHockey.tv
Shortridge stands tall – Quinnipiac enters the ECAC Hockey tournament as the top seed thanks to a tiebreaker with Cornell and is led by the nation's top goaltender in save percentage, Andrew Shortridge (Anchorage, Alaska/Vernon-BCHL). The junior and mechanical engineering major split time for the first half of the season but has made 15 straight starts entering this weekend's home playoff series against Brown. | ECAC Hockey playoffs are on ESPN+
Save Percentage Leaders
.944 – Andrew Shortridge
.937 – Tommy Nappier, Ohio State
.933 – Devin Cooley, Denver
.932 – Cayden Primeau, Northeastern (MTL)
.930 – Stefanos Lekkas, Vermont
St. Cloud & the Golden State – The state of California can take a lot of credit for the nation's No. 1 team. St. Cloud State's top two scorers both hail from California, approximately 2,000 miles away from the central Minnesota school. Seniors Patrick Newell (Thousand Oaks, Calif./Penticton-BCHL) and Robby Jackson (Alameda, Calif./Dubuque-USHL) aren't exactly neighbors at home – Newell is from Southern California while Jackson is from the North – but they give the Huskies a distinct Golden State feel. They have combined for 75 points, with Newell standing tied for 10th nationally in scoring. | This weekend's games are on FOX Sports North+

Top Scoring Californians
41 points – Patrick Newell, St. Cloud State (Thousand Oaks)
39 – Troy Loggins, Northern Michigan (Huntington Beach)
37 – Patrick Khodorenko, Michigan State (Walnut Creek)
34 – Robby Jackson, St. Cloud State (Alameda)
UMass's backstop – Behind heralded defenseman Cale Makar (Calgary, Alta./Brooks-AJHL/COL) and a talented forward group, Massachusetts goaltender Matt Murray (St. Albert, Alta./Fargo-USHL) has quietly produced a remarkable season. He has a .922 save percentage, including a .934 mark at home, where UMass hosts New Hampshire this weekend. Murray's success has had added meaning this year, as he has honored friends lost in the Humboldt Broncos bus crash from a year ago, adding their names to his mask. | TheScore.com: Murray honors Humboldt victims in his heart – and on his mask | Hockey East playoffs are on Flo Hockey
---
NHL Note of the Week
An average of 24 undrafted free agents have signed following their NCAA seasons the past four years. Through Wednesday, six free agents had already signed: Mercyhurst's Joseph Duszak, Michigan State's Taro Hirose, Michigan Tech's Jake Lucchini, and Ryan Kuffner, Josh Teves and Max Veronneau of Princeton. | 2019 Pro Signings | NHL Matchup Tool
---
Fries at the Bottom of the Bag
The week's conference tournament action begins Wednesday with Sacred Heart hosting RIT … Only one underdog (Army West Point) won a first-round playoff series last weekend (14 series total) … Seventeen players are within 10 points of the national scoring lead, with leader Taro Hirose's season concluded.