Wednesday, March 20, 2019
Notes: Titles on the Line
Conference championships, NCAA berths are at stake this weekend.
---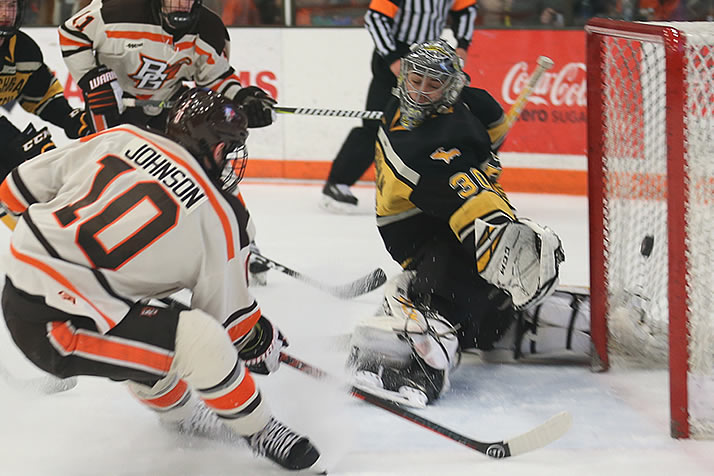 Max Johnson is the reigning WCHA Offensive Player of the Week (Photo: BGSU Marketing and Communications).
By Nate Ewell
Upcoming Key Dates
Sat., March 23: Conference championship games | This week's schedule | Graphic
Sun., March 24: NCAA Tournament Selection Show (7 p.m. ET, ESPNU)
Fri.-Sun., March 29-31: NCAA Regionals
April 11 & 13: NCAA Frozen Four (Buffalo, N.Y.)
Bowling Green is one win from its first conference championship (regular season or tournament) since 1988 and its first NCAA appearance since 1990. The Falcons face WCHA top seed Minnesota State Saturday in Mankato. Sophomore Max Johnson (Lakeville, Minn./Sioux Falls-USHL) is one of three Minnesotans on Bowling Green returning to their home state for the title game; Johnson leads the Falcons in goals (19) and points (41), including eight goals and 14 points in the last eight games. | WCHA playoffs are on FloHockey
Fewest Goals Against per Game
1.70 – Minnesota State
1.79 – Bowling Green
1.92 – Quinnipiac
1.97 – Clarkson
1.97 – Providence
Noteworthy in Mankato: Minnesota State last allowed two goals on Feb. 9 (eight games since); it last allowed three on Jan. 18 (15 games since) … Minnesota State has won six straight games; Bowling Green has won five straight.
---
Must Read/See/Hear Material

Sportsnet.ca: Princeton friends Veronneau, Kuffner realize NHL dreams
The Rink Live: Perbix enjoyed Cathedral's win, looks to help SCSU win first title
Mankato Free Press: Spooner is 1 of 6 sports-crazy kids of Bismarck family
Providence Journal: Dugan lives up to the hype
Boston Globe: UMass, Harvard follow lead of their blue-chip blue liners
Daily Hampshire Gazette: Hildenbrand provides important voice in UMass room
FloHockey: York continues improbable run as BC faces UMass
OhioStateBuckeyes.com: If I can just prove myself by Mason Jobst

Podcast – College Hockey Today: Conference Championship Previews
---
Five More Storylines No One Should be Without
Limoges's long road – It's been quite a journey for Penn State junior Alex Limoges (Winchester, Va./Waterloo-USHL) from when he was born in Boulder, Colo., to sharing the national scoring lead with the Nittany Lions. Raised in Texas and Virginia, he ended up in Winchester, not far from the West Virginia line and a short drive from State College. He is part of a potent first line with Evan Barratt (Bristol, Pa./U.S. NTDP/CHI) and Liam Folkes (Scarborough, Ont./Brockville-CCHL) that has Penn State one win from a third straight NCAA berth. | StateCollege.com: Limoges having fun, setting records and chasing history | Saturday's game is on BTN
Most Active Consecutive NCAA Appearances
11 – Denver
5 – Providence
4 – Boston University
3 – Notre Dame
2 – Cornell, Minnesota Duluth, Ohio State, Penn State
Among teams that could make 2019 NCAA Tournament
Noteworthy in South Bend: Penn State (2017) and Notre Dame ('18) are the last two Big Ten Tournament champions … Notre Dame (7.2 PIM/game) takes the fewest penalties in the nation; Penn State's power play (26.6%) ranks third … Cale Morris has two shutouts in the last three games.
RIT's senior trio – Seniors Erik Brown (Keene, Ont./Kemptville-CCHL), Abbott Girduckis (Belleville, Ont./Wellington-OJHL) and Gabe Valenzuela (Branpton, Ont./North York-OJHL) form RIT's top line entering the Atlantic Hockey semifinals, the only three Tigers who played in the 2016 NCAA Tournament. That trio has combined for 312 career points, including 85 this season. They led the sixth-seeded Tigers to a high-scoring series win vs. Sacred Heart last weekend and they will face Niagara in Buffalo. | Atlantic Hockey playoffs are on AtlanticHockey.tv
Most Points, Since Jan. 1
29 – Ludwig Stenlund, Niagara
28 – Rem Pitlick, Minnesota (NSH)
27 – Joseph Duszak, Mercyhurst (TOR)
27 – Cale Makar, Massachusetts (COL)
27 – Tyler Sheehy, Minnesota
26 – Blake Christiansen, AIC
26 – Adam Fox, Harvard (CAR)
26 – Jacob Pritchard, Massachusetts
Noteworthy in Buffalo: This is the first Atlantic Hockey championship held at Buffalo's HarborCenter … HarborCenter is 23 miles from Niagara's Dwyer Arena … Robert Morris is in the Atlantic Hockey semifinals for the sixth straight season … Atlantic Hockey's top seed hasn't won the tournament since 2016.
Giuttari sparks Brown's second half – Brown is one of two teams picked last in its conference in the preseason still alive (joining Niagara), and local product Zach Giuttari (Warwick, R.I./Chilliwack-BCHL) is one reason for the Bears' second-half success. Giuttari had two points at Christmas, but has produced 18 in 22 games since (6g-12a). The talented athlete has played some lacrosse at Brown as well and is developing into an NHL prospect. He heads to Lake Placid two wins away from the Bears' first ECAC Tournament title and a chance to play in his backyard in the NCAA East Regional next weekend in Providence. | ECAC Hockey playoffs are on ESPN+
Best Winning Percentage, Since Christmas
.825 – St. Cloud State
.818 – Minnesota State
.762 – Clarkson
.725 – Harvard
.714 – Cornell
Brown (.636) ranks 14th
Noteworthy in Lake Placid: Three of the top four seeds advanced, with only top-seeded Quinnipiac missing … Harvard (2015 and '17) is the only school in the field to have won the tournament in the last eight years … The Crimson are in the ECAC semifinals for the fifth straight year.
UMD's Shepard in net – Defending national champion Minnesota Duluth returns to the site of last year's national title for its fourth straight NCHC semifinal appearance. Goaltender Hunter Shepard (Cohasset, Minn./Bismarck-NAHL) only gave up two goals in the NCAA Frozen Four last year and has started every game for UMD this season. He and the Bulldogs enter the weekend with a No. 1 NCAA Tournament seed within reach after just barely making the field a year ago. | This weekend's games are on CBSSN
Most Points, Senior Class
145 – Mercyhurst
131 – Colorado College
131 – St. Cloud State
129 – Canisius
129 – Princeton
Noteworthy in St. Paul: The nation's No. 1 team (St. Cloud State) and the last two NCAA champions (Minnesota Duluth, Denver) are in St. Paul … Colorado College is making its first NCHC semifinal appearance … St. Cloud State (11-0-1) boasts the nation's longest active unbeaten streak … St. Cloud State swept the first-team All-NCHC forward positions.
Hutsko fuels Eagles – Boston College kept its NCAA Tournament hopes alive thanks to back-to-back game-winning goals from sophomore Logan Hutsko (Tampa, Fla./U.S. NTDP/FLA). Hutsko – who missed nearly an entire season due to injury prior to enrolling at BC – has points in 10 of the Eagles' 13 victories this season, and they are 0-3-0 without him in the lineup. They face top-seeded Massachusetts in the Hockey East semifinals. | This weekend's games are on NESN and FloHockey
Most NHL Alumni, 2018-19
21 – Boston College, Minnesota, North Dakota
20 – Michigan
19 – Boston University
15 – Wisconsin
Highest Drafted NCAA Players, 2018-19
Cale Makar, Massachusetts (4th, Colorado)
Quinn Hughes, Michigan (7th, Vancouver)
Oliver Wahlstrom, Boston College (11th, NY Islanders)
Joel Farabee, Boston University (14th, Philadelphia)
Dante Fabbro, Boston University (17th, Nashville)
Noteworthy in Boston: Massachusetts makes its fourth Hockey East semifinal appearance and first since 2007 … Boston University, like last season, needs to win the championship to reach the NCAA Tournament … All three Beanpot Hockey East schools are in the field, including 2019 champion Northeastern.
---
NHL Note of the Week
Johnny Gaudreau, who led the NCAA in scoring five years ago at Boston College, is on pace to become the first NCAA alumnus to record 100 points in the NHL since Dany Heatley (Wisconsin) had 105 and Martin St. Louis (Vermont) had 102 in 2006-07. | 2019 Pro Signings | NHL Matchup Tool
---
Fries at the Bottom of the Bag
The top 10 candidates for the Hobey Baker Award were announced Wednesday and include a record-high six defensemen … Only one No. 1 seed won a conference tournament last season (Notre Dame) … The PairWise Rankings mimic the NCAA Tournament selection criteria.
Career Wins Leaders, Active Goaltenders
70 – Hayden Hawkey, Providence (EDM)
62 – Jake Kielly, Clarkson
62 – Atte Tolvanen, Northern Michigan
59 – Eric Schierhorn, Minnesota
58 – Peyton Jones, Penn State
58 – Jake Oettinger, Boston University (DAL)
50 – Francis Marotte, Robert Morris
48 – Hunter Shepard, Minnesota Duluth
48 – Evan Weninger, Omaha
46 – Joseph Woll, Boston College (TOR)
Eight of the top 11 are in action this weekend