Sunday, March 24, 2019
Path to Buffalo is Set
St. Cloud State is No. 1 again in otherwise new-look tournament.
---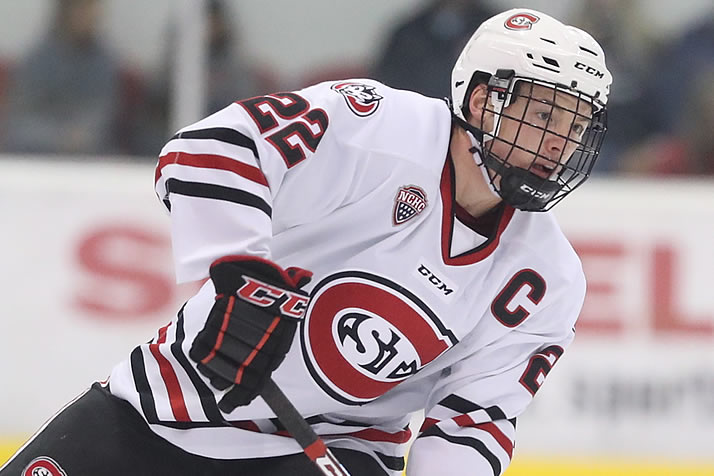 Captain Jimmy Schuldt leads St. Cloud State into the tournament as the No. 1 seed.
St. Cloud State is the No. 1 overall seed for the second year in a row in what otherwise is very much a new-look NCAA Tournament.
The NCAA revealed the path to Buffalo and the Frozen Four Sunday night on ESPNU, with three of the top four seeds seeking their first national championship.
Bracket (.pdf) | Sortable stats
Of the 10 schools that have won more than two national championships, only Denver (eight) is in the field. In the place of those missing traditional powers are newcomers Arizona State and American International, as well as returnees like Massachusetts (first tournament since 2007) and Bowling Green (first since 1990).
St. Cloud State will meet one of those newcomers, American International, in the West Regional in Fargo, N.D. Those first-round games:
1-St. Cloud State vs. 4-American International
2-Denver vs. 3-Ohio State
Minnesota Duluth earned the No. 2 overall seed on the strength of their NCHC Tournament title and will head to the Midwest Regional in Allentown, Pa. Those first-round games:
1-Minnesota Duluth vs. 4-Bowling Green
2-Quinnipiac vs. 3-Arizona State
No. 3 overall seed Minnesota State will meet Providence at the East Regional in Providence, R.I. Those first-round games:
1-Minnesota State vs. 4-Providence
2-Northeastern vs. 3-Cornell
Massachusetts will head to Manchester, N.H., and the Northeast Regional as the No. 4 overall seed. Those first-round games:
1-Massachusetts vs. 4-Harvard
2-Clarkson vs. Notre Dame
The winners of the West and Northeast Regionals will face off in the semifinals in Buffalo, as will the winners of the East and Midwest Regionals.