Saturday, April 13, 2019
Boeing Soars to New Heights
UMass senior has seen lows and highs as program has transformed.
---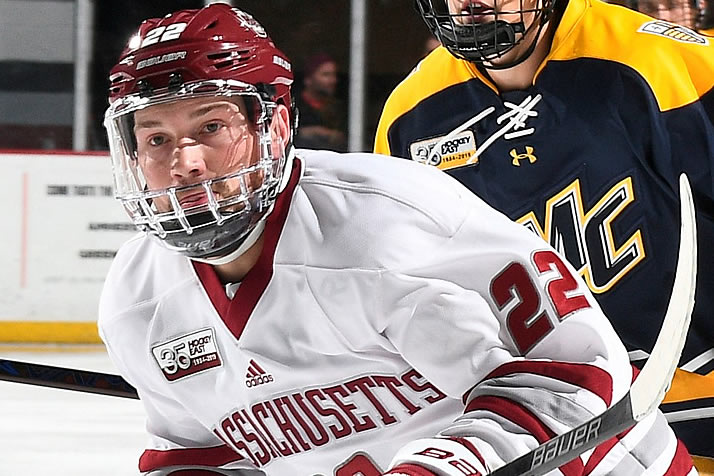 Brett Boeing is one of seven double-digit goal scorers for UMass.
By Nate Wells
With the sounds of Big Sean's "Bounce Back" fittingly playing next to him in a winning locker room, Massachusetts senior Brett Boeing (Barrington, Ill./Dubuque-USHL) could only describe his two-year journey in words such as "unbelievable," "unreal" and "never in a million years."
Over the second half of 2016-17, Boeing took more L's than anyone would like. A team that won one of its final 23 games two seasons ago is now one win away from being college hockey's national champion.
"Not a chance," Boeing said about whether he expected to be in this position following Massachusetts' 4-3 overtime victory against Denver. "Coming in here, I knew we had a lot of work to do, but I didn't expect to get to the national championship (game) in two years."
For him, one of four players left from UMass' final win in Greg Carvel's first year in Amherst on the ice Thursday night, the good times promised have come true. It's a different team from the one he came into after transferring from Michigan Tech and inheriting a new set of coaches.
The coaching staff reiterated during the low points of a five-win season that there was a game plan following success at other programs turning around teams. Still, in the moment, the losses took a personal toll. Boeing said he needed to take a step back the summer following 17 straight games without a win.
"The biggest thing was taking it with a grain of salt," he said. "I had to get ready for next year. We had 13 guys coming in and battling for spots. The biggest thing was knowing that there were good times ahead."
Being an upperclassman leader on a team full of freshmen and sophomores, Boeing's tenure with the Minutemen has seen him adjust to being a powerful third-line center at 5'8", 187 lbs. A career-high ten goals this season, including two coming against Harvard in the NCAA Tournament first round, sees him being one of seven players on this year's team with double-digit goals.
Massachusetts getting the talent and players to compete for a national championship, whether it's Hobey Baker finalist Cale Makar or Thursday game-winning goal scorer Marc Del Gaizo, has gone to plan. Boeing believes he needed to adjust to Carvel's style and vice versa, as once everyone was able to play the same style was when the senior began to be personally bouncing back on his journey and finding success.
"That five-win season is still pretty fresh, the pain from that season sunk in. The glory of this season hasn't sunk in yet," Carvel said.
The lone win of the final 23 games was also his first at Massachusetts. Facing Alabama-Huntsville in the Mariucci Classic, the Minutemen, with Boeing playing on the top line, were outshot yet defeated UAH in overtime. Since then, he's played in several overtime games, but none as nerve-wracking as the latest that saw UMass bounce back from a passive third period and come out aggressive.
"I never would have thought in a million years," he said. "We knew last year we wanted to make some noise and you saw it last year. We had pretty big goals this year and to see them come true and get to the national championship game is unreal."
Boeing easily remembers his first game. Two-and-a-half years of growth later, he'll cherish playing in his last.