Wednesday, April 10, 2019
Mackay Among Stars from Alberta
Minnesota Duluth captain part of a growing wave of top players from his home province.
---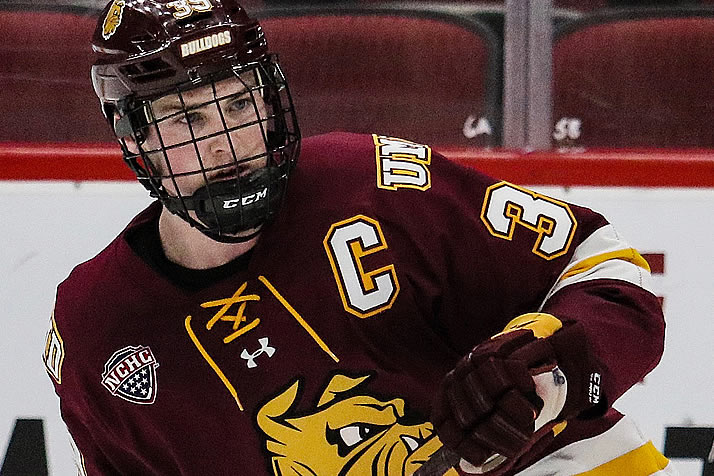 Parker Mackay scored three of UMD's five goals in the NCAA Midwest Regional.
By Nate Ewell
There's a distinct Alberta flavor to the 2019 NCAA Frozen Four, part of an exceptional season for college players from the province.
Cale Makar (Calgary, Alta./Brooks-AJHL/COL) gets the headlines, but Minnesota Duluth's Parker Mackay (Irma, Alta./Spruce Grove-AJHL) also leads his team in scoring entering Thursday's semifinals. He takes notice of the success of his fellow Albertans.
Wednesday at the Frozen Four: Cale Makar | Greg Printz | Jarid Lukosevicius
"It's fun to see guys who have played in the AJHL or anyone from back home is going well and having success, especially at this level," Mackay said Wednesday. "You always look at guys from back home and you respect them for the path that they took, instead of going the major junior route. You definitely notice it."
In addition to Makar and Mackay, Denver's Ian Mitchell (Calahoo, Alta./Spruce Grove-AJHL) is another standout. They are part of a wave of Alberta-born talent that includes the nation's co-leading scorer, Taro Hirose (Calgary, Alta./Salmon Arm-BCHL) of Michigan State.
Frozen Four Storylines | Media Kit (.pdf)
The province's junior A league, the AJHL, has been churning out talent and 84 Albertans played Division I this year. For many, like Mackay, it helps to have role models whose footsteps you can follow.
Former Minnesota Duluth defenseman Carson Soucy is Mackay's cousin, and got to UMD two years before Mackay. The current Bulldog captain has evidence that the pipeline could continue.
"I have a younger cousin and one of my best buddy's younger brothers are 14 or 15 years old and playing high-level hockey," he said. "They are both going into the WHL draft but because of the route that me and Carson took, they might be looking to take that route as well. I think that they do for sure look at what has worked for us."
Unlike Makar, Mackay didn't arrive on campus as a superstar. He has developed into a leader on the team, improving every statistical category – games played, goals, assists, points, plus/minus – in each of his four seasons.
"Honestly it was pretty eye-opening when I first got here, just the speed," he said. "Realizing that I could play my game at this high a level was the biggest thing for me. I have come in each year with a little more confidence and have gotten bigger roles each year as well. It's been fun, the coaching staff has been unbelievable for me the last four years."
Now Mackay is enjoying his third straight Frozen Four, and is two wins away from a second consecutive national title. Meanwhile he's blazing a trail for the next set of Albertans to follow him to the NCAA ranks.